Valentine Butter Cookies
These Valentine Butter Cookies are my most popular cookie recipe and have been requested by 100's of people over the years. They are tender and soft and melt in your mouth delicious! I make them for every holiday.
Can I share a secret with you? The secret to why everyone loves these Butter Cookies. Naturally, they are tender and melt-in-your-mouth delicious. Of course, they should be with a whole pound of real butter in them, but that's not the secret that really sends them over the top. Nope! It's the buttery icing. That's right. Once you combine a tender buttery cookie with sweet buttery icing, you get the most delectable melt-in-your-mouth cookie that you ever tasted.
Wanna know something else? I'm not a fan of Royal Icing, yet Royal Icing seems to be popular amongst bakers that want to have pretty and perfect looking decorated cookies. You see, Royal Icing is merely made from egg whites or meringue powder mixed with water and sugar. Sure it sets up really fast and hardens to a perfect shiny glaze, but in my opinion, it's lacking tremendously in flavor!! This is my personal opinion of course. I don't know how you feel, but I don't care how pretty something might be if it doesn't taste good I'm not eating it.
Why would I ever want to make a buttery, melt-in-your-mouth cookie, just to finish it with a hard icing that has no flavor? Sorry!! This is just my personal opinion here, but I want a buttery full of flavor icing to complement my buttery cookies. A buttery icing for a buttery cookie!! That's exactly why my icing has pure butter, vanilla, powdered sugar and milk in it. This icing is the secret that totally sends these cookies over the top.
By the way, this icing doesn't set up super hard, but it does set up enough after an hour or so for easy stacking of the cookies. I recommend sprinkling the cookies with your favorite sprinkles or sugar as soon as you spread the icing on them.
Do you know what else is great about this recipe? You don't have to chill the cookie dough. This dough is super easy to work with and is very forgiving when you want to scoop up the trimmings and reuse them. The dough doesn't get tough the more it's worked. The cookies also get more buttery-tasting a day or two after they are made and they keep well for up to two weeks.
Quick tips on making these cookies…
Use room temperature butter. Do not use margarine. Always use real butter.
Roll the cookies to about 1/4 inch in thickness, no thinner.
Space the cookies about an inch or so apart. These cookies do not spread much, so there's no need to space them too far apart.
Don't over bake the cookies. When these cookies are done, they will be lightly browned on the bottom but still very light on top.
Allow the cookies to cool on the cookie sheets for at least 2 to 3 minutes before transferring to a wire rack to cool. These are a soft and tender cookie and they do break easily, especially when warm.
Because these cookies break easily, place each cookie in the palm of your hand when frosting. Gently transfer the frosted cookies to waxed or parchment paper to allow the frosting to firm up.
Quick tips on the best sprinkles for frosted cookies…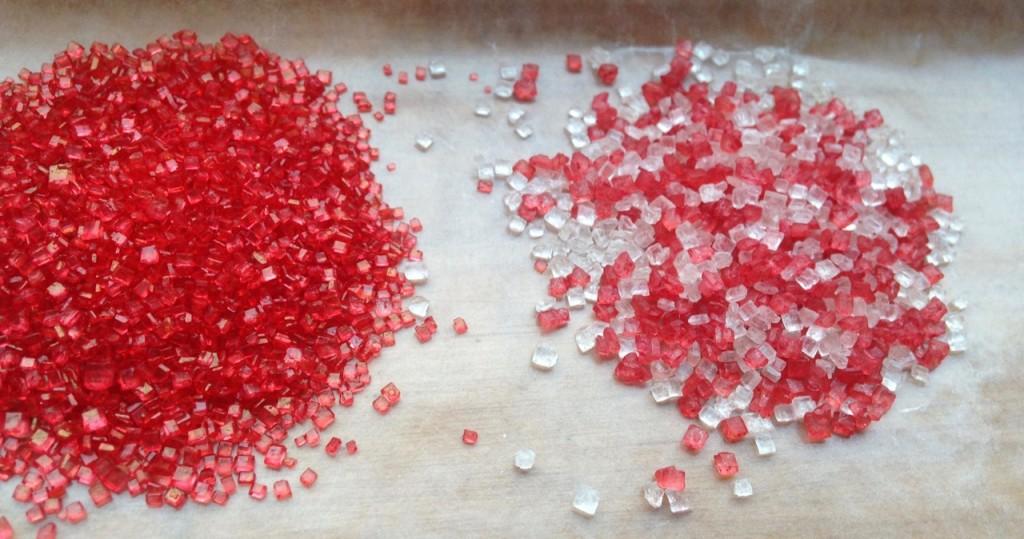 If you choose to use decorative sugar crystals to decorate your cookies, make sure you use the large coarse sugar crystals. The fine sugar crystals work well if you're using them to sprinkle on top of sugar cookie dough before the cookies get baked, but they aren't the ideal sugar sprinkle if you're using them on top of frosting. They tend to start melting and bleeding into the frosting in no time. These large ones can bleed as well but they tend to melt and bleed into frosting a lot less.
Make these delicious butter cookies for someone special this Valentine's Day!
You'll also see these delicious cookies under Christmas Butter Cookies.
Print
Valentine Butter Cookies
Author:

Prep Time:

15 Minutes

Cook Time:

10 Minutes

Total Time:

25 minutes

Yield:

2

4

1

x

Category:

Cookies

Method:

Bake
---
Description
These tender buttery cookies will simply melt in your mouth and the sweet buttery icing sends them over the top.  They are perfect for cut out cookies and the dough doesn't have to be chilled.  They will become your new favorite cookie!
---
For the Cookies
2

cups

real butter, softened, salted or unsalted

1

cup

powdered sugar

4

cups

all-purpose flour

1/2 teaspoon

salt

1/2 teaspoon

baking powder
For the Butter Icing
1

pound

powdered sugar

1/3

stick real butter, softened

1 teaspoon

pure vanilla
Enough milk for easy spreading consistency

1

–

2

drops pink gel food coloring, optional
---
Instructions
For the Cookies
Preheat oven to 350 degrees.
Sift or mix the dry ingredients together in a medium bowl and set aside.
Place the butter in the bowl of a stand mixer, or use a hand mixer. Mix the butter on medium speed for a couple of minutes, until it is very light and creamy. Mix in the powdered sugar, on low speed, until the sugar and butter are very light and fluffy.
Slowly add in the dry ingredients and mix just enough to incorporate the dry mixture.
Using about 1/3 of the dough at a time, place the dough on a floured surface and roll out to about 1/4″ in thickness with a rolling pin, or pat the dough out with your hand.
Cut the cookies into desired shapes with cookie cutters. Place them on an ungreased cookie sheet and bake for about 10 minutes until they are just barely brown on the bottom and still white on top. Transfer to a wire rack to cool…frost and decorate.
For the Butter Icing
Place the butter in the mixing bowl of a stand mixer, or use a hand mixer. Mix on medium speed until the butter is light and creamy. Mix in the vanilla. Gradually add in the powdered sugar, one cup at a time, until the mixture becomes very light and creamy. If the mixture seems a little too thick, add a tiny bit of milk, 1 teaspoon at a time. If it seems too thin, add a little more sugar, until you've reached the perfect spreading consistency.
Frost and decorate the cookies. Allow them to set uncovered until the frosting has time to set.
Store the cookies in an airtight container.
---
Notes
These cookies get even more buttery after they have been stored for a couple of days in an airtight container.
These cookies keep well for a couple of weeks and freeze well, unfrosted, for up to three months.
Keywords: Valentine Cookies, Butter Cookies, Valentine Butter Cookies, Valentine, Valentine Recipes,
There may be affiliate links in this post. We are a participant in the Amazon Services LLC Associates Program, an affiliate advertising program designed to provide a means for us to earn fees by linking to Amazon.com and affiliated sites.