Oreo Cream Pops
These Oreo Cream Pops are made with a rich custard base and are stuffed with pieces of Oreo cookies.  The custard filling takes just minutes to make and you just need patience while waiting for these yummy cream pops to freeze.  They are creamy, delicious, and refreshing!
Who doesn't like ice cream?  Duh…what a silly question, Cindy.  Sometimes I wonder just how many different flavors of ice cream there are.  Too many for me to ever make in this lifetime.  That I'm sure of.
As much as I love to make homemade ice cream in my Cuisinart ice cream maker, I decided to stop and have some fun the past few days with my new popsicle molds.  I wanted to start out by making a few recipes that the grandkids would really enjoy.  I also wanted to come up with recipes that were quick and easy, yet great tasting.  One more thing.  I wanted to start out with some rich and creamy frozen treats, versus plain popsicles.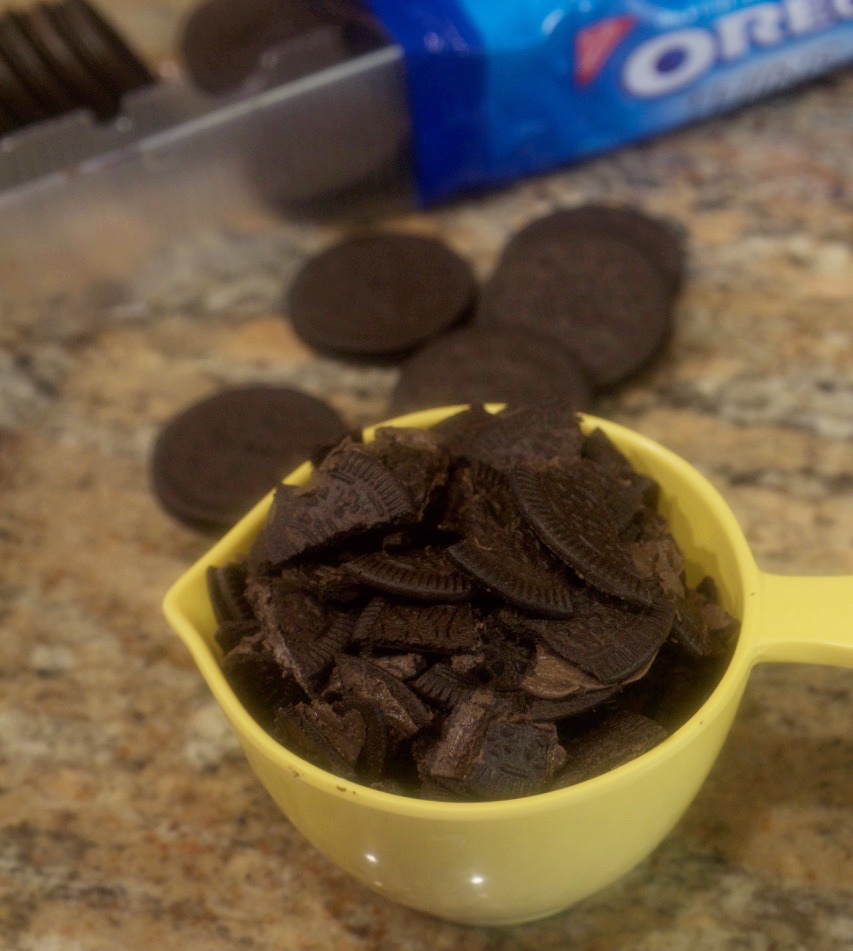 Let's see, kids and ice cream.  Hmm, kids and Oreos.  Do you know of any kid that doesn't like Oreos and ice cream?  I sure don't.  Hmm, kids and milk.  Do you know of any kid that doesn't like dunking their Oreos in milk?  I sure don't.  This one's a no brainer!!!
So I decided on my main ingredient first…Oreo cookies of course.  I could've used regular Oreos, but I decided to go for the new thin ones and I went for the chocolate filled ones.  I wanted more chocolate and less filling. Why?  Because I wanted the only vanilla ingredient of this cream pop to be the pure homemade vanilla custard that would be the perfect mate to the chocolate Oreos.  Yep, a quick and easy homemade custard base.
The rich custardy base consisted of milk, half and half, sugar, eggs and pure vanilla.  A few quick minutes on the stove and it was ready to go.  I cooled it for about five minutes, then added it to my molds along with broken pieces of Oreos.  Next, I froze them overnight until they were frozen creamy perfection!
I can't help wondering why anyone would want a "pudding" pop, made from a box of instant pudding, over a "cream" pop, made from a quick and easy homemade custard base.
Once you bite into one of these Oreo Cream Pops and taste the pure flavors of vanilla and half and half, you won't want any pop made from a box of pudding.  I promise!!
If you make this recipe please rate it, and leave a comment below on how you liked it. I love getting your feedback! 🙂
Wanna see different recipes each day? Feel free to follow me on Facebook, Pinterest, & Instagram. 
Print
Oreo Cream Pops
Author:

Prep Time:

10

Cook Time:

10

Total Time:

20

Yield:

1

0

1

x
---
Description
Crushed Oreo cookies frozen inside a creamy and rich custard base.
---
1

cup

Oreo Thin cookies, coarsely broken, about 10

1

cup

half and half

1 1/2

cups

milk

1/3

cup

sugar

3

large egg yolks

1 teaspoon

pure vanilla extract
---
Instructions
Whisk egg yolks in a two cup measuring cup and set aside.
Mix together the half and half, milk and sugar in a medium saucepan. Bring to a boil over medium heat while stirring constantly, and boil for one minute. Remove from heat and pour about half of the hot mixture into egg yolks and whisk vigorously for a few seconds. Pour egg yolk mixture back into the hot mixture and return to heat. Bring mixture back to a boil while stirring constantly. Boil for one minute and remove from heat. Add vanilla and mix to combine.
Place pan in a sink in cold water for approximately five minutes. Meantime, drop a few pieces of the cookie pieces into the bottom of ten freezer pop molds. Divide the custard base equally between the molds, making sure you leave at least 1/4 inch head space at the top of each mold. Drop a few more cookie pieces in the top of each mold. Make sure the final head space is at least 1/8 inch.
Place wooden sticks in molds and place top over the molds. Place in freezer and freeze for at least six hours or overnight.
To Unmold and Freeze
Place frozen molds in a sink of hot water for fifteen seconds. Make sure water level stops below the top cover of molds.
Wrap each cream pop in wax paper and place pops together in a one gallon freezer bag.
Freeze for up to three months.
---
There may be affiliate links in this post. We are a participant in the Amazon Services LLC Associates Program, an affiliate advertising program designed to provide a means for us to earn fees by linking to Amazon.com and affiliated sites.