Mini Lemon Meringue Bites
These light and refreshing Mini Lemon Meringue Bites are crispy on the outside and soft and creamy on the inside. The perfect size to satisfy your sweet tooth. They're also great topped with fruit.
If you're looking for a light and refreshing dessert that's just big enough to hit that sweet tooth craving on a Summer day, these Mini Lemon Meringue Bites will certainly do it.  Crispy on the outside and soft and chewy on the inside, they are irresistible.
You won't believe how easy they are to make…
The meringue nests…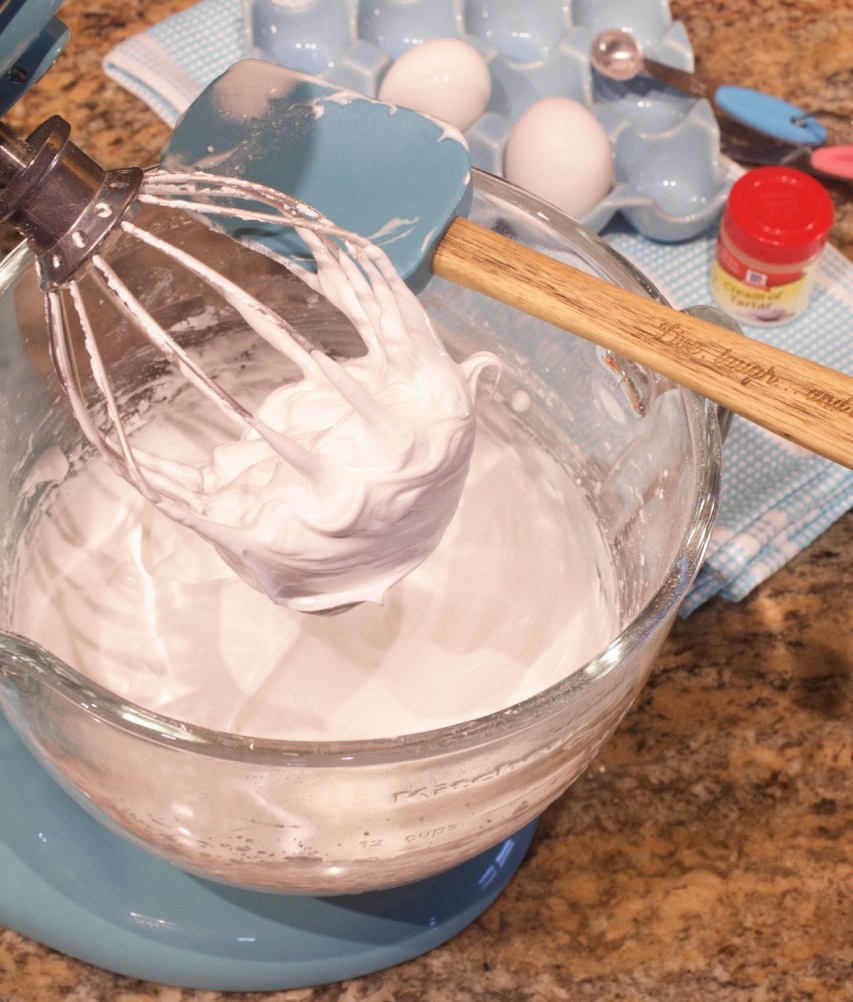 You simply whisk egg whites until they are stiff but not dry…
Then pipe them onto a parchment lined cookie sheet and bake at a low temperature until they are dry…
The lemon curd…
Simply juice and zest some fresh lemons…
Then cream some butter and sugar in a large mixing bowl and add some eggs, lemon juice and zest.
Transfer mixture to a saucepan and cook over medium heat until it thickens…this doesn't take long…
Then allow the curd to cool completely and dollop it into the centers of the meringue nests.
Feel free to add fresh fruit such as strawberries or blueberries on the tops.
Print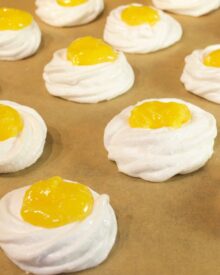 Mini Lemon Meringue Bites
Author:

Prep Time:

30 Minutes

Cook Time:

1 hour 40 Minutes

Total Time:

2 hours 10 Minutes

Yield:

2

4

1

x
---
Meringue Nests
4

large egg whites, room temperature

1/2 teaspoon

cream of tartar

1 1/2

cups

powdered sugar
Lemon Curd
4

large lemons, washed & dried

1

stick unsalted butter, room temperature

1 1/2

cups

sugar

4

large eggs

1/2

cup

fresh lemon juice
Dash of salt
---
Instructions
Meringue Nests
Preheat oven to 300 degrees.
Line two cookie sheets with parchment and set aside.
Add the egg whites to the bowl of a stand mixer fitted with the whisk attachment.  Whisk on medium speed until frothy, about one minute.  Add the cream of tartar and gradually add the sugar while whisking on high speed.  Continue whisking until whites form stiff but not dry peaks.  (see picture above).  This will take about three minutes with a stand mixer on high, or longer if using a hand mixer.
Fill a piping bag about two thirds full with the meringue.  I used a Wilton 1M tip, but you can use whatever tip you prefer, but I wouldn't go too big.
Pipe a small circle of meringue, and slowly go around the circle making a second layer, Continue with a third layer and quickly lift tip straight up and off.  The meringues will not spread so you can easily pipe twelve onto one cookie sheet.
Bake the meringue nests at 300 degrees for 10 minutes.  Immediately reduce heat to 250 degrees and bake for about 15 minutes until the nests are firm and dry on top.  Turn oven off and leave oven door slightly ajar.  Allow meringue nests to set in oven for an additional hour.
Lemon Curd
Zest the lemons, making sure to remove the yellow zest only, not the white pith.  Set aside.  Cut the lemons in half and juice them, reserving 1/2 cup of the juice.
Cream the butter in the mixing bowl of a stand mixer or use a hand mixer.  Mix on high speed until the butter is light and creamy.  Add the sugar and zest and mix on high speed until sugar is well combined with the butter and no longer grainy.
Crack the eggs in a small bowl, using a spoon to remove the Chalaza from each egg yolk.  (See notes below about the Chalaza).    Add the eggs one at a time to the mixing bowl, mixing well after each addition.  Add the lemon juice and salt and mix to combine.
Add the mixture to a medium saucepan.  Cook on low heat, stirring constantly, until mixture thickens, about 8-10 minutes.  Remove from heat.
Spoon lemon curd into a bowl and let cool to room temperature.  Place a piece of plastic wrap directly on top of the curd to prevent a skim from forming on top.
Meringue Bites
Spoon lemon curd into the meringue nests.  Refrigerate until curd is chilled and serve.
Meringue bites will keep for up to 2 days refrigerated.
---
Notes
The Chalaza is the little white thing that's attached to one side of the egg yolk.  Most cooks remove it from the egg yolk when making puddings and custards.  For more information on the Chalaza, see my post titled "What is that nasty little white thing on my egg yolk".
These are also great served with fresh blueberries or strawberries on top.
You will have extra lemon curd.  Use it on pancakes, toast or anything of your liking.  It's great with anything.
There may be affiliate links in this post. We are a participant in the Amazon Services LLC Associates Program, an affiliate advertising program designed to provide a means for us to earn fees by linking to Amazon.com and affiliated sites.