Homemade Scrapple
Homemade Scrapple, made from pork, is golden and crispy on the outside and soft in the middle. You might say it's a cousin to Goetta.  The difference is that Goetta is made with pinhead oatmeal and Scrapple is made with cornmeal.  It's super delicious!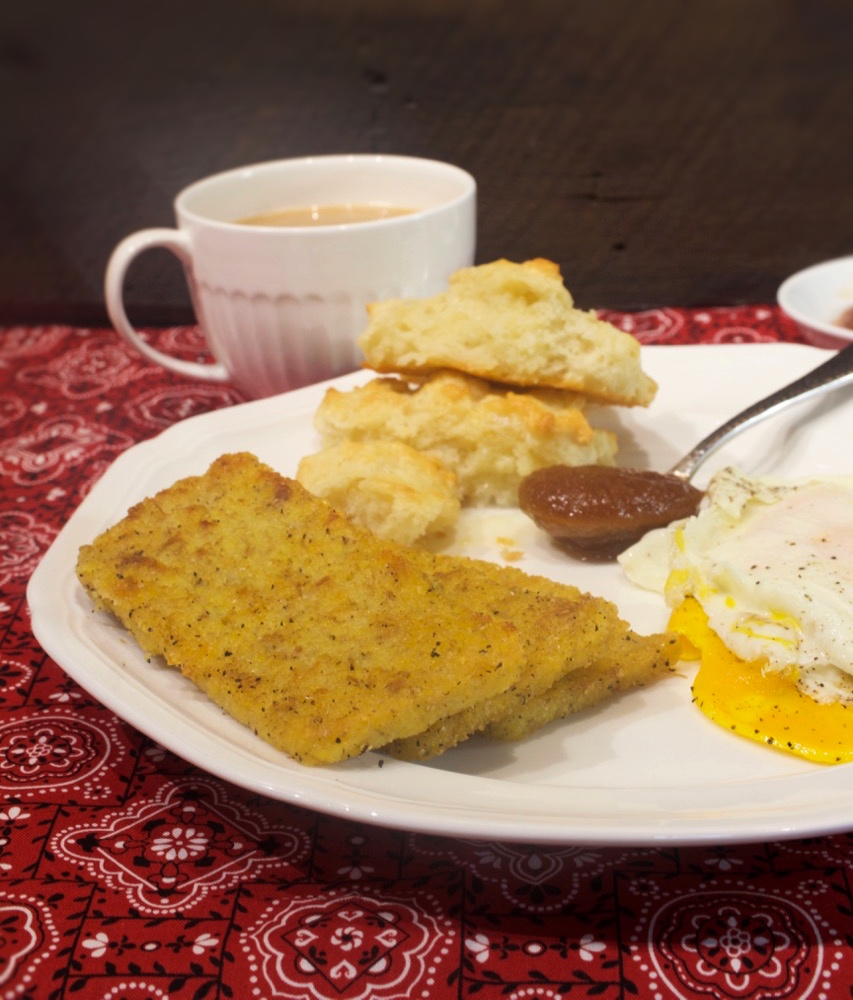 I'm going back to my roots today.  Yep!!  I'm talking about a food I grew up on, Scrapple.  What's scrapple?  Okay, I won't pick on you too much if you don't know what scrapple is.  If you don't know what scrapple is,  you probably do know what goetta is.  Allow me to clear up the difference between the two before I go on talking about scrapple.  There's one main difference between goetta and scrapple.  Here's what it is.  Goetta is made with pinhead oatmeal and scrapple is made with cornmeal.  They are both made from pork.
Now back to Scrapple…okay I might gross you out a little here, but please stay with me…
I grew up on a large farm and my dad slaughtered hogs in the winter.  We didn't waste any of the hog.  We had pickled pigs feet and cracklins (and no…I couldn't eat pigs feet today), but we also had scrapple.  The scrapple was made from the meat from the pigs head.  STOP…hear me out.  That's right.  I didn't even think to question it when I was a little girl.  All I knew was that my mom was a great cook and when she placed a plate in front of me with scrapple, eggs, and homemade biscuits, I was in heaven.
Okay, not everyone uses the hog's head today to make scrapple.  Trust me I don't.  I actually use a pork shoulder to make scrapple and it tastes just as delicious as I remember it tasting as a kid.  So you can breathe easy now.  If you want to make some homemade Scrapple, just run to the grocery store.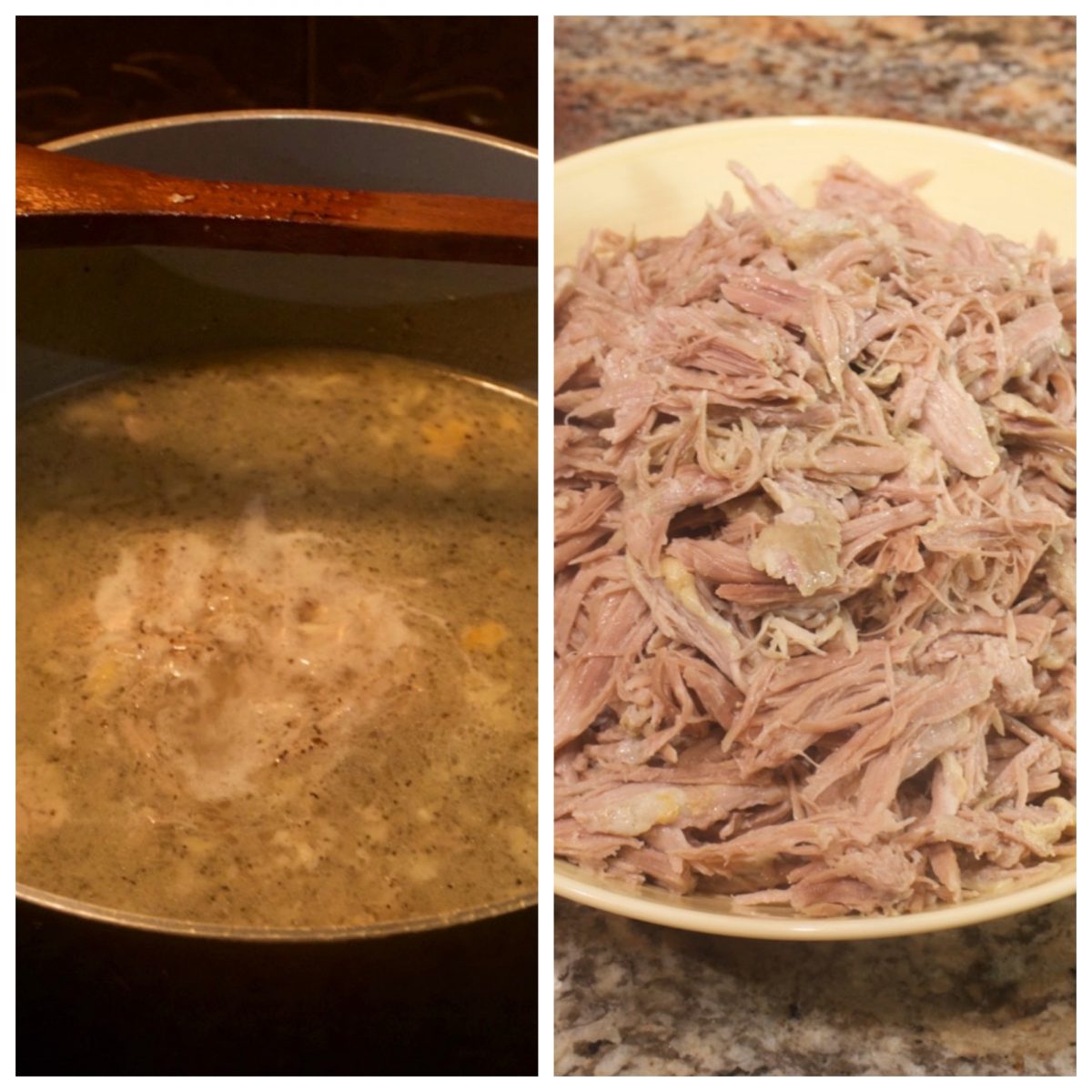 I used a pork shoulder to make the scrapple pictured here.  See…no need to run.  However, years ago, scrapple was made from all the leftover pork scraps, such as the head, liver, heart and even snouts.  I know…gross!  The scraps were boiled, then cornmeal and seasonings were added to bind everything together.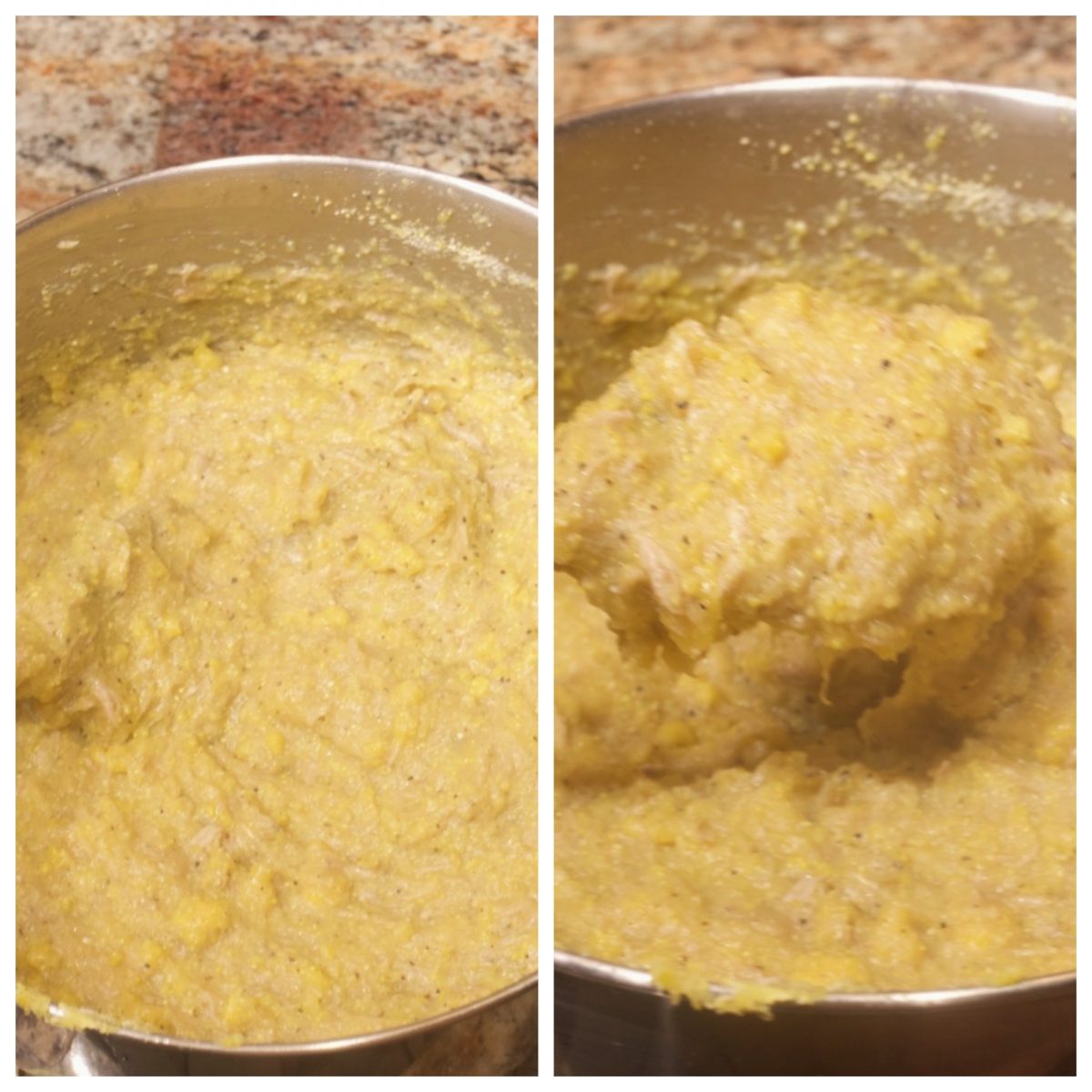 I added yellow cornmeal.  I was lucky enough to have homemade cornmeal from Don's uncle.  It gets thick rather quickly, so you have to be ready to mix pretty vigorously as you are adding the cornmeal.
Note:  You might think this is the most in-concise recipe I've ever posted.  Why?  Because the amount of cornmeal added is determined by the size of the pork shoulder you use.  Purchasing a pork shoulder that weighs an exact amount of pounds is like shopping for the turkey that weighs exactly 20 pounds.  So it's a little give and take when it comes to adding the cornmeal.  Bottom line…you just keep adding cornmeal until the mixture becomes very thick.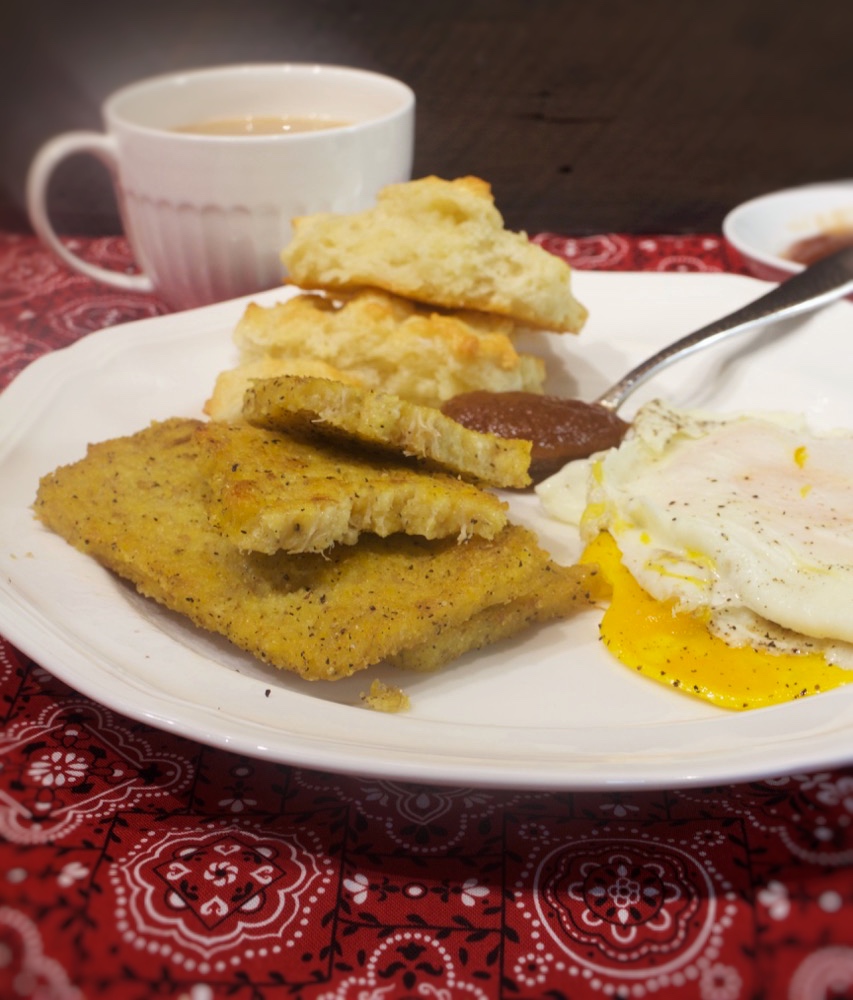 Scrapple gets fried until the outside is golden brown and crispy and the inside is soft.  It's delicious!!
Print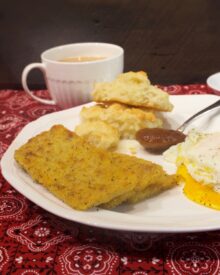 Homemade Scrapple
Author:

Prep Time:

30 Minutes

Cook Time:

2 hours

Total Time:

2 hours 30 minutes

Yield:

Varies
---
1

pork shoulder, cut into

3

to

4

large pieces for cooking.

1

large bag cornmeal, yellow or white, (you'll use

3

to

4

cups, depending on the size of meat)
Lots of salt & pepper
Sage, optional (I don't use, but many cooks do)
---
Instructions
Cooking
Place the pork in a large pot.  Cover with plenty of water.  Bring to a boil over high heat.  Reduce heat to medium, cover with a lid, and allow to simmer until the meat is very tender, about 2 hours, adding water as needed.
Once meat is fork tender, remove from pot and transfer to a large plate.  Using two forks, shred the pork into small pieces.
Bring the broth back to a boil, adding more water if needed.   Add the shredded pork back to the broth.  Reduce heat to medium and using a wooden spoon, stir vigorously while adding cornmeal.  Keep stirring and pouring cornmeal until the mixture starts to become very thick, sort of like wall paper paste.  It's easier to have a second person in this step.  One person stirring while the other adds the cornmeal.  Immediately remove from heat.  Add a generous amount of salt and pepper and mix throughly.  Taste the mixture and add more salt and pepper as needed to taste.  Don't be shocked by how much salt and pepper is needed in this recipe.
Transfer the scrapple to greased loaf pans  Allow mixture to set for about one hour, giving it time to set up. Once the mixture sets up, invert it onto a plate, cover and refrigerate.
Frying
Slice the scrapple into 1/4 inch slices.  Add a small amount of oil to a pan over medium heat.  After oil has become hot, add slices of scrapple, making sure pieces are not touching, or they will stick together while cooking.  Brown on each side until the edges are crispy and the top is golden brown.  Do not flip the pieces over until one side is completely browned and flip only once or the scrapple will fall apart.  Add more salt and pepper if needed.
Serve hot with eggs and biscuits or your favorite breakfast sides.
---
Notes
I used a pork shoulder, weighing 6.8 pounds for this recipe.  It really doesn't matter what size you use, the bigger the piece of pork, the more cornmeal you'll add.
Scrapple is great for freezing.  I wrap it in plastic wrap, then a freezer bag.  When made in loaves, one loaf will fit nicely in a gallon freezer bag.
There may be affiliate links in this post. We are a participant in the Amazon Services LLC Associates Program, an affiliate advertising program designed to provide a means for us to earn fees by linking to Amazon.com and affiliated sites.