Kentucky Bourbon Balls
These Kentucky Bourbon Balls are creamy and loaded with flavor.  They're made with coconut, pecans, butter, sweetened condensed milk, and vanilla.  Oh, and if that's not enough to make them delicious, let's not forget the bourbon.  It totally complements the sweetness and chocolate.  They are creamy and delicious and get better the longer they're stored in an airtight container.  This recipe makes a large batch and they are excellent for gift giving!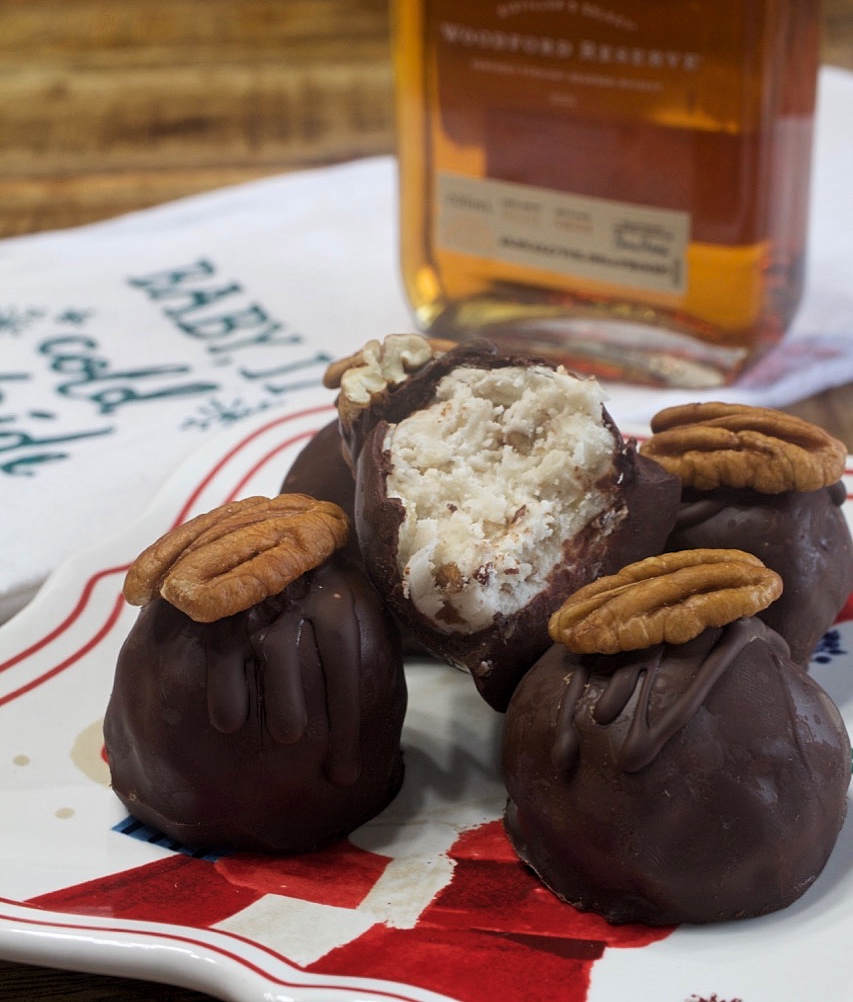 I've been making these Kentucky Bourbon Balls since I was a kid when my twin sister's best friend Rita gave us some for Christmas.  I had never before had bourbon balls and didn't think I would like them.  Boy was I wrong!  There's only 1/4 cup of bourbon in the recipe, and it's the perfect amount.  The longer you store the bourbon balls, the more the bourbon flavor shines through.  Therefore, if you're tempted to add more bourbon, be careful not to add too much.
Funny thing…I was recently looking at some very old candy recipes and came across a recipe for Martha Washington Candy.  I was shocked when the ingredients were almost identical to the Bourbon Ball recipe, with the exception of the bourbon.  I've never tasted Martha Washington Candy but if you have, you'll already know what these yummy balls taste like.  Just add the bourbon.
STEPS FOR BOURBON BALLS
This recipe is so easy.  The hardest part is rolling the balls if you think that's hard.  It does take a few minutes to roll the balls, but you'll have plenty of balls for gifting!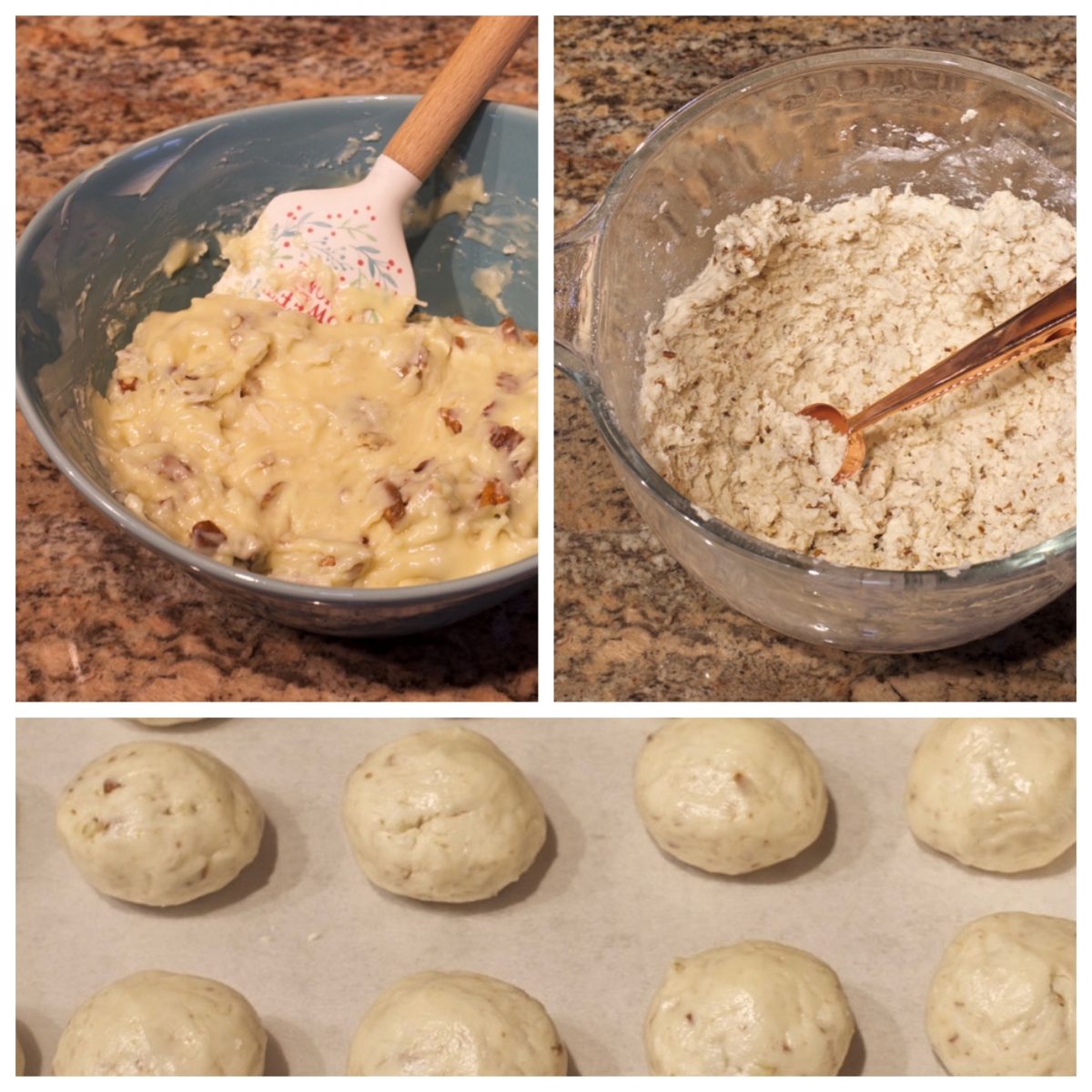 Sweetened condensed milk, coconut, pecans, butter, and vanilla get mixed together in a bowl.
Powdered sugar gets added to the mixture, then it gets chilled.
The chilled mixture gets rolled into balls and chilled again, before getting dipped in chocolate.
STEPS FOR CHOCOLATE
Dipping the balls is easy.  It takes about 3 bags of chocolate chips to dip all of the balls, and they get dipped after they are chilled.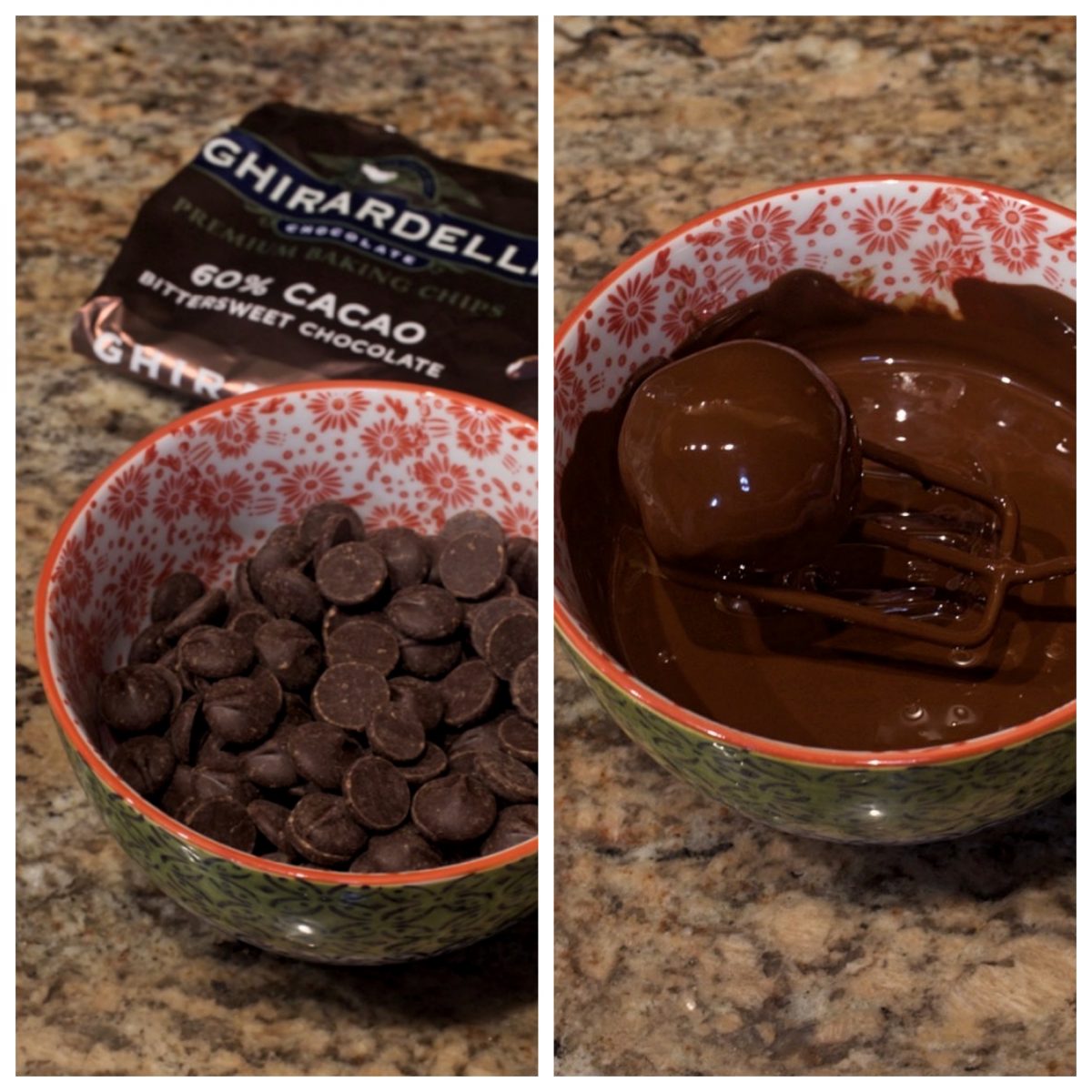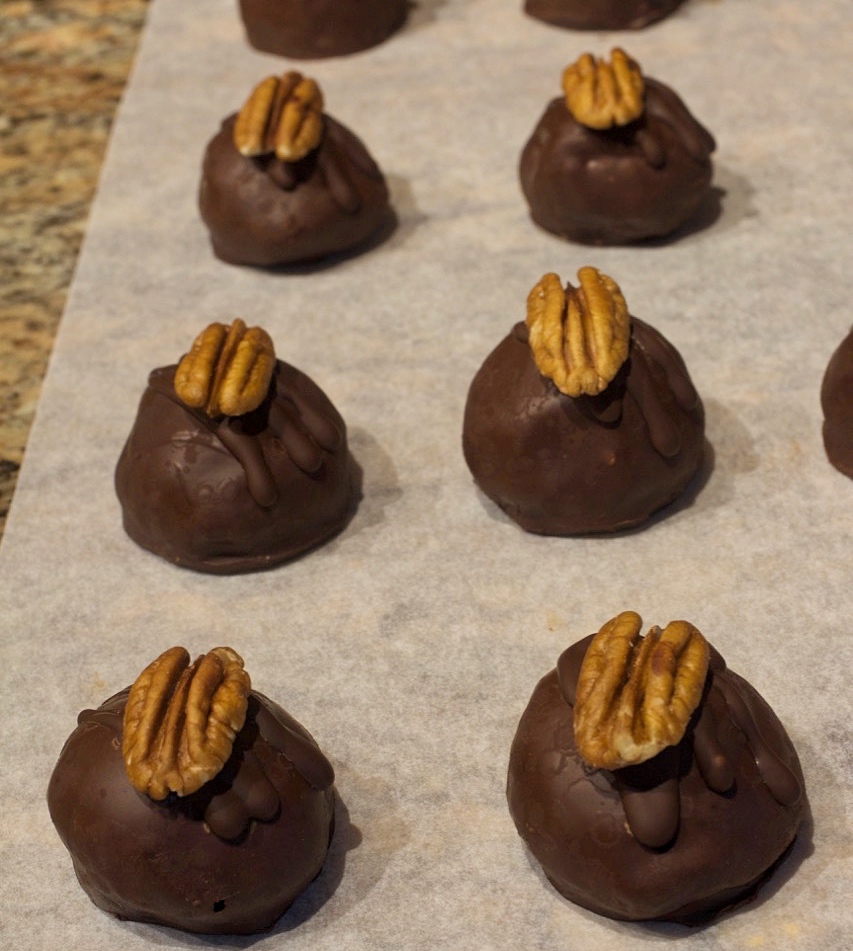 Add about 1/2 bag of chocolate chips to a small bowl.  Microwave for 30 seconds.  Stir the chocolate with a spoon and microwave for 20 more seconds.  Stir until all the chocolate is melted.
Remove a few balls at a time from the refrigerator, so they will stay cold.  Dip the balls, one at a time, in the melted chocolate, using a fork or dipping tool.  Allow excess chocolate to drip off the ball, lightly scrape the bottom of the ball across the edge of the bowl when removing it, and place on waxed or parchment paper.
Place a pecan half on the top of each ball.  If you want to wait until you've dipped all of the balls before placing a pecan half on them, just melt a little more chocolate as I did in the picture here, and drizzle it over the top of each ball, then place a pecan half on the top.
Allow balls to set up and dry completely before storing them in an airtight container.
Tip:  When dipping the balls, make sure you don't rush the process.  After dipping each ball, allow sufficient time for the excess chocolate to run off the ball before transferring it to the waxed paper.  If you don't the excess chocolate will run down the sides of the ball and puddle on the waxed paper.  This will waste a lot of chocolate.
Note:  You can use any chocolate chip you prefer, milk chocolate, semi-sweet, bittersweet, etc…   I love the bittersweet because it counteracts the sweetness of the balls.  A perfect combo in my opinion.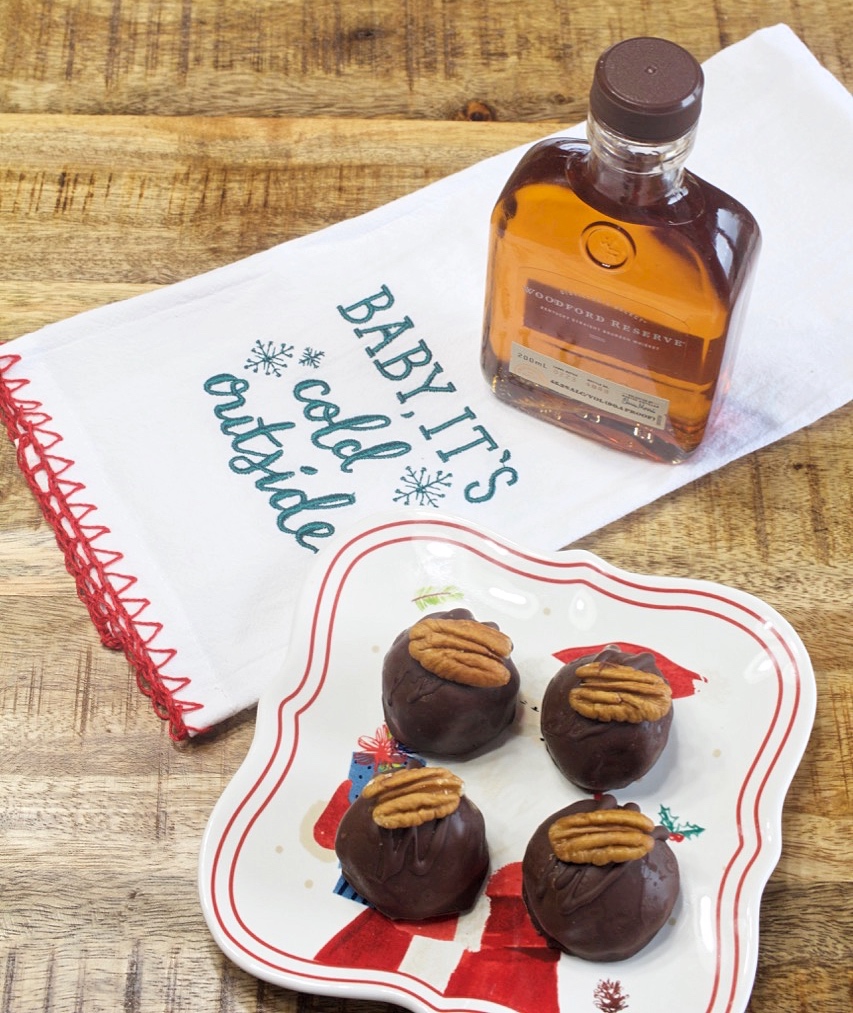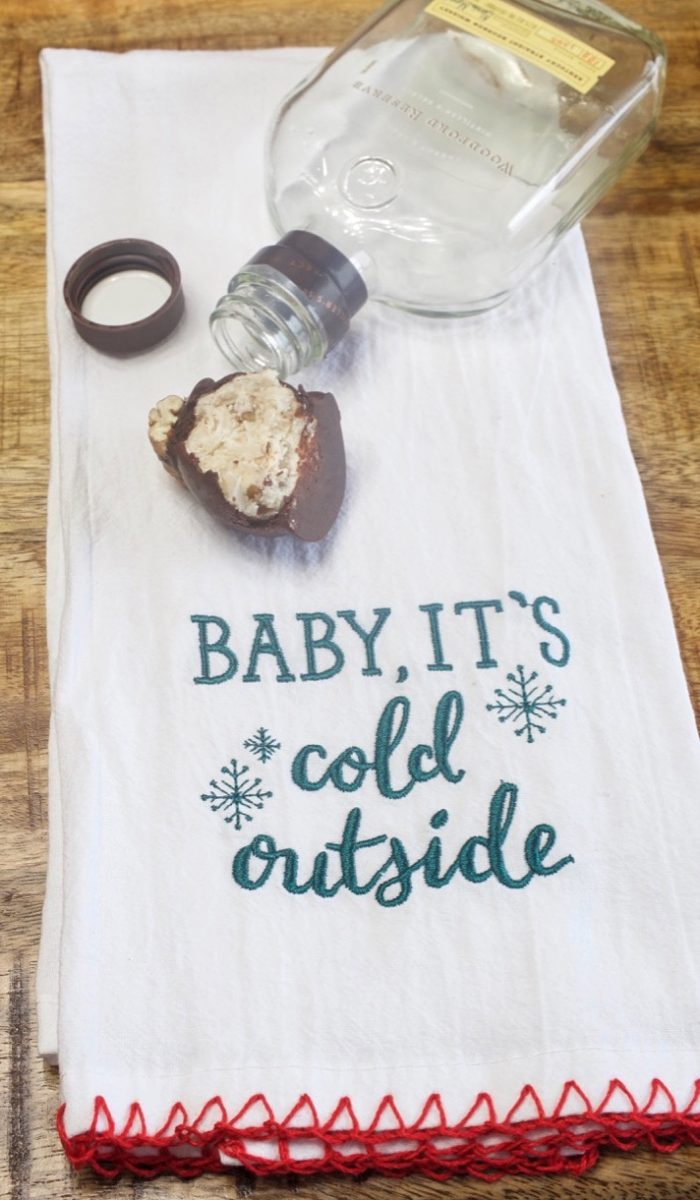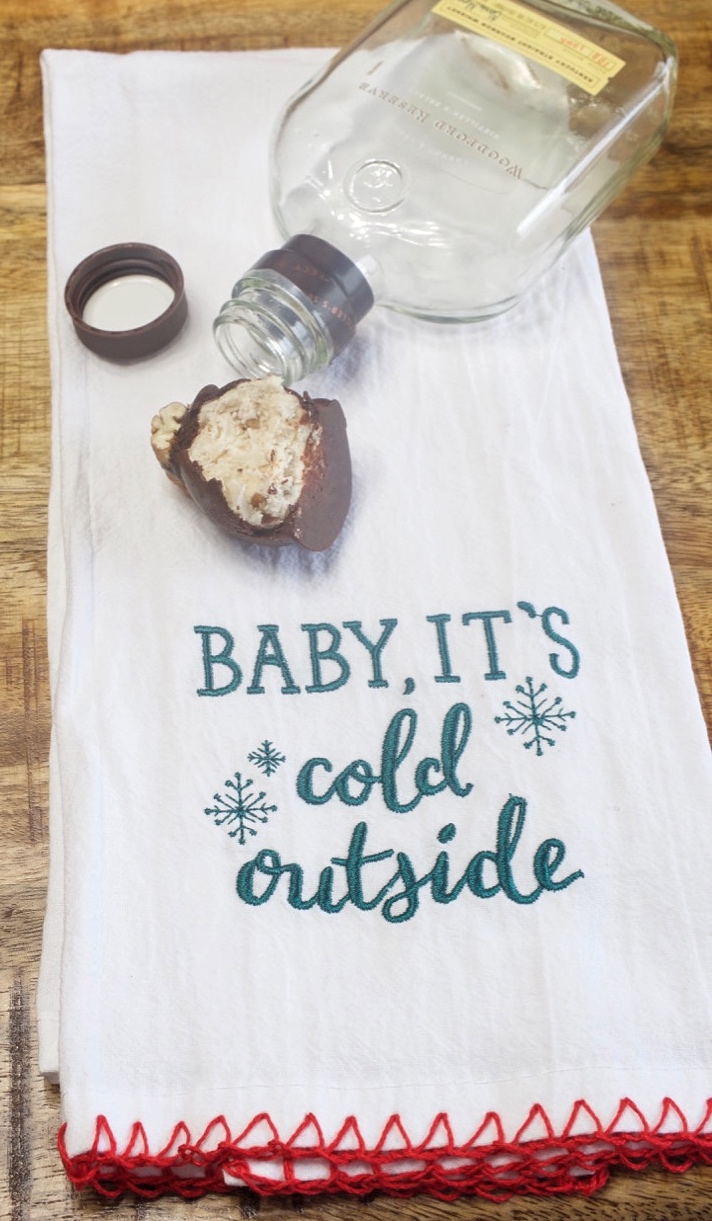 Don't be afraid to make these 2 to 3 weeks before the holiday.  The bourbon keeps them well preserved and as I previously mentioned, the longer they are stored in an airtight container, the more the bourbon flavor shines through.  If you're not a bourbon drinker don't worry.  The amount of bourbon in this candy gives the candy a very mild bourbon flavor which totally compliments the sweet balls.
Print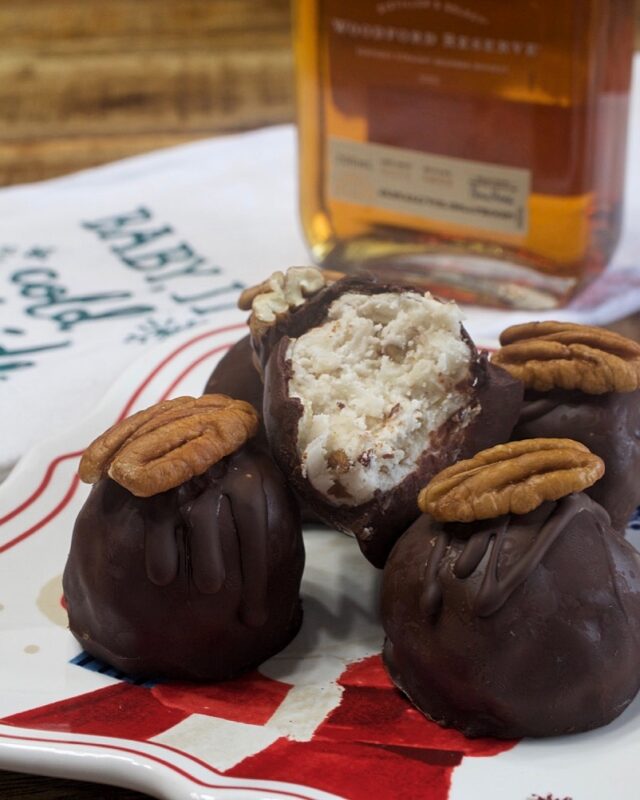 Kentucky Bourbon Balls
Author:

Prep Time:

90 minutes

Total Time:

1 hour 30 minutes

Yield:

80

balls

1

x

Category:

candy

Cuisine:

American
---
Description
These creamy Bourbon balls are the perfect combination of flavors.  The balls are sweet and delicious and the small amount of bourbon greatly compliments the sweetness.  Then, I suggest using semi-sweet or bittersweet chocolate for dipping.  A great contrast to the sweetness!  These are so good and addicting, but don't worry they make a lot.  
---
2

cups

sweetened coconut

1

can Sweetned Condensed Milk, such as Eagle Brand

2

sticks butter, room temperature

2

cups

finely chopped pecans

2 teaspoons

pure vanilla extract

3 tablespoons

bourbon, good quality, such as Woodford Reserve

1

thirty-two ounce bag powdered sugar

3

bags chocolate chips, 10 ounces each, semi-sweet or bittersweet, good quality, such as Ghirardelli
Pecan halves for the tops, optional
---
Instructions
Add the coconut to a blender or food processor and pulse a couple times, until coconut is broken down into small pieces.  Transfer to a large bowl.
Add the sweetened condensed milk, butter, and pecans and mix with a wooden spoon until combined.  Add the vanilla, bourbon, and about 1/2 of the bag of sugar.  Mix until well combined.  Continue adding sugar, about 1 cup at a time and mixing well after each addition, until all sugar is added.
Chill mixture for at least 30 minutes.  Roll into small balls and refrigerate for an additional 30 minutes.
Add 1 bag of the chocolate chips to a small bowl and melt in 30 second intervals in a microwave until the chocolate is melted.  It takes 2 thirty second intervals in my microwave.
Remove about one dozen balls from the refrigerator at a time.
Using a fork or dipping tool, dip balls one at time, allowing the excess chocolate to run off of the ball.  Transfer each ball  to a wax or parchment paper lined cookie sheet.  Place a pecan half on top of each ball.  Allow the chocolate to become firm and set before transferring balls to an air tight container.
---
Notes
Prep time does not including 1 hour of chilling time.
The yield in this recipe, depends on the size of the balls.  I made 80 smaller balls and used almost 3 bags of chocolate chips.
The amount of chocolate used, depends on how long you allow the chocolate to drip off the ball and back into the bowl.
Feel free to cut this recipe in half if you don't want to make a large batch.
Keywords: Kentucky bourbon balls, bourbon balls, candy,
There may be affiliate links in this post. We are a participant in the Amazon Services LLC Associates Program, an affiliate advertising program designed to provide a means for us to earn fees by linking to Amazon.com and affiliated sites.