Gooey Butter Coffee Cake
Gooey Butter Coffee Cake features a soft cake layer with lots of gooey butter filling marbled throughout. All it needs is a sprinkling of powdered sugar after it bakes and breakfast is on!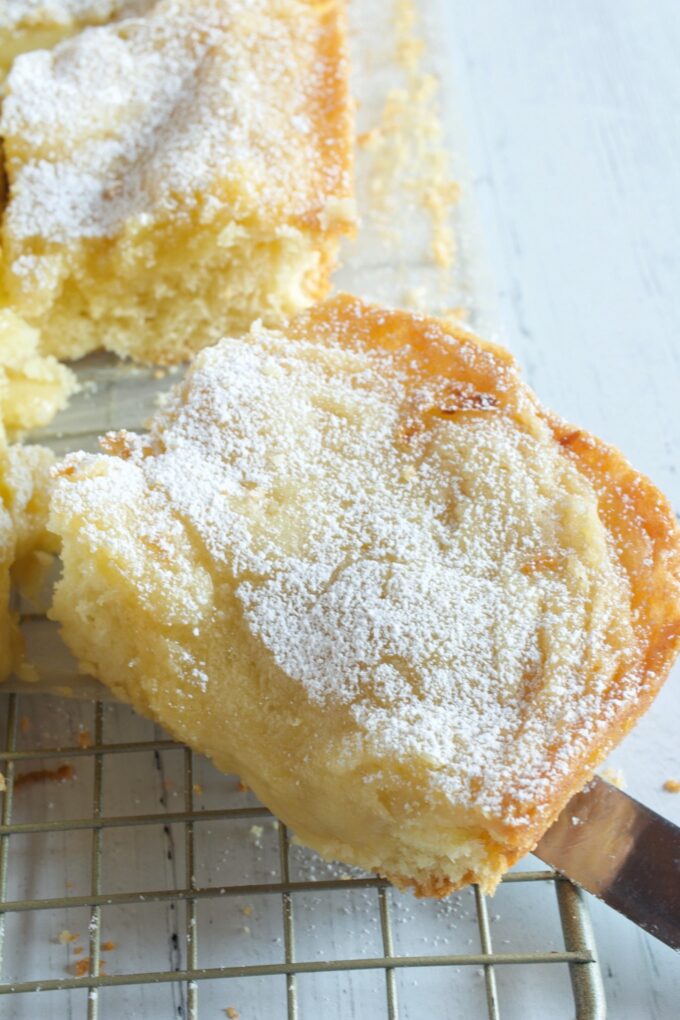 This Gooey Butter Coffee Cake is made from scratch and presents a soft cake layer with lots of buttery gooey filling marbled throughout. It's perfect for breakfast and it's not overly sweet. Just a simple dusting of powdered sugar is all it needs.
Rumor has it… this cake was invented in the 1930s in St. Louis when a baker made an error when making his coffee cake. He didn't want to pitch it, so he cut it and sold it anyway. Everyone loved it, and the rest is history!
Confession… I've never been a big fan of those recipes for ooey-gooey butter cake that start with a dry cake mix, or any recipe that uses a dry cake mix. Sorry… I don't like the cookies made from a cake mix either. My tastebuds can instantly tell when a recipe is made with a dry cake mix, and there seems to be an aftertaste, maybe from all the preservatives. So when I decided to make a coffee cake version of gooey butter cake, I knew I wanted a from-scratch cake recipe.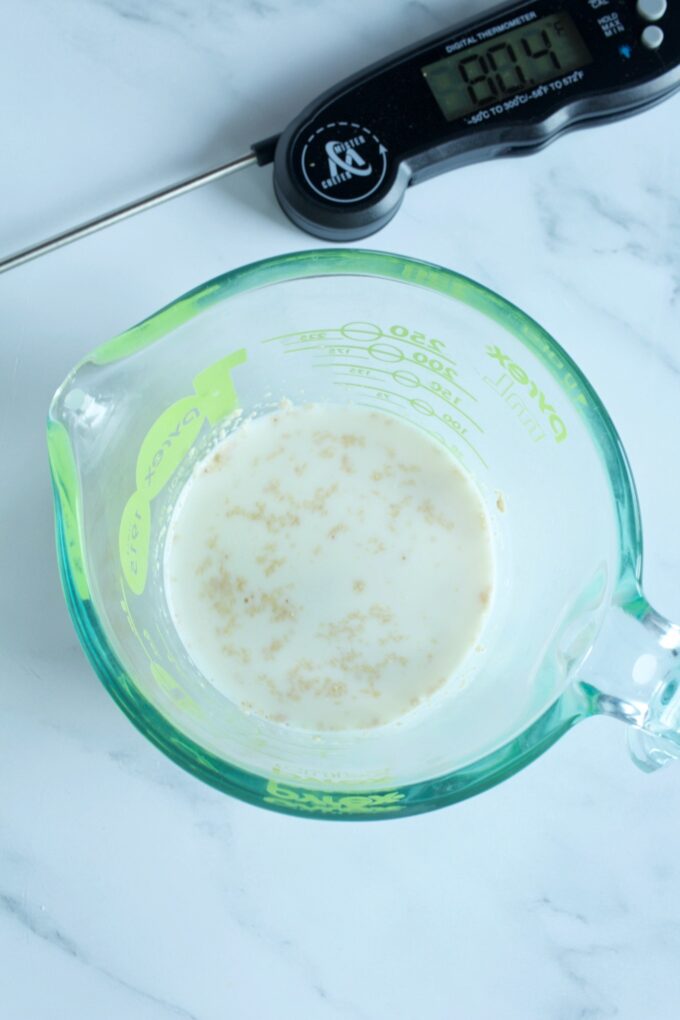 YEAST
This recipe actually uses yeast, but don't let that scare you. It only takes 5 minutes to proof yeast! The yeast actually acts as the leavener in the cake layer. We don't use baking powder or baking soda, and we don't need that much rise. Yeast gives us the perfect amount of rise.
When you think yeast, don't think about a loaf of bread or yeast rolls where the yeast has to rise until doubled in size. We're not using it for that purpose.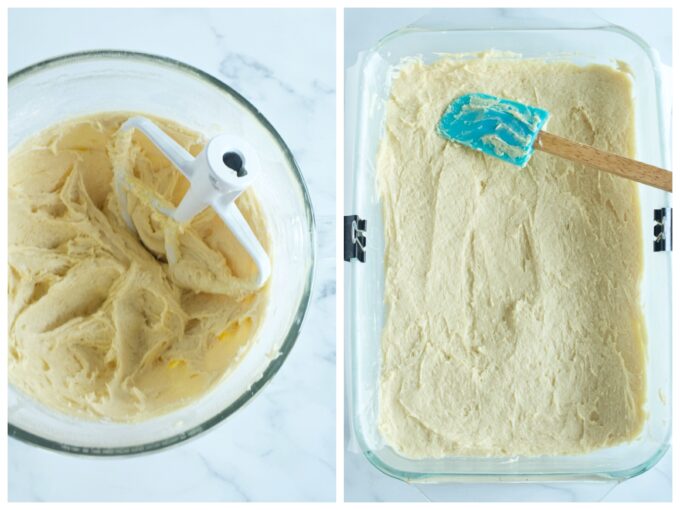 In this recipe, we add the yeast to a small cake batter, spread it in the bottom of a 9 x 13 dish, and allow it to sit for an hour. It doesn't rise much, because it doesn't need too. Just enough rise to make it a nice spongy like bottom layer. It will actually be sticky and pliable more so like yeast dough rather than cake batter.
CAKE LAYER INGREDIENTS
Instant dry yeast
Milk
Granulated sugar
Eggs
AP flour
Salt
The combination of milk and yeast make the bottom layer rise in the pan. Milk makes a softer crust that will brown more evenly and quickly, due to the sugar and butter fat in the milk. Using milk instead of water to proof the yeast, results in a richer bread/cake texture.
GOOEY BUTTER TOPPING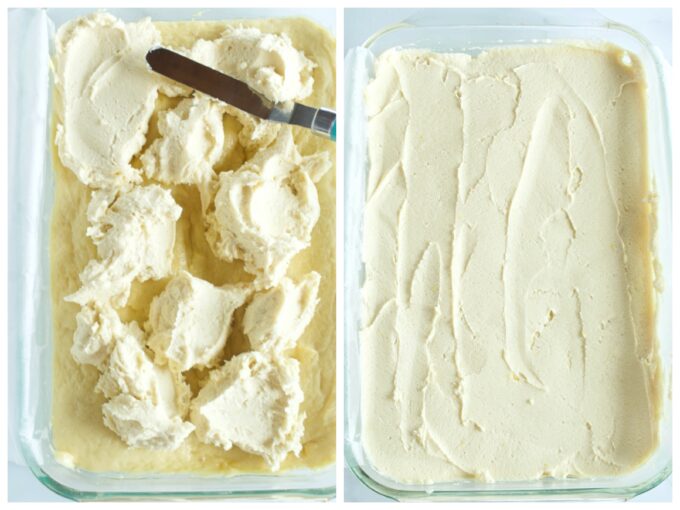 The gooey butter topping is SO simple! We simply mix the topping ingredients and spread the mixture over the top. TIP: We don't want to defalte the bottom layer. Place dollops of the topping all over the bottom layer. Then, gently spread them out with an offset spatula, making sure you don't press down at the same time.
GOOEY BUTTER TOPPING INGREDIENTS
Butter
Granulated sugar
Corn syrup
AP flour
Vanilla extract
Eggs
Salt
Corn syrup is used because it has the ability to resist crystalization and will keep the topping soft & gooey.
THE BAKE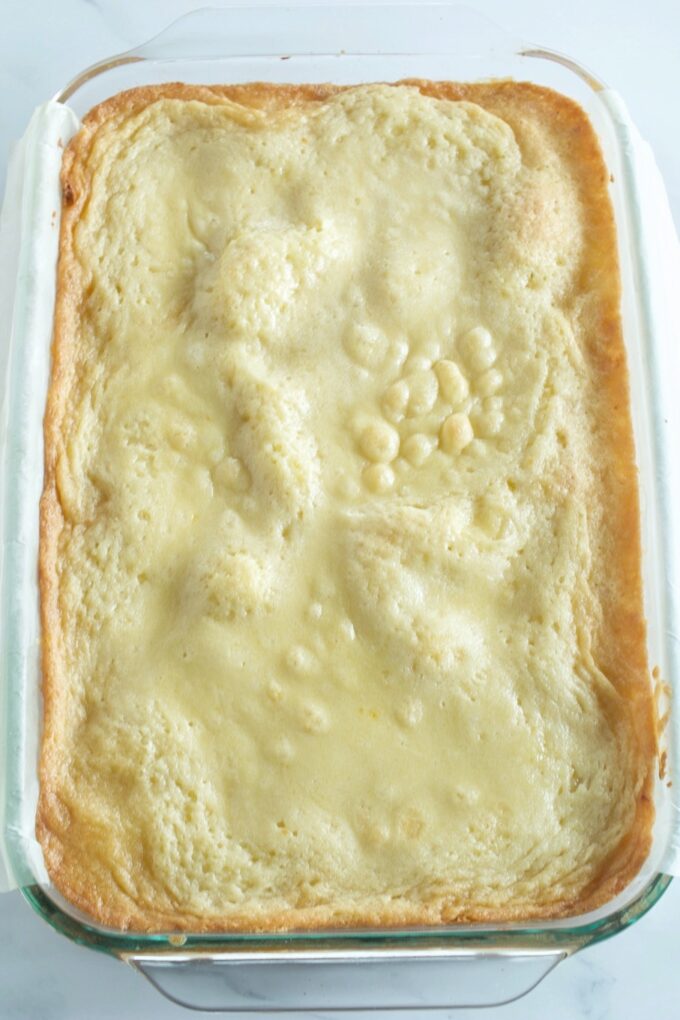 Ahh… the bake! Does this not look great or what? Don't be alarmed as you watch this coffee cake bake. It will rise and fall, then rise and fall. It will look like it has craters in it. Not to worry…it's just that gooey buttery topping working its way into the cake batter.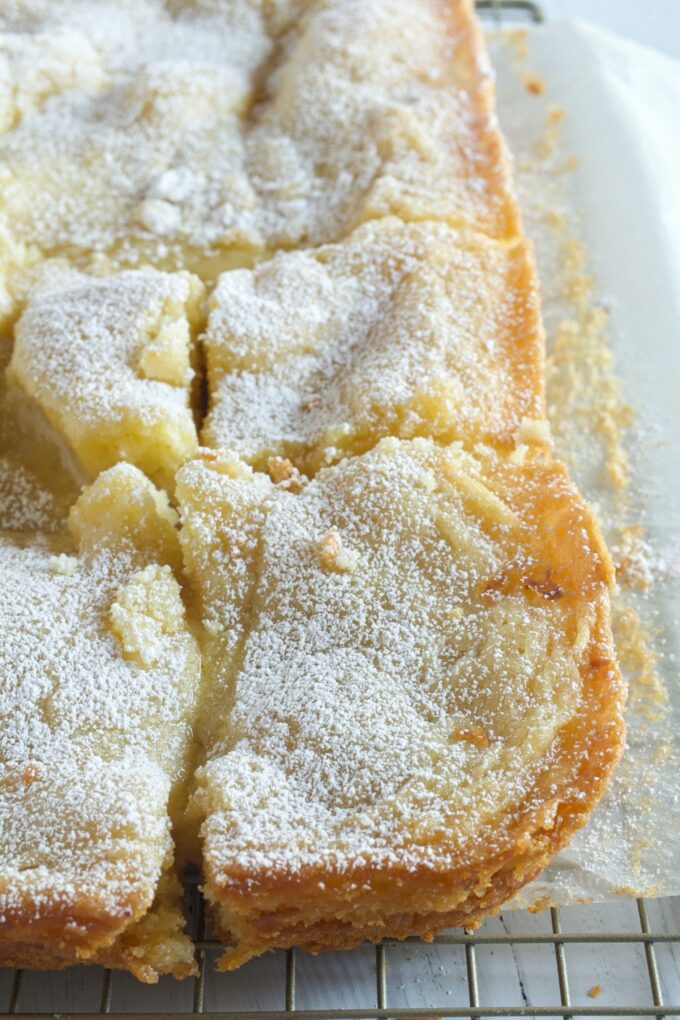 Once the cake bakes and slightly cools, it gets a dusting of powdered sugar, and the rest is history!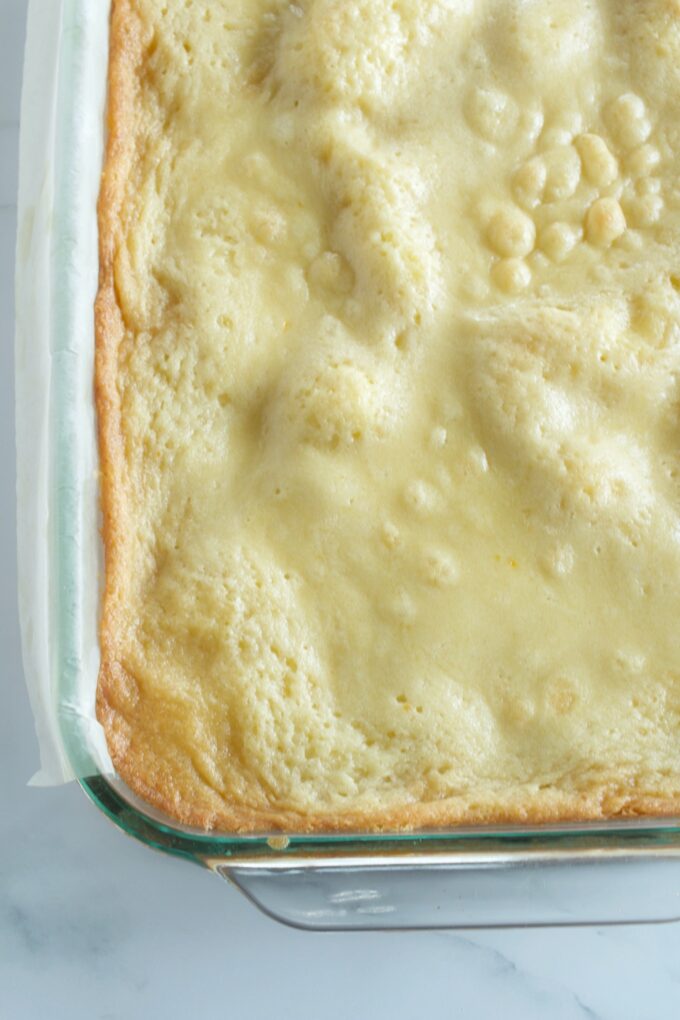 More breakfast recipes you might like…
Buttermilk Butter Dip Biscuits
Print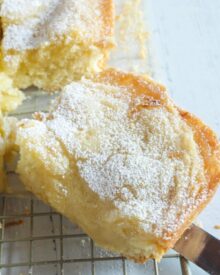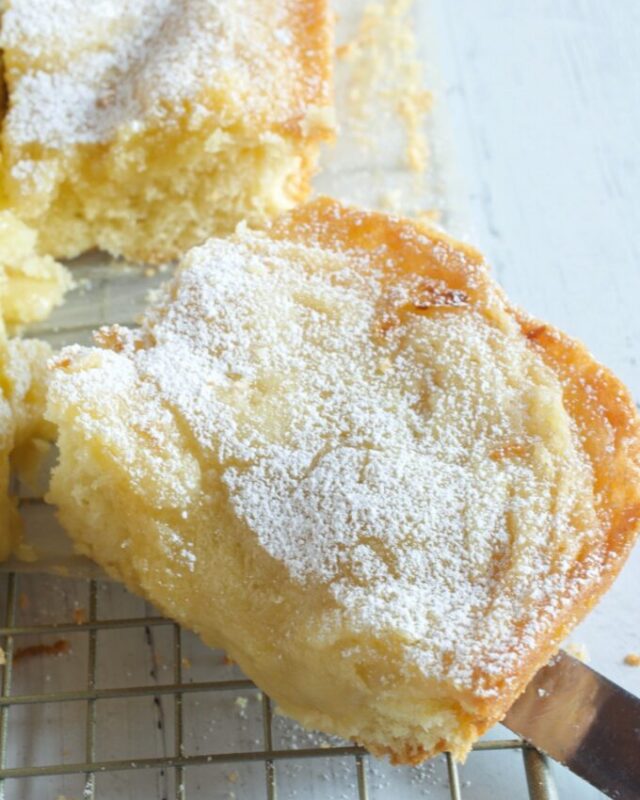 Gooey Butter Coffee Cake
Author:

Prep Time:

1 hour 30 minutes

Cook Time:

35 minutes

Total Time:

2 hours 5 minutes

Yield:

12

servings

1

x

Category:

breakfast

Method:

bake

Cuisine:

American
---
Description
This Gooey Butter Cake presents a soft cakey bottom, gooey center and crispy top, and it's finished with a dusting of powdered sugar.  A perfect breakfast treat! 
---
CAKE LAYER
1

pkg. instant dry yeast

1/4

cup

warm milk, 105 – 110 degrees

2

cups

all-purpose flour

1 teaspoon

salt

1/2

cup

(1 stick) unsalted butter, room temperature

1/4

cup

granulated sugar

2

large eggs, room temperature
GOOEY BUTTER TOPPING
2

sticks unsalted butter, room temperature

1 1/3

cups

granulated sugar

2 teaspoons

pure vanilla extract

1/4

cup

lite corn syrup

1

large egg +

1

large egg yolk, room temperature

3/4 teaspoon

salt

1 1/3

cups

all-purpose flour
GARNISH
---
Instructions
CAKE LAYER
Butter a 9 x 13 cake dish.  Line with enough parchment paper so that it has at least a 1-inch overhang on the long sides.  Butter the parchment paper.  Tip:  Use two office clips to hold the paper down on the sides if you prefer.  I always do this.  Set aside.
Combine the yeast and milk in a measuring cup and sit aside to proof while you mix the cake batter.
In a small bowl, whisk togetther the flour and salt and set aside.
Add the butter, sugar and eggs to to a mixing bowl and mix on medium-high speed until well combined. Add the flour mixture on medium speed until combined.  Add the yeast mixture and beat on high speed until the dough is elastic, 1 to 2 minutes.  The batter will be sticky more like yeast dough rather than cake batter.
Using an offset spatula, press the batter into the bottom of the prepared baking dish.  Cover the dish with plastic wrap and allow it to sit for 1 hour until the dough has slightly risen.  Also, continue to let it sit while you prepare the sticky topping. 
GOOEY BUTTER TOPPING
Preheat oven to 350 degrees.
Add all the ingredients to a large mixing bowl and mix on medium speed until thoroughly combined.  
Spread the gooey topping over the dough layer, being careful not to deflate the dough.  Do this:  Place large dollops of the gooey topping over the dough and use an offset spatula to gently spread the dollops out, making sure to not press down as you spread.
 Bake for 30 to 35 minutes until the top is golden brown on the top and deeper brown around the edges.  The center will still look gooey.  Also, as it bakes it will rise up and down and look sort of funky, but that's okay.
Allow the coffee cake to cool completey.  Grap the sides of the parchment paper and transfer the coffee cake to a serving plate.  Dust with powdered sugar.
Cut into squares and serve.
Coffee cake will stay fresh for up to 2 days covered at room temperature, but is best the day it's made.
---
Notes
Recipe adapted from Martha Bakes show.
Keywords: gooey butter coffee cake, gooey butter cake, coffee cake,
There may be affiliate links in this post. We are a participant in the Amazon Services LLC Associates Program, an affiliate advertising program designed to provide a means for us to earn fees by linking to Amazon.com and affiliated sites.