Creamy Chicken Gnocchi Soup
This Creamy Chicken Gnocchi Soup is loaded with flavor and creaminess from broth and half and half, to carrots, spinach, and gnocchi dumplings. Comfort food heaven!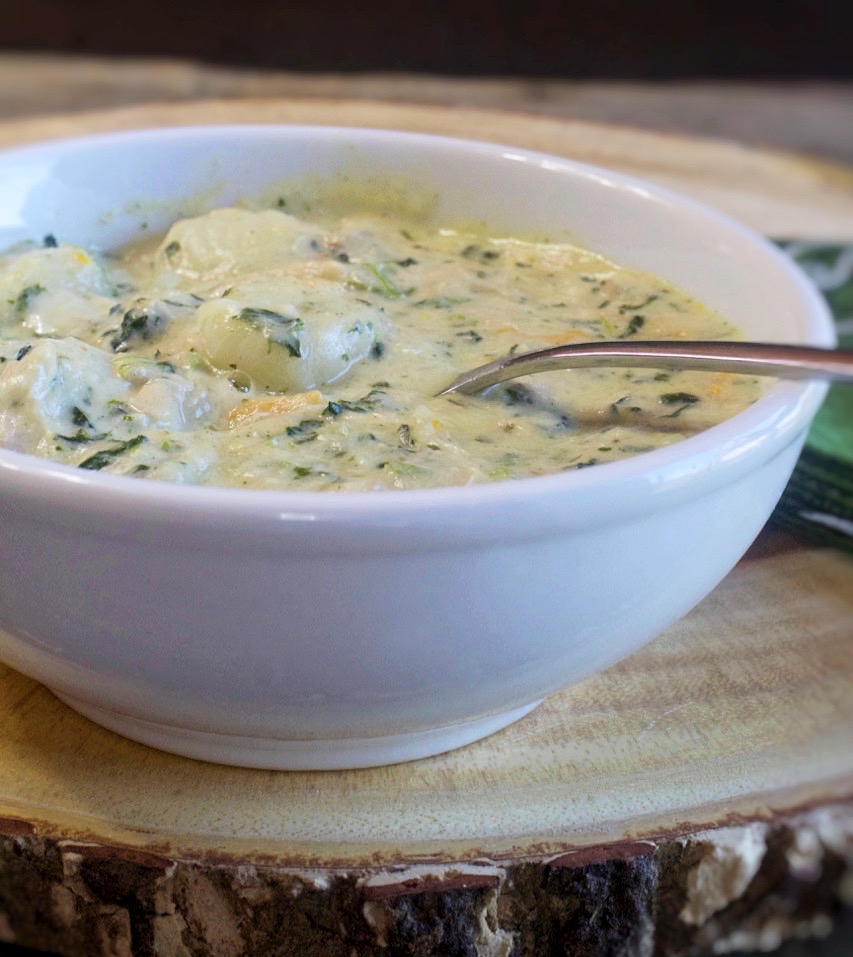 Fall is finally here and I'm ecstatic!!!  I don't know about you, but I'm done with hot and humid weather.  I'm so ready for cool and crisp weather, walks in the woods, and snuggling up on the couch with a hot bowl of homemade soup.
Speaking of homemade soup… my friend Julie shared this wonderful recipe with me about 1 1/2 years ago.  It's an Olive Garden copycat recipe that I've slightly tweaked.  I posted it back then when I was still taking pictures with my I-phone.  I hated those amateur pictures so much, that I deleted the recipe.  After my son-in-law, Brad, threatened to break my I-phone if I didn't put it down and start learning to use my Canon Rebel 5 camera, I finally took the plunge.  Now I'm so glad I did.  I cringe at all my pictures from my early blogging days, not that my pictures are perfect now.  I'm still an amateur but use a better camera.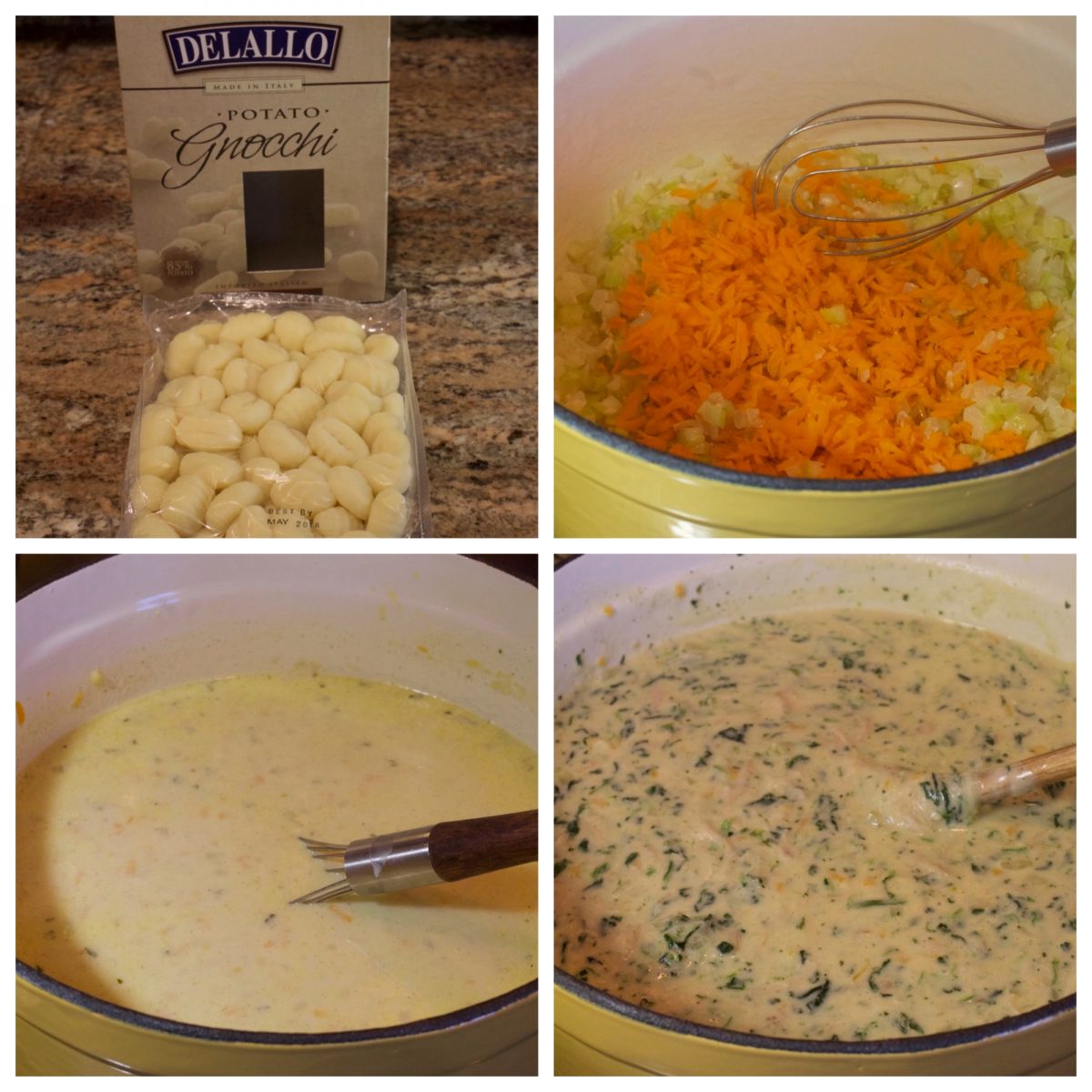 Let's talk about this Creamy Chicken Gnocchi Soup, pronounced (N'YAW-kee), by the way.  The Potato Gnocchi, in my opinion, is the main star in this soup.  However, chicken, spinach, chicken broth, and half and half equally add to the delicious flavor and creaminess of this comforting soup.  You can make your own homemade gnocchi for this soup, but if you're short on time, like me, use a good quality Italian Potato Gnocchi from the Italian section in your grocery store.  My favorite is DELALLO.  The gnocchi is light and airy and 85 percent potato.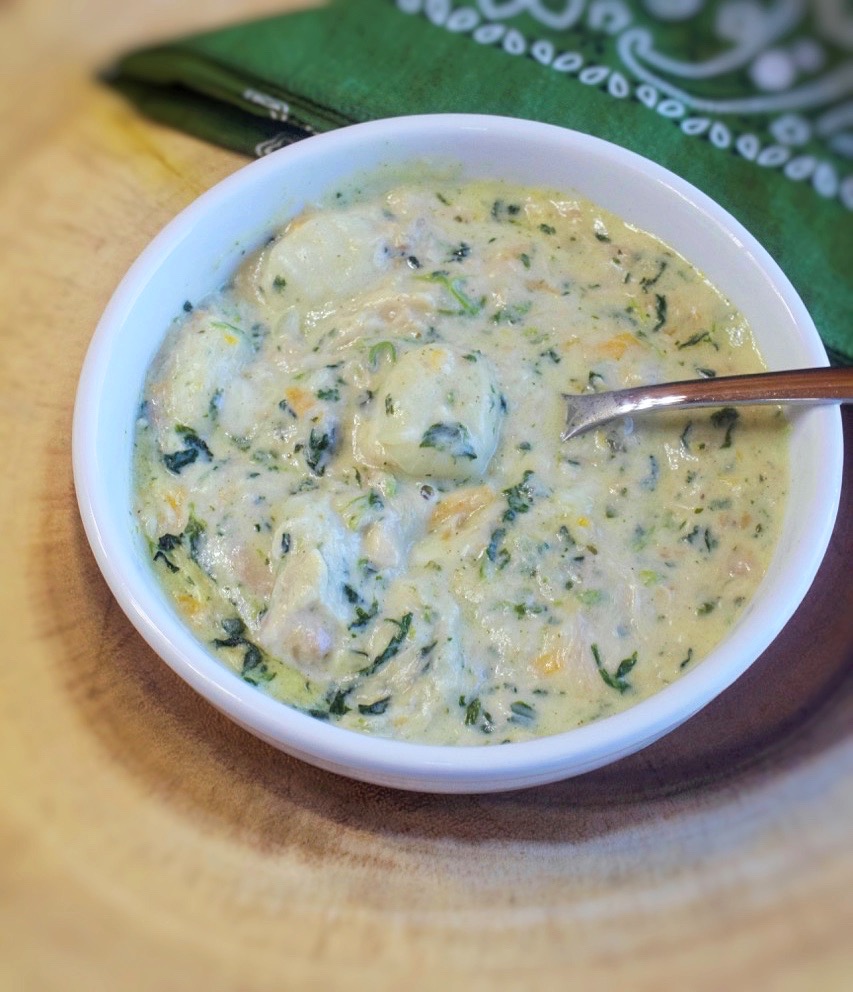 One of the things I love about this soup is how easy it is to make.  It's also so rich and creamy and full of flavor and doesn't require ingredients that take a special trip to the grocery store or ingredients I've never heard of.  When Fall weather arrives, I make sure I keep a couple of boxes of Potato Gnocchi in my pantry.
A few quick tips on making this delicious soup…
The original recipe calls for Rotisserie chicken and canned chicken broth.  This is a very easy addition to this soup and very flavorful.  I choose to cook chicken thighs and use them, along with the chicken broth from the thighs, for the soup, but either way is great.
Grate the carrots for the soup.  Don't dice them into small chunks or they will not get tender enough when sautéed.
The original recipe calls for fresh spinach.  If you don't have fresh spinach on hand, feel free to use frozen.  However, frozen needs to be hand-squeezed to remove the excess water and less is more.  If you use one cup of fresh spinach, use one-half cup of frozen, unless you like a lot of spinach in your soup.  I love spinach, but I also want to enjoy the other flavors of the soup.
The recipe calls for 1/3 cup of flour.  The soup will seem thin, but don't be tempted to add more flour.  Once the soup sets for a few minutes, it will thicken more.  If the soup still seems too thin for your liking, you can place one tablespoon of cornstarch in one-half cup of cold half and half or milk and whisk them together and add to the soup.  If the soup seems too thick for your liking, add a little bit of half and half or milk.
Enjoy this soup on a cool crisp Fall or cold Winter day.  It will warm you up and comfort you at the same time.
Soups on!!!
Print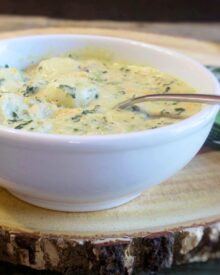 Creamy Chicken Gnocchi Soup
Author:

Prep Time:

30

Cook Time:

30

Total Time:

60
---
Description
This Creamy Chicken Gnocchi Soup is loaded with flavor and creaminess from broth and half and half, to carrots, spinach and gnocchi dumplings. Comfort food heaven!
---
1

box potato Gnocchi, 14 ounce

6 tablespoons

butter

1

large yellow onion, diced

1/2

cup

finely diced celery

1

cup

grated carrots

1 tablespoon

minced garlic

1/3

cup

all purpose flour

3

cups

chicken broth or stock

2

cups

half and half

2

cups

2 percent milk

1/2 teaspoon

dried parsley flakes

1/2 teaspoon

dried thyme

1 teaspoon

salt

1

cup

fresh spinach leaves, chopped*

2

cups

diced rotisserie chicken or diced cooked chicken thighs with skins**
Freshly grated Parmesan Cheese for topping
---
Instructions
Cook the gnocchi according to package directions. Drain and set aside. (Do not over cook. Gnocchi is done, when the dumplings float to the top of the water.)
Melt butter in a large pot or dutch oven over medium heat. Add the onion, celery, garlic and carrots. Stir frequently and cook until the onions are translucent, about 6-7 minutes.
Whisk in the flour and 1/2 cup of the broth. Whisk for a few seconds and add the remaining broth.
Add the half and half, milk, thyme, parsley flakes and salt. Continue stirring over medium heat until soup has slightly thickened. (Soup will thicken more as it sets.)
Add the spinach, chicken and gnocchi and simmer for about five minutes on low heat. Taste and add additional salt if needed.
Serve hot topped with freshly grated parmesan cheese.
---
Notes
* 1/2 cup of frozen spinach can be substituted for the fresh spinach. Make sure you squeeze all of the water out of it. It will be compressed and not look like a lot, but it will be plenty.
** If using chicken thighs, cook them in water with two chicken bouillon cubes until tender. Cool, remove skins and tear into bite size pieces. Reserve broth for the soup. Chicken thighs add more flavor to broth than any other part of the chicken.
---
There may be affiliate links in this post. We are a participant in the Amazon Services LLC Associates Program, an affiliate advertising program designed to provide a means for us to earn fees by linking to Amazon.com and affiliated sites.