Cornbread Dressing
Made with a combination of cornbread and biscuits, this easy Cornbread Dressing is the perfect side to turkey. It's moist and fluffy on the inside with crispy edges and a golden crust. A classic side dish for Thanksgiving.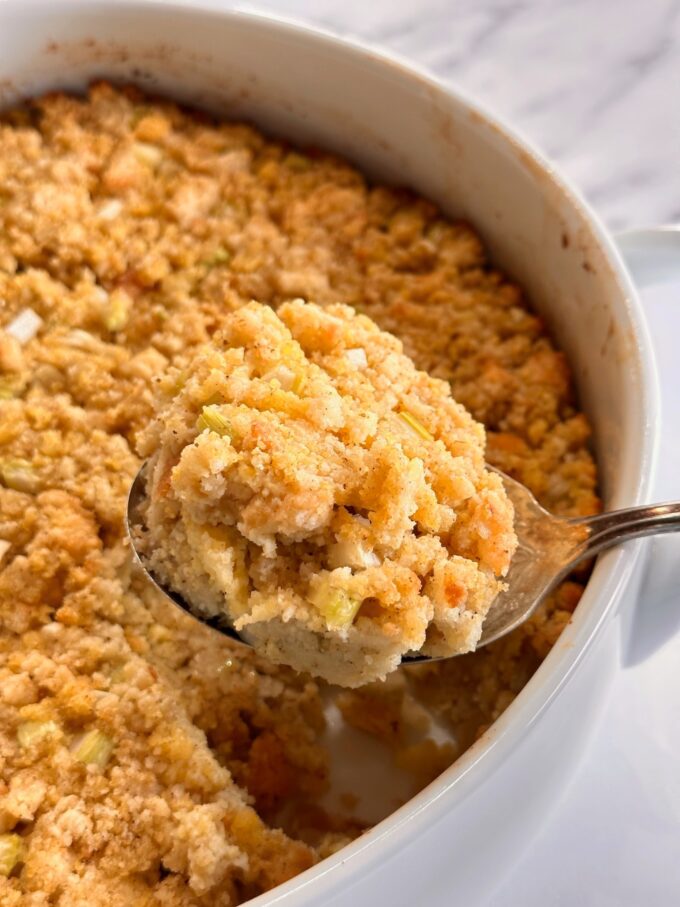 This cornbread dressing is packed full of flavor with turkey or chicken broth, and perfectly seasoned. It's perfect by itself or with a ladle of gravy over the top.
This dressing is made with part cornbread and part biscuits, making it not as crumbly or dense as all cornbread dressing. It's great served with turkey or chicken, and it doesn't need to be saved for a special holiday. You can make it anytime. If you don't have turkey broth, feel free to use chicken broth.
When I make this dressing, I love to eat it right out of the bowl before it gets baked. After all, I need to keep tasting it to make sure the seasonings are just right.
Ingredients for Cornbread Dressing
3 cups day old cornbread, crumbled
5 cups biscuits, torn into small pieces
1 cup celery, diced
1/2 cup onion, finely diced
1 1/4 teaspoons salt
1 teaspoon pepper
2 1/2 teaspoons poultry seasoning (or sage)
1/2 cup unsalted butter
2 cups turkey or chicken broth
How to make Cornbread Dressing
Add all the ingredients to a large bowl, except for the butter and turkey/chicken broth. Mix everything together really well.
Add the butter and broth and mix until thoroughly combined.
Place it in a baking dish and bake or stuff it in your turkey.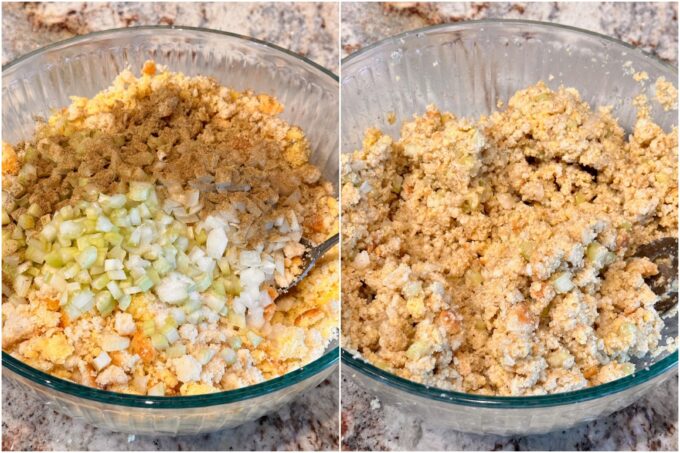 Alternate Option
You can opt to melt the butter in a skillet. Then add the celery and onions and cook until the onions are translucent. Although my own mother did this, it's not necessary. The celery and onions have plenty of time to cook in the oven.
What's the difference between dressing and stuffing?
Dressing and stuffing are basically the same thing. It's simply the way they are baked that determines the name dressing or stuffing.
Dressing gets baked in a dish in the oven.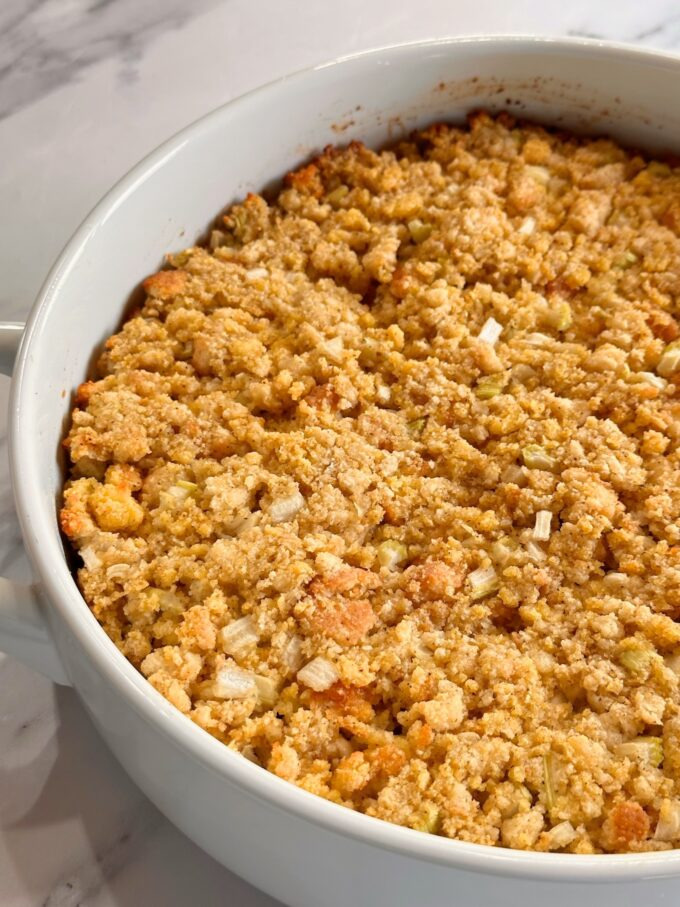 Stuffing gets stuffed into the turkey and baked inside of the turkey itself. This is actually my favorite way to bake it. It's even more moist and flavorful when stuffed inside the turkey. If you choose to bake it inside the turkey, I suggest cutting back on the broth in the recipe by at least 1/4 cup.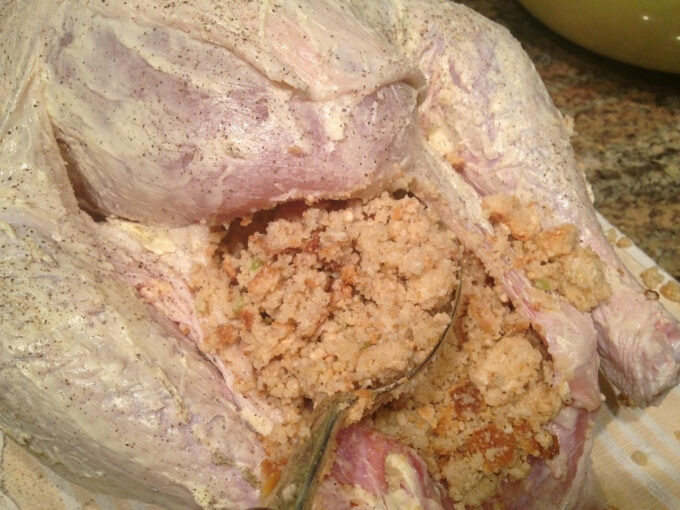 Cornbread & Biscuits
Here are the recipes I used for this recipe. I make them the day before so they are sort of dry and stale. You can use your own recipes if you like. The dressing calls for 5 cups of torn up biscuits. My Buttermilk Drop Biscuits recipe makes about 5 1/2 cups of torn up biscuits. The dressing calls for 3 cups of crumbled cornbread. My Buttermilk Cornbread recipe makes about 8 cups. Feel free to cut the cornbread recipe in half if you use it. You can also use equal amounts of each if you prefer.
Can I freeze cornbread dressing?
Yes. You can freeze it unbaked or baked. Wrap it securely and freeze in a container that will be oven safe later. Thaw overnight in the refrigerator and bake as directed in recipe or reheat in a 350 degree oven until warm. I suggest covering it with foil to reheat.
My tip if freezing it. I baked mine then froze it. I thawed it overnight in the refrigerator on Thanksgiving eve. Then I baked the turkey and drizzle some of the fresh turkey broth over the dressing, before heating it in the oven. It was so flavorful and perfect!
Adding Giblets
If you want to add the giblets, (heart, liver, gizzard and neck) to this dressing, simply cook them in a medium saucepan. You also want to cook them at least a couple of hours before baking the turkey, if you're stuffing the turkey, so you can add them to the stuffing/dressing. It will take a good hour to cook them. Dice them up fine and add to the dressing. If you don't have turkey broth, you can use some of this broth in the dressing. I also use the meat from the neck, even though it's a little tedious to remove. Some cooks cook the giblets and add them to their gravy. You can do that also, if you prefer.
I have 3 turkey gravy recipes that are all delicious, if you need a gravy recipe.
This gravy is super flavorful and you really can't flop it. It's super easy with precise measurements.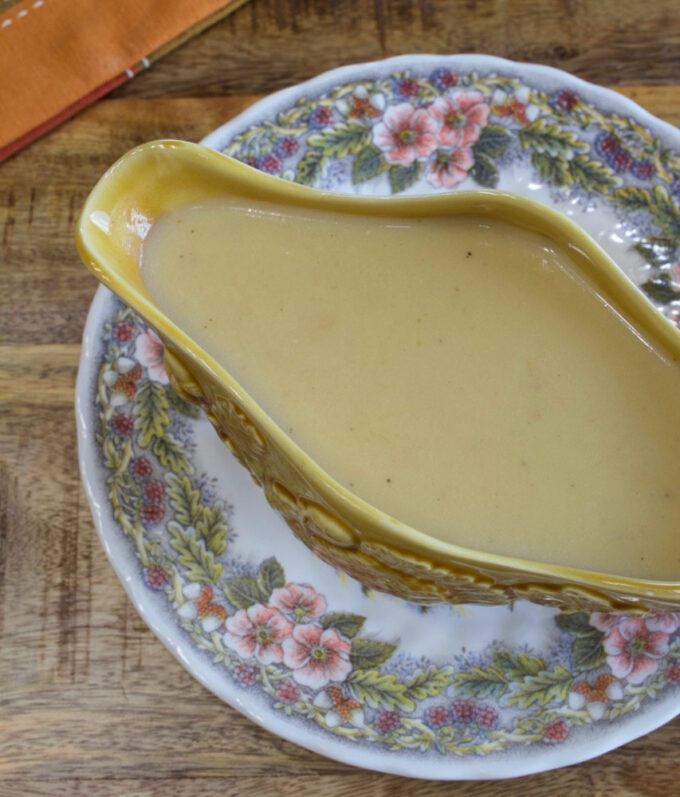 Perfect & Easy Turkey Pan Gravy
This gravy is a rich gravy made from per turkey broth…no milk. With precise measurements, it's very easy to make.
Make ahead Onion & Sage Turkey Gravy
This is Ina Garten's recipe, and it's very rich and flavorful. The great thing about this recipe is you can make it in advance, and it's just as delicious when reheated.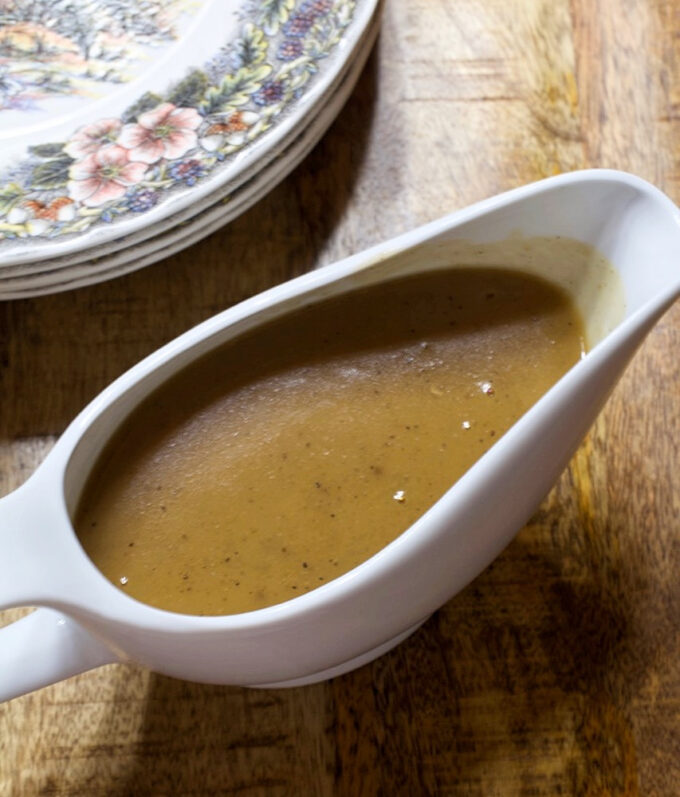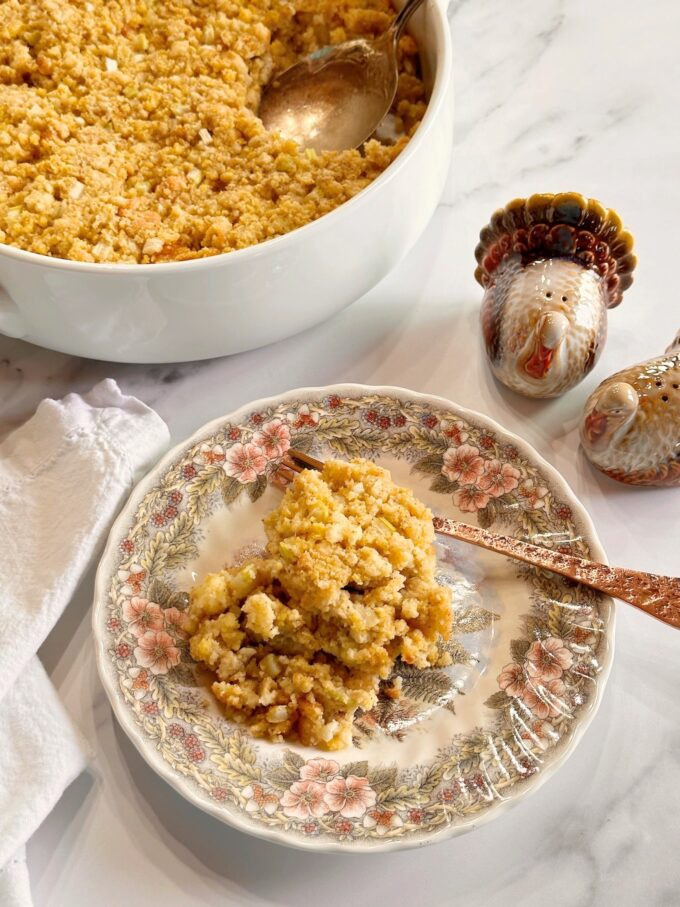 Check out Ina's Moist & Juicy Make Ahead Turkey and this delicious Cranberry Strawberry Salad.
If you make this recipe please rate it, and leave a comment below on how you liked it. I love hearing from you!
Wanna see different recipes each day? Feel free to follow me on Facebook, Pinterest & Instagram.
Print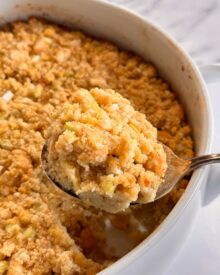 Cornbread Dressing
Author:

Prep Time:

20 minutes

Cook Time:

40 minutes

Total Time:

1 hour

Yield:

10

servings

1

x

Category:

Sides

Method:

Bake

Cuisine:

American
---
Description
This cornbread dressing combines homemade biscuits and cornbread and it's perfectly seasoned. A great side for turkey or chicken.
---
3

cups

day old cornbread, crumbled (the recipe I used)

5

cups

biscuits, torn into small pieces (the recipe I used)

1

cup

celery, diced

1/2

cup

onion, finely diced

1 1/4 teaspoons

salt

1 teaspoon

pepper

2 1/2 teaspoons

poultry seasoning (or sage)

1/2

cup

unsalted butter

2

cups

turkey or chicken broth
---
Instructions
Preheat oven to 400 degrees. Grease or spray a two-quart baking dish and set aside. You can also use a 9 x 13 dish or any baking dish that will hold the dressing. If you like your dressing to be nice and browned on top, the wider the dish the more topping there will be to get browned.
In a large bowl, toss together the cornbread crumbs, biscuits pieces, celery, onion, salt, pepper, poultry seasoning (or sage). Add the melted butter and turkey broth and mix to thoroughly combine. Taste it, in case you want to add more of any particular seasoning to suit your taste. (If you're stuffing it in the turkey, I don't recommend adding extra salt).  
Transfer the dressing to the baking dish (unless stuffing it in the turkey) 
Bake for approximately 40 minutes or until brown around the edges and lightly browned on top. If you prefer a more crunchy topping, brown a little longer.  
---
Notes
Our family prefers poultry seasoning in this recipe, but feel free to use sage if you prefer. The poultry seasoning contains sage and other seasonings.
Keywords: turkey dressing, turkey stuffing, dressing, stuffing, cornbread dressing, cornbread stuffing, turkey sides, Thanksgiving sides, dinner sides,
There may be affiliate links in this post. We are a participant in the Amazon Services LLC Associates Program, an affiliate advertising program designed to provide a means for us to earn fees by linking to Amazon.com and affiliated sites.