Coconut Cream Cheese Pinwheels
These Coconut Cream Cheese Pinwheels are so adorable and easy to make and they have a delectable filling made of coconut, white chocolate, and cream cheese.   A great treat to make for Spring or Easter!  
You already know I love coconut, so when I came across this Martha Stewart recipe for Coconut Cream Cheese Pinwheels, I couldn't resist making it.  These tender buttery cookies have the most delectable filling tucked inside.  White chocolate chips, cream cheese and coconut all come together in the delicious filling for these cookies.  It was so delicious that I just wanted to eat the bowl of filling by itself, but I fought off the temptation and I'm glad I did.  When these cookies bake, the chocolate chips melt and the chocolate, cream cheese and coconut all meld together into something purely sinful.
And don't think these cookies are hard to make either.  These fancy looking pinwheels are super simple and easy to make!
Here's a quick snapshot of how I made them…
I made the cookie dough and filling, and I cut the cookie dough into squares using a fluted cookie cutter.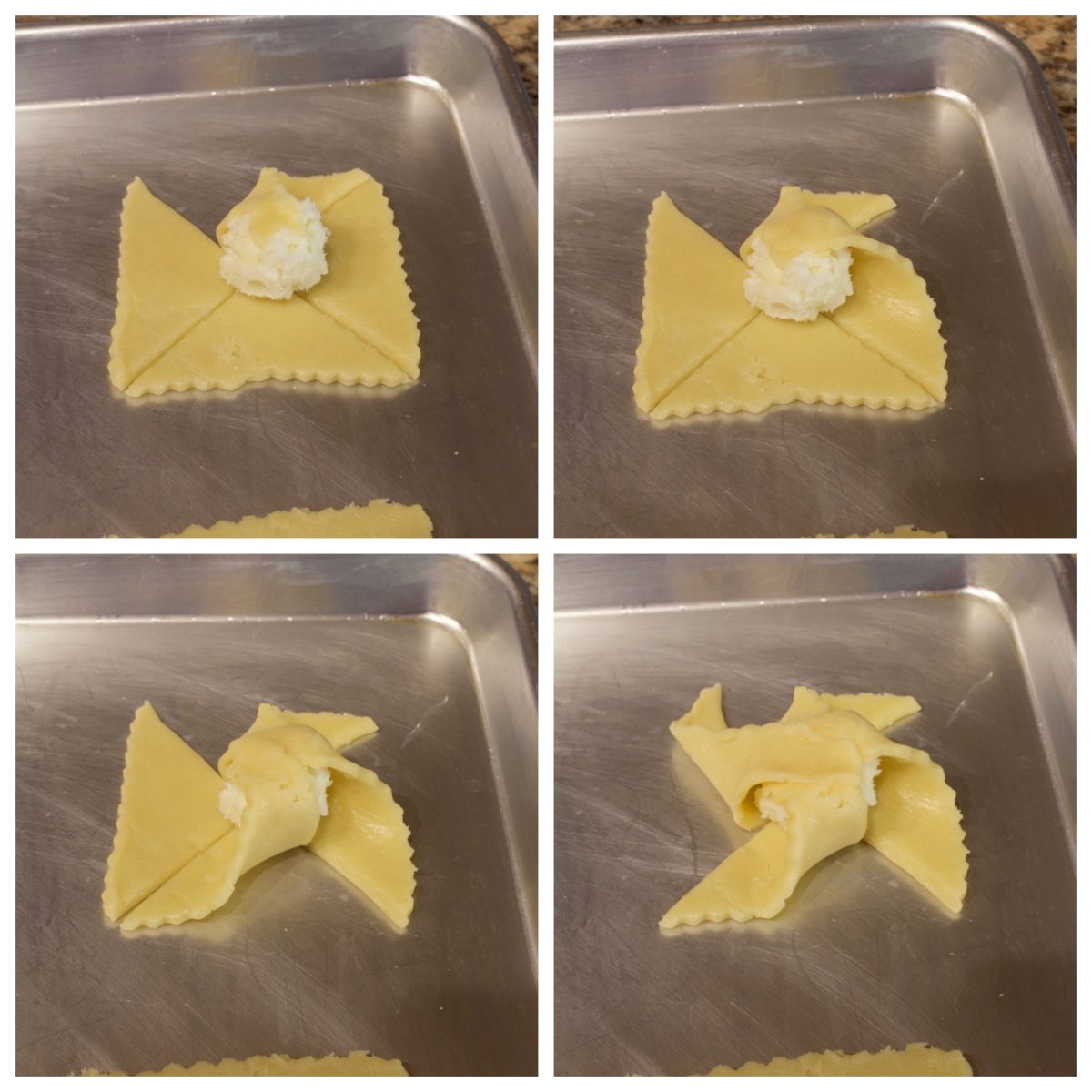 I placed the cookie dough squares on a cookie sheet and used a pastry cutter to cut slits from each corner to almost the center.  Next, I placed a spoonful of the delectable filling in the centers and then I folded every other tip inward toward the center of each cookie.  Lastly I brushed each cookie with an egg wash and sprinkled them with sugar.
The rest is history…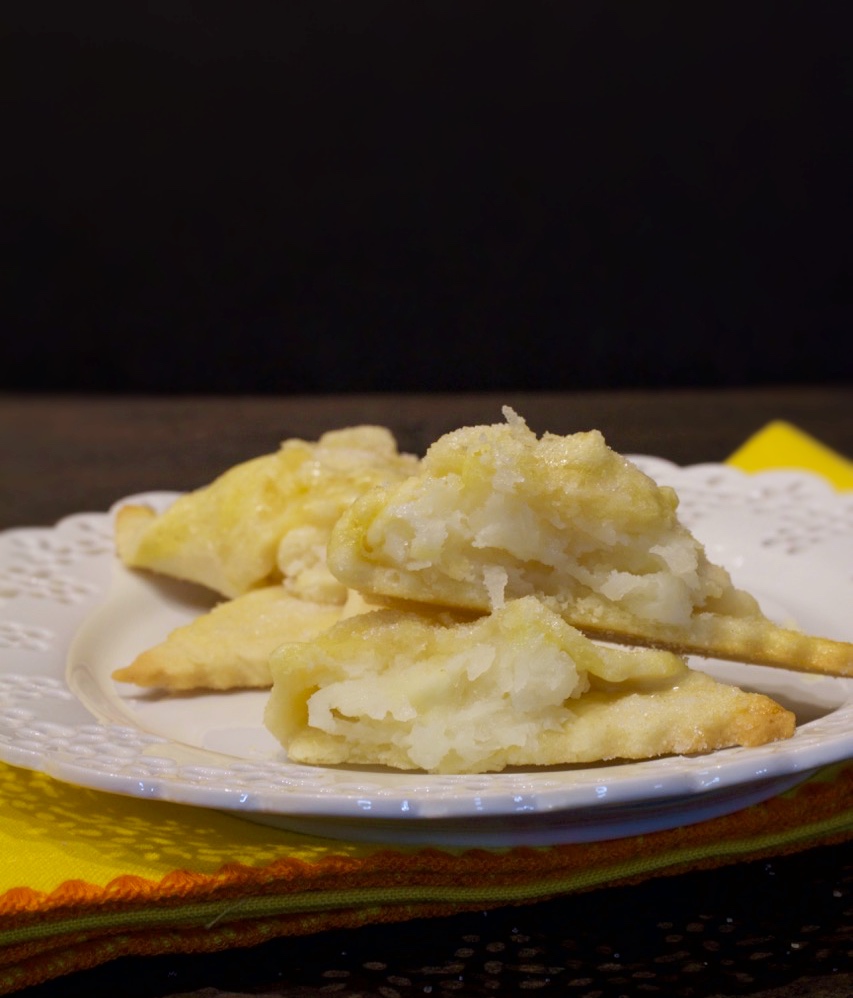 Adapted from Martha Stewart.
Print
Coconut Cream Cheese Pinwheels
Author:

Prep Time:

30

Cook Time:

10

Total Time:

40

Yield:

18

1

x
---
Cookies
2 cups

all purpose flour, more for dusting

1/2 teaspoon

baking powder

4 ounces

cream cheese, room temperature

1

stick unsalted butter, room temperature

1

large egg

2/3 cup

sugar

1 teaspoon

pure vanilla extract
Filling
4 ounces

cream cheese, room temperature

3 tablespoon

sugar

1 cup

sweetened coconut flakes, unsweetened can be used

1/3 cup

white chocolate chips
Egg Wash
1

large egg

1 tablespoon

vegetable or canola oil
Granulated sugar
---
Instructions
Cookies Step 1
Whisk together the flour and baking powder in a medium bowl and set aside.
Add the cream cheese to the bowl of a stand mixer or use a hand mixer. Mix on high speed until the cream cheese is smooth and free of any lumps. Add the butter and mix again until mixture is very smooth and creamy, about 1 minute. Add the egg, sugar and vanilla and mix until all ingredients are well combined, about 1 minute. Add dry ingredients and mix just until the flour is incorporated. Do not over mix. Over mixing makes dough tough.
Divide dough in half. Form each half into a rectangle shape. Wrap each half in plastic wrap and refrigerate for 1 to 2 hours until firm. While the cookie dough is refrigerated, make the filling.
Filling
Using a hand held mixer, mix the cream cheese in a medium bowl until smooth and creamy, about 1 minute. Add sugar and mix until smooth again. Using a wooden spoon, mix in the coconut and white chocolate chips. Set mixture aside.
Cookies Step 2
Remove 1 half of dough from the refrigerator at a time, leaving the second one until you're ready to use it.
Roll dough out onto a lightly floured surface. I used parchment paper for these, trying not to work too much excess flour into the dough. Roll the dough into a rectangle, trying to roll it to about 7 x 14 or 8 x 13 inch rectangle and about 1/8 inch in thickness. I concentrated more on the thickness, making sure I didn't roll the dough too thick.
Using a square cookie cookie, cut cookie dough into squares. Note, Martha used a fluted 3 1/2 inch cookie cutter. I used a fluted 3 1/4 inch cookie cutter. If you don't have a fluted one, feel free to use a plain one. You really don't want to go much smaller with the size of the cookie cutter though. The cookie dough needs to be big enough to fold in the corners to form the pinwheels.
Cut out the cookies and use a metal spatula to transfer them to ungreased cookie sheets, leaving at least 1 1/2 inches between them. I placed 6 cookies on each cookie sheet.
Using a sharp knife or a pastry wheel cutter, (if you want fluted edges), cut 1 inch slits diagonally from each corner to almost the center of each dough square.
Place one rounded teaspoon of the filling mixture in the center of each dough square. Lift up and fold inward every other dough tip into the center, pressing slightly to seal. This forms the pinwheel.
Egg Wash
Whisk together the egg and oil. Using a pastry brush, lightly brush each pinwheel with the egg wash, be careful to not brush the edges of dough with egg wash. This will cause cookies to adhere to the cookie sheet. I also don't wash the tips of the dough. I find it causes excess browning on the tips.
Sprinkle the tops of cookies generously with granulated sugar or coarse sugar if preferred.
Bake until the cookies are slightly puffed and barely golden around the edges, about 10 to 12 minutes. Allow cookies to cool on cookie sheets for about 5 minutes. Using a sharp metal spatula, transfer cookies to a wire rack to completely cool.
Store cookies in an airtight container. Cookies can be frozen for up to one month. Place between layers of wax paper when freezing.
These cookies look adorable when displayed on skewers in a jar of sugar.
---
Notes
Prep time does not include refrigeration time.
There may be affiliate links in this post. We are a participant in the Amazon Services LLC Associates Program, an affiliate advertising program designed to provide a means for us to earn fees by linking to Amazon.com and affiliated sites.