Coconut Bon Bons #2
These Coconut Bon Bons are a great treat to make for any holiday. They have sweet, chewy, super moist centers made of butter, coconut, and condensed milk, and they get dipped in dark chocolate. You won't be able to stop eating these delectable little gems!
I originally posted this recipe for Coconut Bon Bons three years ago, and they're always such a hit with my family and friends during the holidays, that I felt the need to repost them. These are super easy to make and you can make them in advance, so you have more time to make all those other holiday treats.
Coconut Tip
Not all brands of coconut are the same. Some brands of coconut have bigger cut strands of coconut than other brands. If your bag or can of coconut contains longer strands of coconut, place the coconut in your blender and pulse it a few times. I like to bite into a piece of candy and get a neat clean bite, not a long stringy piece of coconut. Now, that's just me. Feel free to do your own thing.

I used a tablespoon measuring spoon to measure the coconut mixture for each ball. You can make them larger, but you really don't want the ratio of coconut to chocolate to be too much coconut to chocolate. I find using one tablespoon of the coconut mix makes the perfect size ball.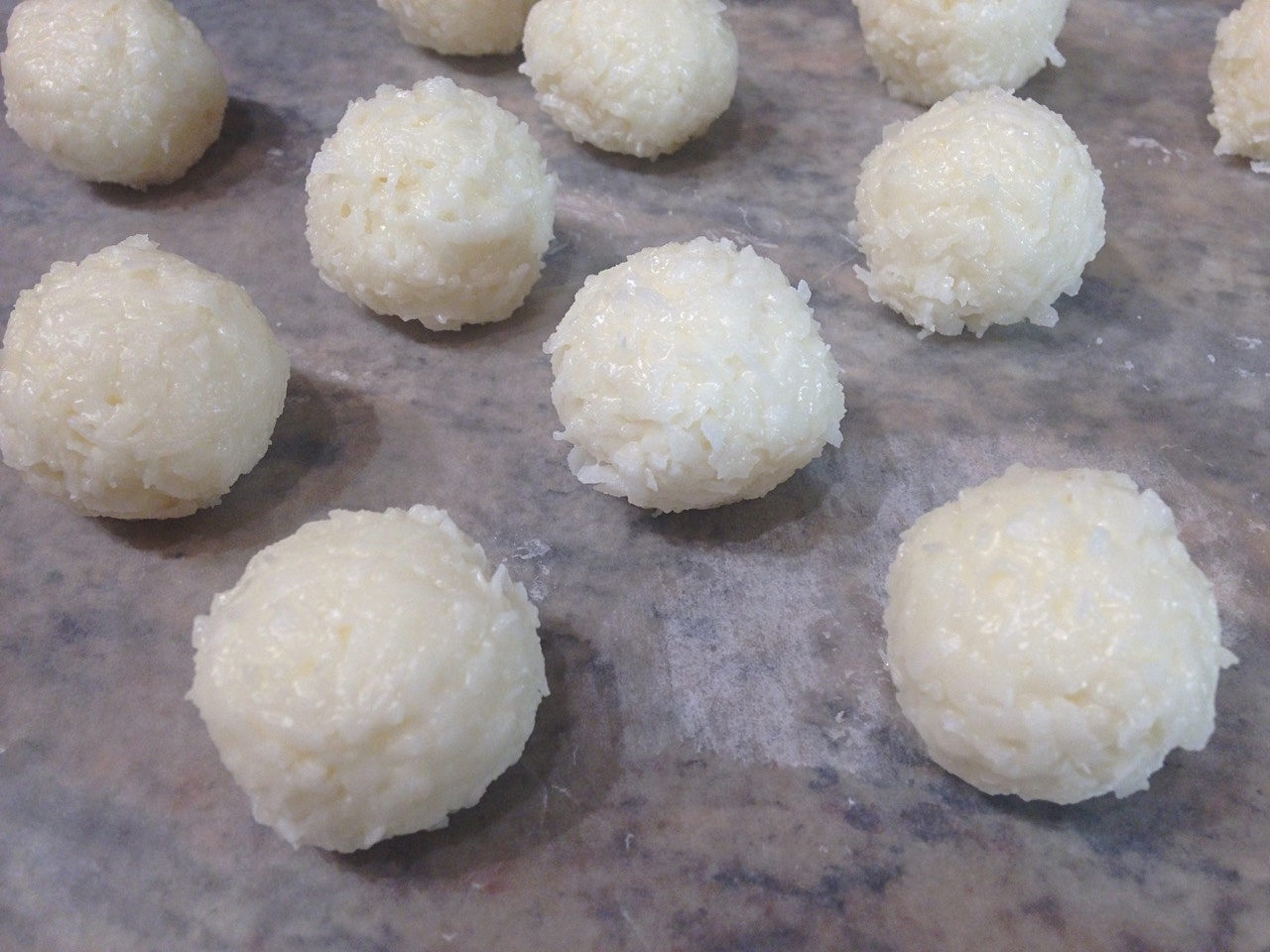 Chocolate Chips vs Baking Chocolate
When using chocolate to dip candy, it's best to opt for chocolate baking bars or chocolate melting wafers versus chocolate chips. Why? Baking bars or melting wafers are higher quality chocolate. Chocolate chips are waxier and have a less intense chocolate flavor. Chocolate chips are made to hold their shape, as in cookies, meaning they are harder to melt. Baking chocolate melts quickly and results in smooth melted chocolate.
What brand of chocolate to use
I recommend using high-quality baking chocolate for dipping candy. In this recipe, I used Ghirardelli melting wafers, but I sometimes use the Ghirardelli bars as well. They have a high percentage of cacao, which equals true intense chocolate flavor.
Dipping Tips
Place the coconut balls in a freezer for about 15 minutes before dipping them. I divide the coconut balls between 3 to 4 baking sheets and place them in the freezer. I remove one sheet at a time to dip, so they stay cold/firm enough.
Only melt about 2/3 cup of chocolate at a time.
Use a measuring cup or a coffee mug to dip the candy, nothing bigger.
Insert a toothpick into the top of a coconut ball, only deep enough to hold the ball. Dip the ball in the melted chocolate, rotating it to completely cover the ball with chocolate. You can also use a teaspoon to help spoon chocolate onto the top of the ball. Once coated, hold the ball over the cup for a few seconds to allow any excess chocolate to drip off. Gently scrape the bottom of the coconut ball over the edge of the cup and transfer it to parchment or wax paper. Use a second toothpick to gently push on the top of the ball next to the first toothpick to help pull it out of the ball. Then use the tip of the toothpick to swirl a tiny bit of the chocolate on the top into the toothpick hole.
Optional: If you want to drizzle chocolate across the tops, simply allow the balls to dry, then melt some chocolate, pour the melted chocolate into a piping bag with a small round tip, and drizzle the chocolate back and forth over the balls. You can also cut off a tiny corner of a small plastic bag, or use a fork to drizzle the chocolate onto the balls.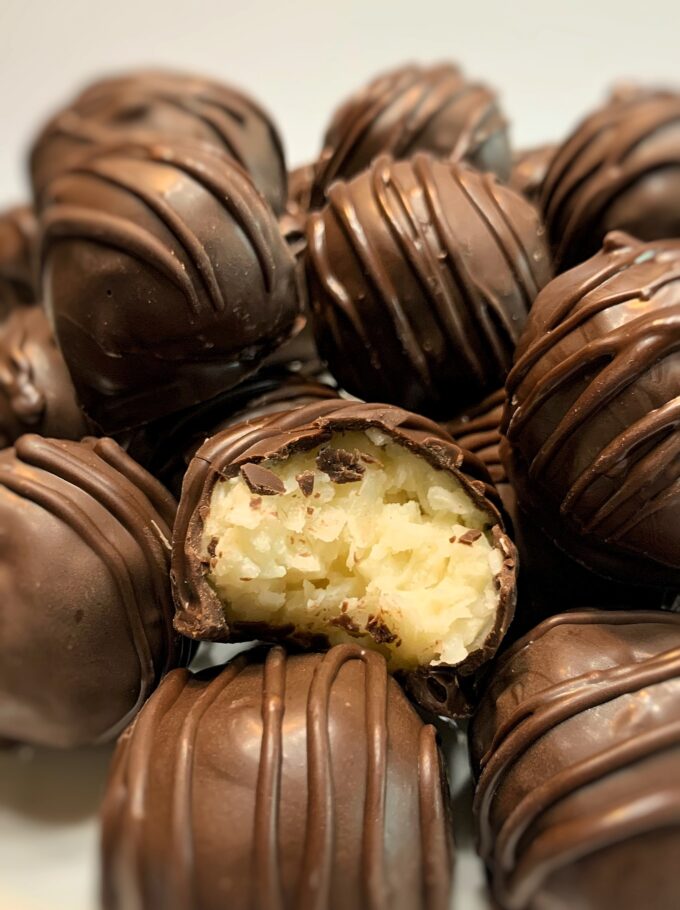 If you love coconut, check out these other great coconut desserts, The Ultimate Coconut Cream Pie, and Coconut Crunch Cake with Chocolate Ganache.
Check out my other Coconut Bon Bon recipe, #1. This recipe is made with desiccated coconut and corn syrup, and I love to dip them in white chocolate flavored with various flavorings. Another great coconut recipe!
Print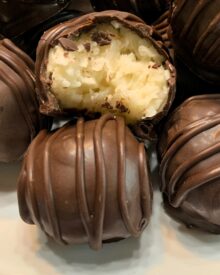 Coconut Bon Bons #2
Author:

Prep Time:

60

Total Time:

60

Yield:

8

2

1

x

Category:

candy

Cuisine:

American
---
Description
These are little bites of coconut bliss.  Made with butter, sweetened condensed milk, and coconut, then dipped in chocolate.  Enough said!!
---
1

can Sweetened Condensed Milk

1

stick real butter, softened

3 1/2

cups

powdered sugar

1 teaspoon

pure Vanilla extract

2

packages of sweetened flaked coconut, 14 ounces each
Good quality bittersweet chocolate for dipping (I used Ghirardelli dark chocolate melting wafers)*
---
Instructions
Add the coconut to a blender and pulse 2-3 times and transfer it to a large bowl. Add one cup of the sugar, the butter and vanilla and mix to combine. Add the milk and the rest of the sugar alternately and mix until well combined. It's easier to mix using your hands.
Roll mixture into balls and place on a wax paper or parchment paper-lined cookie sheet. Refrigerate or place in a freezer for a few minutes until the balls are firm.
 Fill a narrow but deep microwave safe coffee mug about 2/3 full of chocolate wafers or broken-up baking bar. Microwave for 30 seconds, stir with a spoon, and microwave for an additional 20 seconds. Stir again. If the chocolate isn't all the way melted, microwave in 10 second increments until it's smooth and melted.
Insert a toothpick into the top center of each ball and dip it into the chocolate. Hold the ball over the chocolate to let any excess chocolate drip off and transfer to a wax paper or parchment lined cookie sheet. Remove toothpick and using a teaspoon, dab a tiny bit of chocolate onto the top of each ball to cover the toothpick hole.
Allow balls to set for several hours to completely set. Once the chocolate is set, use a sharp knife to trim any excess chocolate from around the bottoms.
Store in an airtight container. Refrigerate if not consuming within a few days to preserve the freshness longer.
---
Notes
This yield is based on using a leveled-off tablespoon for each ball of candy.  Feel free to shape the candy as eggs or bigger balls. However, the yield will change.
Candy will stay fresh for up to three weeks if stored in an airtight container.
*I used 3 1/2 bags of Ghirardelli Dark Chocolate Melt Wafers. I've also used Ghirardelli baking bars. I don't suggest using chocolate chips if you can avoid it. They are waxier, harder to melt, and have a less intense flavor.
Keywords: coconut truffles, coconut, Easter desserts, Easter candy, Easter recipes, coconut, coconut bon bons, coconut candy,
Originally posted 4/6/2019.
There may be affiliate links in this post. We are a participant in the Amazon Services LLC Associates Program, an affiliate advertising program designed to provide a means for us to earn fees by linking to Amazon.com and affiliated sites.