Classic Cajun Jambalaya
This Classic Cajun Jambalaya has all the wonderful flavors of the deep South. Slightly smokey and spicy, with chicken, shrimp, and spicy Andouille sausage. Southern comfort food at its best.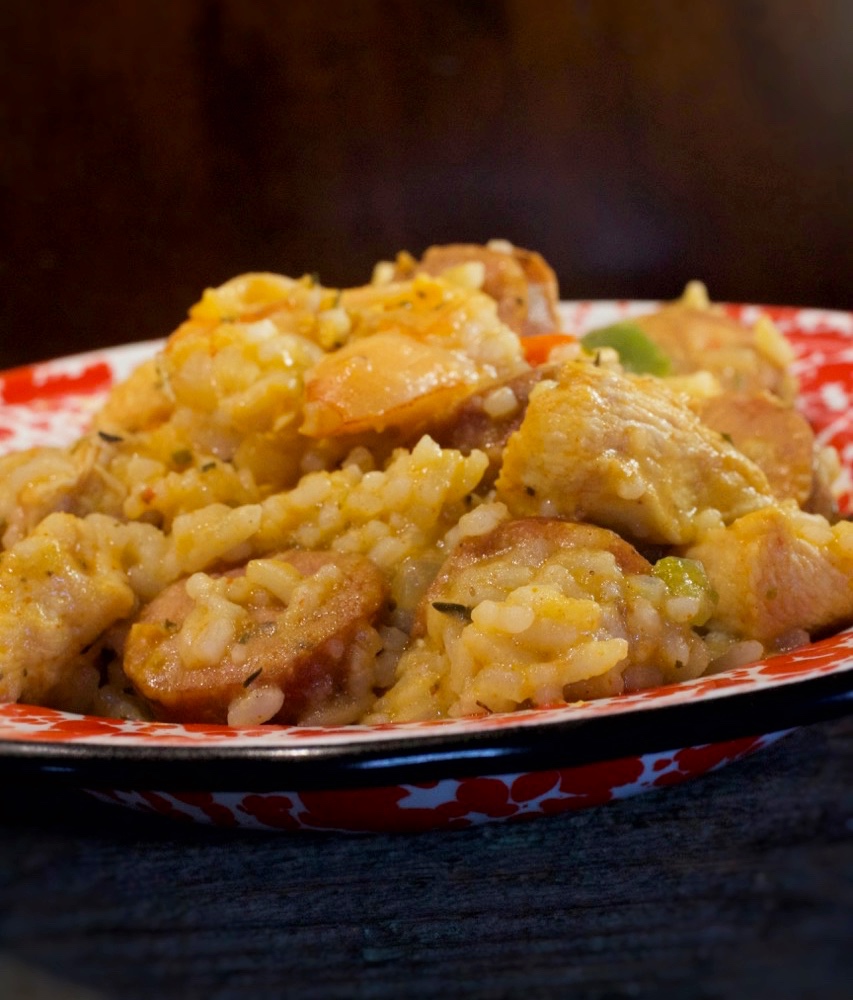 Right now there's a couple of things I know for sure.  Christmas is over and I'm more than ready to take a break from sweets and eat some real food, and I'm ready for some rib sticking hot comfort food to warm me up from this terribly cold weather we're having here in Kentucky.  After discussing my desire and need for some hot comfort food with my husband, Don, he came up with the perfect solution.  Jambalaya!  I'm usually the cook in our kitchen unless it's Jambalaya, and Don tells me to leave this one to him.
Have you ever had the pleasure of eating Jambalaya?  In case you haven't, you might be interested in knowing there are two types of Jambalaya… Creole and Cajun.  Both are equally delicious but some people prefer one over the other, due to their culture or taste preference.  No one really knows the exact origin of Jambalaya.  It is believed by some that Creole Jambalaya is the result of a few ethnic groups, French, African and Caribbean, coming together many centuries ago in New Orleans.   It's believed that Cajun Jambalaya has French and Spanish origins by way of Southwest Louisiana.  You might wonder what the difference is between the two.
Creole – Creole Jambalaya uses more tomatoes and less spices.  The vegetables and meat get cooked together, followed by the addition of tomatoes, broth and rice.  Once the ingredients have finished cooking,  the rice has a reddish hue from the tomatoes.  This version is also known as "red" Jambalaya and is more predominant in New Orleans, although both varieties are popular there today.       
Cajun –  The Cajun version uses more spices and no tomatoes.  The spice coated meat gets cooked first, allowing it to brown, followed by the addition of vegetables and lastly the addition of rice and broth.  The browned meat adds a brownish hue to the broth and rice and this version is also known as "brown"  Jambalaya.  This version has more of a smokey flavor.  Cajun Jambalaya is well-known in the Southwest section of Louisiana…a section of Louisiana that is populated predominately by Cajun people.
Although I'm sure I'd be totally content with either type of Jambalaya, Don prefers to fix Cajun.  That suits me just fine.  I don't have to cook, and I get to enjoy some hot comfort food while snuggled up on the couch looking out the window at the cold and the snow.  No complaints here!
Print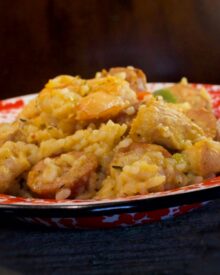 Classic Cajun Jambalaya
Author:

Prep Time:

20

Cook Time:

25

Total Time:

45
---
Description
This Classic Cajun Jambalaya has all the wonderful flavors of the deep South. Slightly smokey and spicy, with chicken, shrimp, and spicy Andouille sausage. Southern comfort food at its best.
---
12

large shrimp, peeled and deveined with tails on

2

boneless/skinless chicken breasts cut into bite size pieces

10

ounces

Andouille sausage, cut into 1/2 inch slices

1 teaspoon

garlic powder

1 teaspoon

cayenne pepper

2 teaspoons

paprika

1 tablespoon

dried thyme

1 tablespoon

dried oregano

1/2 teaspoon

pepper

3/4 teaspoon

salt

2 tablespoons

olive oil

1

yellow onion, finely diced

1/2

green bell pepper, diced

1/2

red bell pepper, diced

2 teaspoons

Sriracha, or other hot sauce

1

bay leaf

2 teaspoons

minced garlic

2

habanero peppers, whole

2

cups

uncooked instant white rice

4

cups

chicken broth
---
Instructions
Combine the shrimp, chicken, sausage, spices, salt and pepper in a large bowl and mix well to thoroughly coat the meat with the spices. Set aside.
Heat the olive oil in a large skillet over medium heat. Add the onion and peppers and cook for about 5 minutes until tender and onions are translucent. Add the Sriracha, bay leaf, minced garlic and habanero peppers.
While stirring, add the rice. Slowly add the broth. Bring mixture to a boil while stirring frequently. Reduce heat to medium low. Cover with a lid and simmer until the rice has become almost tender and has absorbed most of the liquid, about 10 minutes. Remove and discard bay leaf and habanero peppers.
Add the meat mixture and cook over medium low heat until the meat is done, about 10 minutes.
Serve hot. Refrigerate leftovers.
---
---
There may be affiliate links in this post. We are a participant in the Amazon Services LLC Associates Program, an affiliate advertising program designed to provide a means for us to earn fees by linking to Amazon.com and affiliated sites.