Chocolate Dipped Almond Biscotti
I've always been a biscotti lover and this Chocolate Dipped Almond Biscotti is no exception!  It's simply loaded with freshly toasted almonds and the biscotti gets dipped in dark bittersweet chocolate and rolled in crushed almonds.  This crunchy biscotti is a great pairing for coffee! 
Meet coffee's best friend.  That's right, this crunchy, sweet biscotti dipped in dark bittersweet chocolate just begs to get dipped into a steamy hot cup of coffee.   Biscotti is an Italian cookie and you don't have to like coffee to enjoy eating it.  You can also enjoy it with a tall glass of milk.  It's the perfect dunking cookie because it doesn't fall apart when dunked.  It gets its crunchy texture from being baked twice.  First, the dough gets formed into flattened logs and baked.  Then it gets cooled, cut into strips, and baked again to ensure that all sides of the cookie are crunchy.
Let's talk about the star ingredient in these crunchy cookies, Almonds…
Since almonds are the star of the show, we want them to shine.  Right?  They need to be crunchy, not soft or chewy, and their nutty flavor needs to shine through.  Therefore, we toast them before adding them to our cookie dough.  Toasting them keeps them crunchy and also releases the nutty flavor inside.  Almonds are a bit pricey but so worth the investment in this recipe.  Since they are pricey, you want to make sure you don't burn them.  When toasting any nut, you should never walk away from the oven for more than a few seconds.  It only takes a minute for nuts to go from not toasted to burnt.  The almonds won't change in appearance when they're toasted until they suddenly become burned.  That's why it's easy to burn them.  As soon as you can smell the aroma from the nuts, they're toasted, so you need to immediately remove them from the oven.  I toasted these almonds for about 15 minutes, turning them halfway through with a metal spatula and keeping a close eye on them.
This recipe requires 2 cups of whole almonds.  You will take 1 3/4 cups and chop them coarsely for the cookie batter.  You will chop the remaining 1/4 cup into finer pieces and reserve them, along with any fine powdery crumbs for dipping the cookies in later.   Note,  I used unsalted almonds in this recipe but you can use salted or unsalted.
Biscotti is not hard to make, but it does take a few minutes.  Once you make it one time, you'll be wanting to make it again and trying different varieties.  If you're not an almond fan, you can add dried fruit, other nuts, and different flavorings.  Try dipping some in white chocolate.  One thing I will tell you is that Biscotti holds up great for days and is great for gift giving.
In case this is your first attempt at making Biscotti, I'm going to go through the easy steps of how I made it.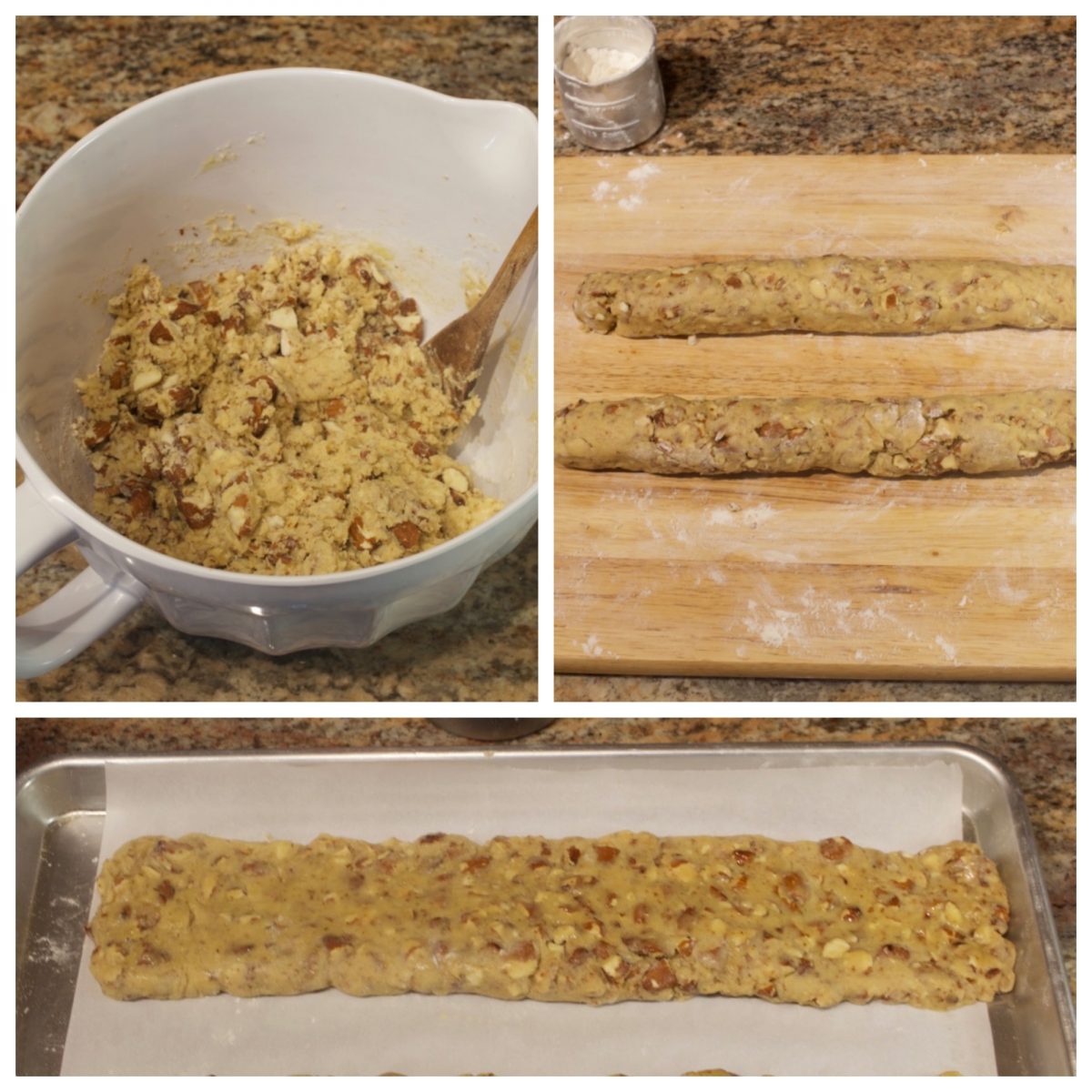 I started by mixing the dough and adding in the coarsely chopped almonds.  Then I divided the dough in half and formed each half into a long log.  I placed the logs on a large cookie sheet and flattened them with the palm of my hand until they were about 1//2 inch thick and almost the width of my cookie sheet.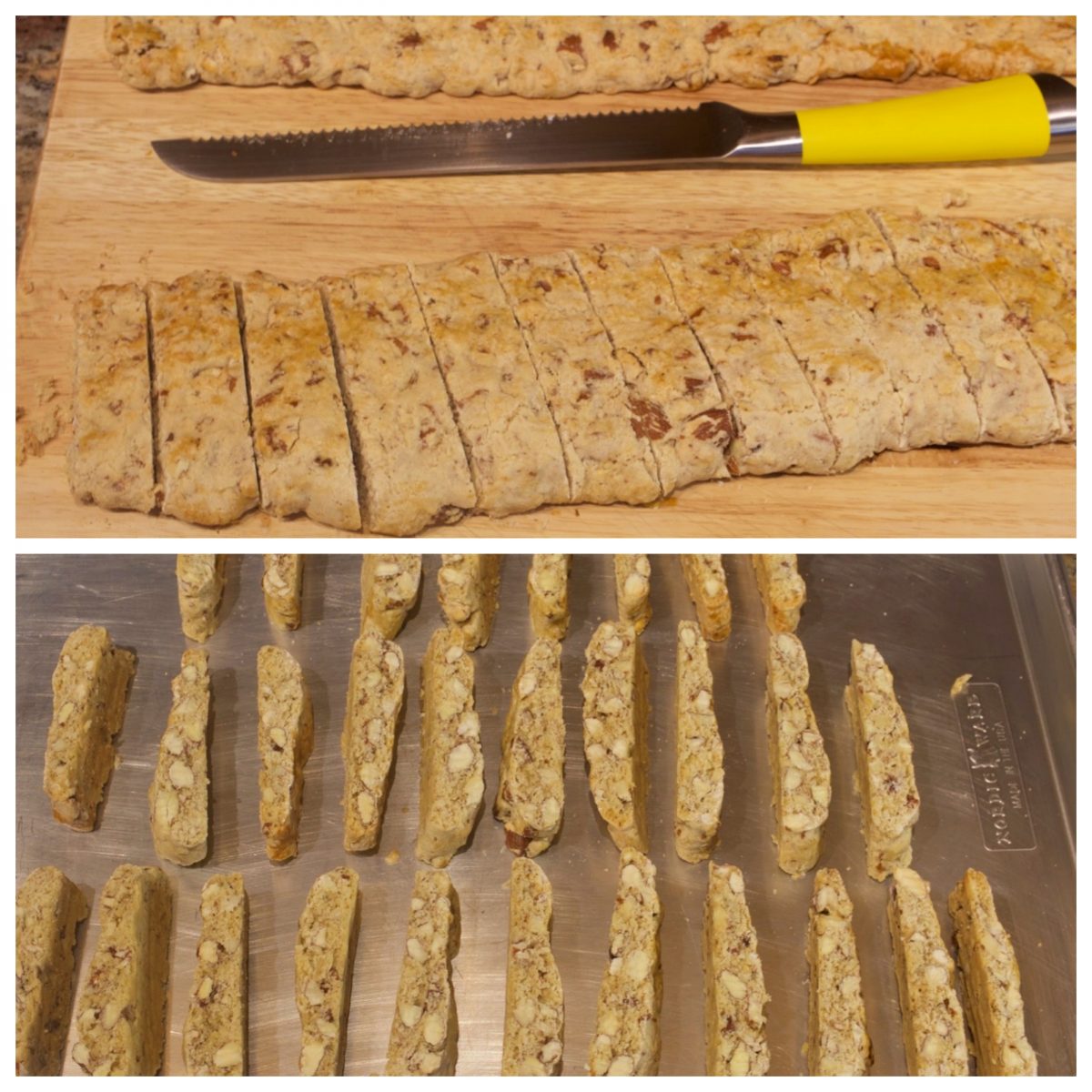 Let's stop and talk about egg wash.  Egg wash is optional.  The egg wash just gives the baked cookies a glossy golden sheen, making them more attractive looking.  It doesn't affect the taste in any way.  Look at the top picture above.  I brushed a little bit of egg wash on the dough, leaving the rest bare.  I wanted you to be able to see the difference.  The darker more golden looking top on the biscotti is from the egg wash.  I'll use the egg wash the next time I make it because I like that golden sheen appearance.
Okay, enough about the egg wash.  I baked the dough slabs for about 20 minutes at 325 degrees until the tops were lightly golden on top.  They sometimes even crack on top and that's okay.  Then I transferred them to a wire rack to cool and reduced my oven temperature to 200 degrees.  Next, I sliced the biscotti into 1-inch wide pieces, using a sharp serrated knife.  I placed them back on the cookie sheet on their sides.  I baked them for 10 minutes, turned them over to their other side, and baked for an additional 10 minutes.  This was to ensure they were crunchy and crispy on all sides.  Note, The longer you leave them in the oven, the harder they will be.  I like my biscotti crunchy but not so hard that you can't bite into it without first soaking it in hot coffee, therefore, I crisp mine for no longer than 20 minutes in the oven.  If you prefer a super hard biscotti, you can leave yours in a little longer.
Now for the fun part…
Once the biscotti was completely cooled, I melted some good quality chocolate in the microwave.  I like bittersweet chocolate but you can use semi or milk…whatever you prefer.  I used Ghirardelli bittersweet, 70% cacao.  I broke it into pieces and placed it in a small microwave-safe bowl.  You want a small narrow bowl for dipping.  I microwaved the chocolate for 30 seconds, stirred it, then 30 seconds more, and stirred it one more time.  I dipped one end of each cookie in the chocolate, then rolled it in the finely chopped nuts.  I actually dumped the 1/4 finely chopped nuts onto a piece of wax paper for ease of rolling the cookies in.  You can actually just sprinkle the nuts over the chocolate if you prefer.  Then I placed them on a piece of wax paper and left them until the chocolate set up.  You can also place them in the refrigerator to speed up this step.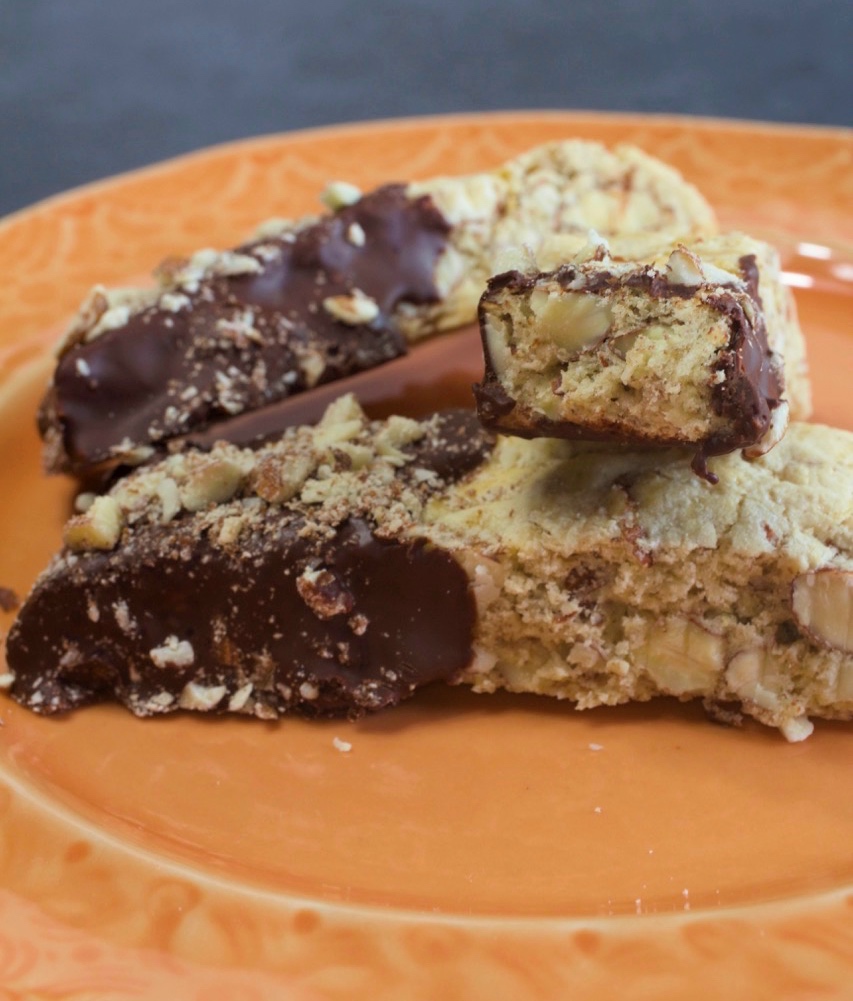 Now you're ready to go make some Chocolate Dipped Almond Biscotti.  Just think of the endless possibilities with this recipe.  I bet you can't guess the next flavor I'm making!!  I'm already in the Christmas baking mood and don't forget what I said about freezing these.  They freeze great, but I do suggest freezing them without the chocolate on them.  Freezing chocolate sometimes results in white streaks throughout the chocolate, depending on the chocolate. but the white streaks do not affect the taste.  I have some of these in my freezer now, and the chocolate looks fine.
Print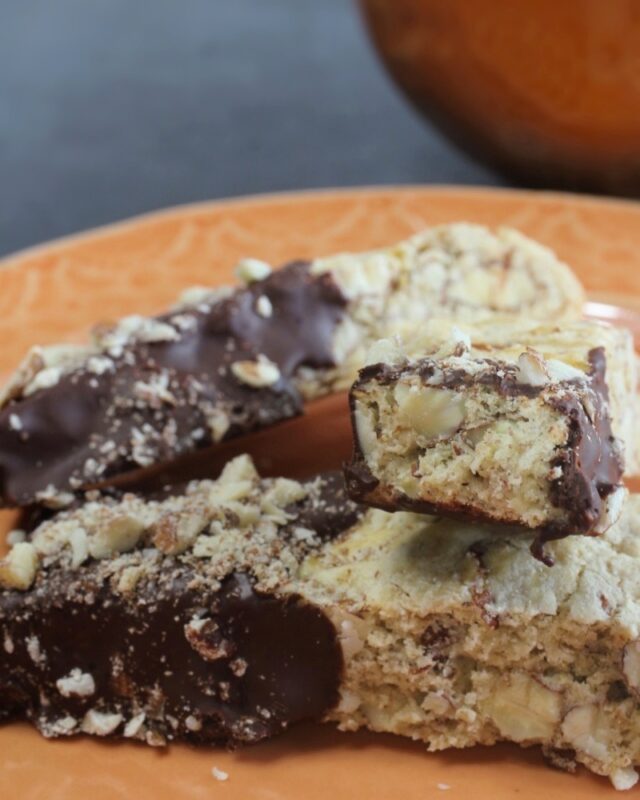 Chocolate Dipped Almond Biscotti
Author:

Prep Time:

30 Minutes

Cook Time:

40 Minutes

Total Time:

1 hour 10 minutes

Yield:

3

0

1

x

Category:

Cookies
---
Description
This Chocolate Dipped Almond Biscotti is simply loaded with freshly toasted almonds and the biscotti gets dipped in dark bittersweet chocolate and rolled in crushed almonds.  This crunchy biscotti is a great pairing for coffee! 
---
Biscotti
2

cups

whole almonds, divided

1 3/4

cups

all-purpose flour

1/2 teaspoon

baking powder

1/2 teaspoon

salt

1/4 teaspoon

cinnamon

2

large eggs, beaten

1

cup

granulated sugar

1 teaspoon

pure vanilla extract

1/2 teaspoon

pure almond extract

1

bar Ghirardelli Bittersweet Chocolate, 4 ounces, 70% cacao (or any good quality chocolate)
Egg Wash, optional
1 large egg beaten  plus 1 tablespoon milk
---
Instructions
Biscotti
Preheat oven to 300 degrees
Spread the almonds out evenly on an ungreased/unlined cookie sheet and toast in the 300-degree oven for about 15 minutes, turning them with a metal spatula halfway through.  Don't walk away for long.  It doesn't take long to toast nuts, and they burn quickly.  Almonds are also a rather expensive nut to burn and have to throw away.
Once the almonds have cooled, chop 1 3/4 cups of the almonds into coarse pieces.  Chop the remaining 1/4 cup into small pieces and set aside for garnishing after you dip the biscotti in chocolate.  Feel free to pulse them in a food processor to chop or chop by hand as I did.  I'm too lazy to drag out my food processor.
Increase oven temperature to 325 degrees.
Line a large cookie sheet with parchment paper and set aside.
In a medium bowl, whisk together the flour, baking powder, salt, and cinnamon and set aside.
Add the eggs and sugar to the bowl of a stand mixer, or use a hand mixer.  Mix on high speed until the mixture is light in color, about 1 minute.  Add the extracts, 1 1/2 cups of coarsely chopped nuts, and dry ingredients.  Mix just long enough to incorporate the dry ingredients.  Do not overmix.
Divide the dough into two pieces and lay on a floured surface.  Shape each piece into a log, Using your hands, pat each log into a long flat slab the length of the cookie pan, leaving at least two inches of space between them.  Brush each loave with the egg wash, if using.
Bake for 20 to 25 minutes, until the loaves are golden.  Transfer them to a wire rack to cool completely.
Meantime, reduce oven temperature to 200 degrees
Using a serrated knife, slice the biscotti into 1/2 inch pieces.  Arrange them on the cookie sheet on their sides and bake for an additional 20 minutes, turning them to the other side, halfway through. This second baking is to crisp them up.
Line cookie sheet with a fresh piece of parchment paper.  Break the chocolate into pieces and add it to a small narrow microwavable bowl, (for ease of dipping) or cup.  Microwave for 30 seconds, stir the chocolate and microwave for an additional 30 seconds.  Stir the chocolate until melted and smooth.
Dump the 1/4 cup nuts onto a piece of parchment or wax paper.  Take each biscotti piece and dip one end in the chocolate, then roll the end in the nuts.  Place the biscotti on the parchment lined cookie sheet and leave until the chocolate has set.  This could take a few minutes.  You can place the cookie sheet in the refrigerator to speed things up if you like.
Place biscotti in an airtight container.  Biscotti will stay fresh for up to two weeks.
---
Notes
Biscotti can be frozen for up to 3 months.  You can freeze biscotti dipped or not dipped in chocolate.  However, some chocolate will develop white streaks in it when frozen.  I have not experienced this with the Ghirardelli chocolate.  The white streaks will not affect the taste of the chocolate.
The egg wash is optional.  You can skip this step if you like.  It just gives the biscotti a little bit of golden sheen.
Keywords: biscotti, almond biscotti, chocolate dipped biscotti, cookies, bars, almonds,
There may be affiliate links in this post. We are a participant in the Amazon Services LLC Associates Program, an affiliate advertising program designed to provide a means for us to earn fees by linking to Amazon.com and affiliated sites.