Snow Globe Cupcakes
These adorable Snow Globe Cupcakes are almost too cute to eat. The snow globes are made of edible gelatin bubbles that are perched on top of each cupcake and enclose a cute edible or toy favor. How cute is that? Bake your favorite cupcakes and make these super cute edible snow globes to place on top. The kids and adults will be so impressed!
Two years ago I came across these adorable Snow Globe Cupcakes on Pinterest. I just knew that I had to try and make them one day. By the way, the genius creator behind these wonderful little creations is Elizabeth over at sugarhero.com. After reading Elizabeth's post on these cupcakes, I figured I might need to experiment with the gelatin bubbles at least once before the holidays, so I enlisted the help of my friend Sandra to help me with my first attempt.
This recipe has two basic parts, gelatin bubbles, and cupcakes. I listed both recipes separately below this post. The cupcakes are very basic and easy. The gelatin bubbles are a little more involved. Therefore, I'm going to share the steps of making the gelatin bubbles below.
Choosing the right GELATIN…
There is gelatin and then there is GELATIN. Elizabeth did all of the research and testing on gelatin, making it easy for the rest of us. She doesn't suggest using dry powdered gelatin, such as Knox, for the bubbles. If you use the powdered gelatin, the bubbles will turn out a dingy brown color. To make pristine/clear bubbles you need to use gelatin sheets, also known as leaf gelatin. There are different grades of gelatin sheets, bronze, silver, gold, and platinum. Elizabeth recommends the platinum because it's the strongest and clearest. Gelatin sheets are normally found at your local grocery store. I ordered the ones pictured above online…the same ones Elizabeth used.
Making the GELATIN BUBBLES…
Note: The gelatin bubbles need to be dipped and left to dry for 24 hours prior to using them.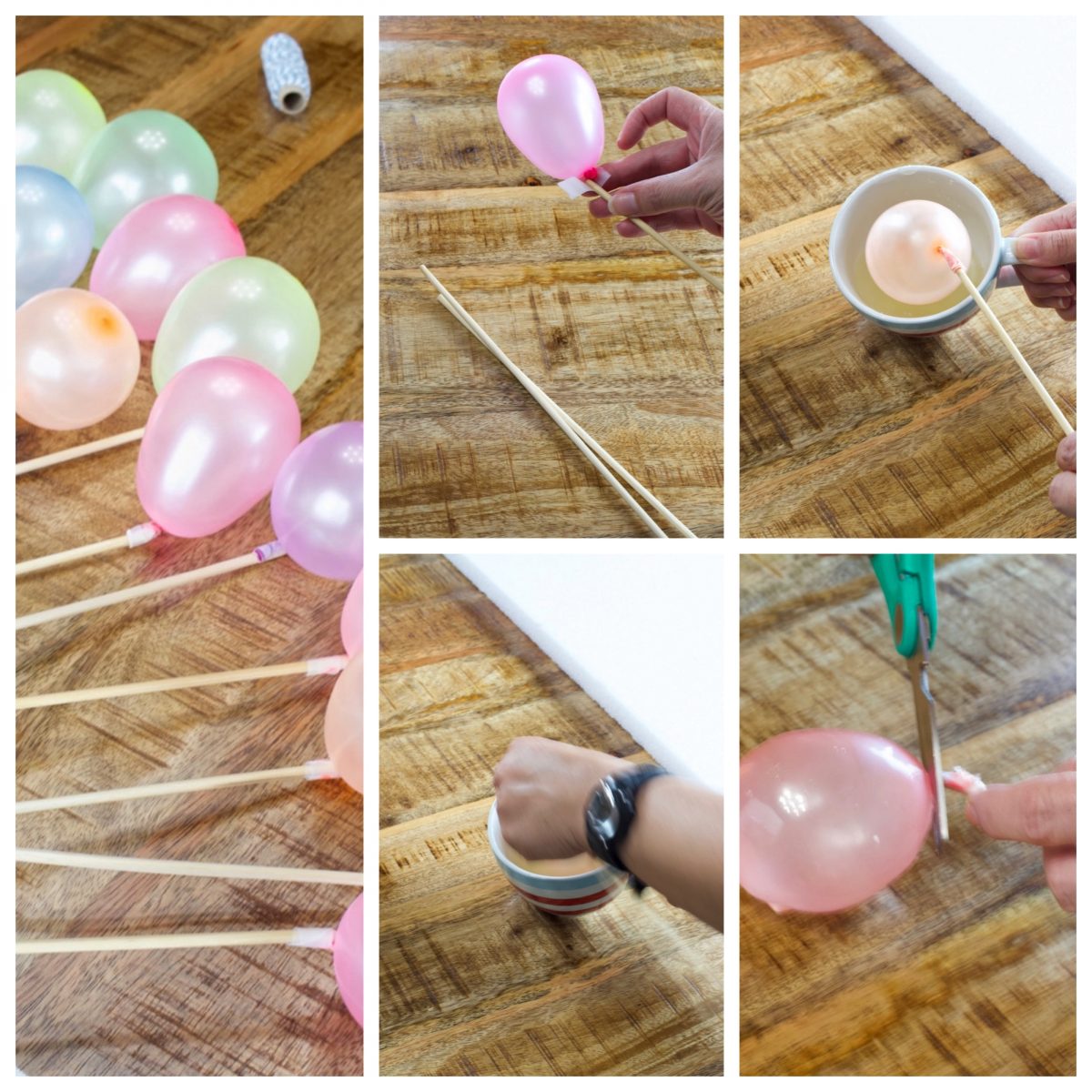 We proofed the gelatin, by dissolving it in some water.
We blew up water balloons and attached them to long skewers with some tape.
We very lightly greased our hands with cooking spray, then lightly greased each balloon with our hands. This keeps the balloons from sticking to the bubble when you pop them later. Note…I said lightly. If you use too much oil on the balloons the gelatin will not adhere to them.
Sandra dipped each balloon in the gelatin mixture and placed the end of each skewer into a piece of styrofoam 1-inch thick. It needs to be at least 1 1/2 feet long to allow plenty of room between the balloons. You don't want them touching. At this point, the balloons need to sit for 24 hours to completely dry. We actually placed them in front of a fan for several hours.
Once the bubbles were dry, we cut them from the sticks and popped the balloons inside, leaving behind a cute little bubble. Then we took scissors and carefully cut off the bottom of the bubbles so they fit over the top of each cupcake, enclosing the frosting and coconut.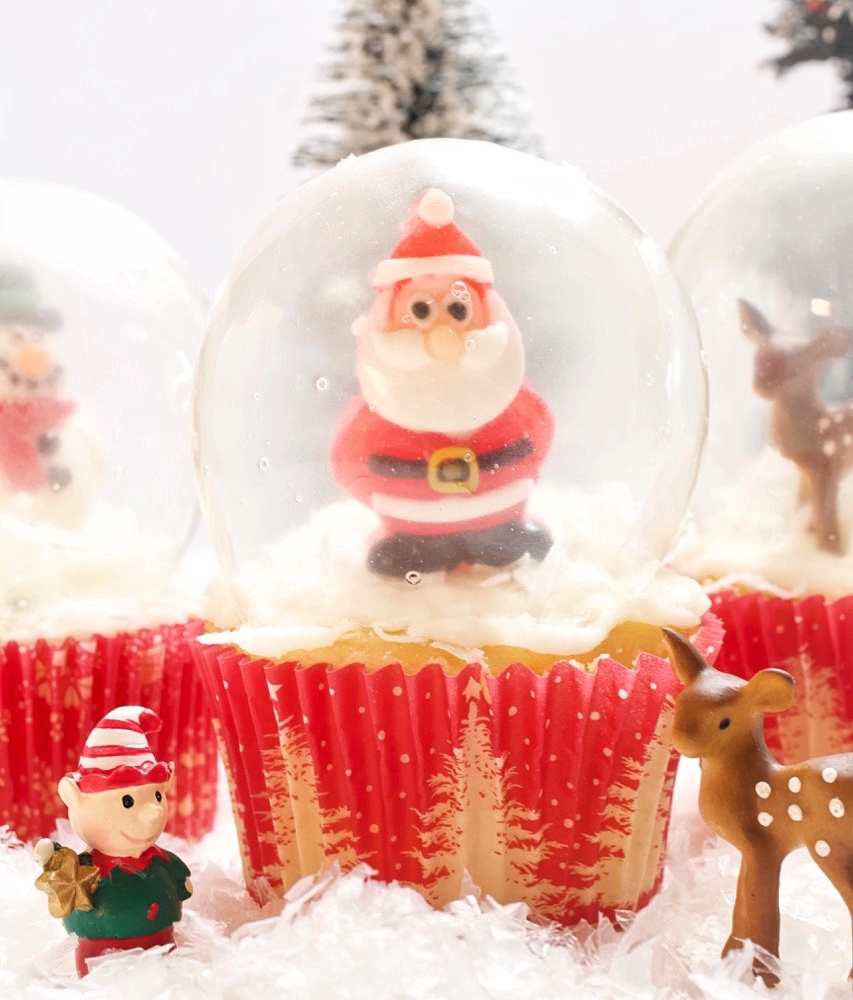 As you might have realized by now, this recipe is one that you want to make ahead of time, and I consider it an intermediate level recipe. You don't really need to enlist the help of a friend to make these adorable little cupcakes, but it's fun to have help! You also don't need to make this as a Christmas theme only cupcake. They would be so cute for birthdays too!
Don't forget, for more detailed tips and a video tutorial see Elizabeth's post over at …
https://www.sugarhero.com/snow-globe-cupcakes-gelatin-bubbles/
Print
Gelatin Bubbles
Author:

Prep Time:

1 hour

Total Time:

1 hour

Yield:

8

Gelatin Bubbles

1

x
---
Description
It's best to use Platinum Gelatin Sheets for these bubbles, if you want clear pristine bubbles.  The dry powdered gelatin will result in cloudy, dingy looking bubbles, and who wants a dingy snowglobe!!  Make sure you make the bubbles 24 hours prior to using them.
---
12

sheets of Platinum gelatin
Ice water

8

water balloons
Wooden skewers, tape, and a piece of stryofoam at least 1-inch in thickness and 1 1/2 feet long
Nonstick cooking spray
---
Instructions
Add the gelatin sheets, one at a time, to a large bowl of ice water, making sure you separate them with a fork, so they don't stick together.  Allow them to sit in the ice water for about 10 minutes to soften.  Remove the softened gelatin sheets from the bowl and gently squeeze the excess water from the sheets and back into the bowl.
Add the gelatin sheets and 3 tablespoons of the water from the bowl to a small pan.  Place the pan over low heat, and gently swirl the pan occassionally until the gelatin is almost entirely melted.  It doesn't have to be hot, just melted.  Remove the pan from the heat and allow the warm gelatin to cool.  If the gelatin starts to set up while you're working with it, simply place it over low heat for a few seconds to liquify it again.
Blow up 8 water balloons to a size that are proportionate to the size of the cupcakes.  Don't make them too big.  You want them to look like a snow globe on top of each cupcake.  See the pictures above this recipe.  Using tape, attach the balloons to the ends of skewers.
Spray your hands with the cooking spray.  Rub your hands together until most of the oil has absorbed into your hands.  Lightly rub your hands over each balloon, transferring just a tiny amount of the oil to each balloon.  They shouldn't be shiny or greasy lookin or the gelatin won't stick to them.  You should be able to do about 4 balloons before spraying your hands again.
 Pour the liguid gelatin into a small bowl that is deep and narrow.  Dip a balloon into the gelatin, turning it and making sure the entire balloon is covered with the gelatin, with the exception of the tied knot end.  You'll be cutting this part off later.  Hold the balloon over the bowl, allowing all of the excess gelatin to drip off the balloon and back into the bowl.  Repeat with each balloon and place them upright in the stryofoam board.  This is your first initial gelatin layer.
Allow the balloons to sit for about 10 minutes until they are no longer tacky when you touch them.  Re-warm the gelatin on low heat just to liguify it again.  Allow it to cool completely before using.  Dip the balloons a second time and place them back on the stryofoam board.  Allow the balloons to sit for 24 hours.  I cut this time in half by placing them in front of a fan.
The balloons are ready when they feel hard when you tap them and they are not tacky or soft at all.  Remove the balloons from the skewers.  Cut a small hole in each balloon next to the stem.  The balloon should release itself from the sides of the gelatin bubble, shrivel up and fall down into the bubble.  If a balloon doesn't want to release from the insides of the gelatin bubble, just set it aside for a few minutes, and it will gradually shrink on its own and release itself.
You can store the gelatin bubbles indefinietely, however they do not like moisture.  Therefore, I don't recommend refrigerating them.
---
Notes
If you must use powdered gelatin, see Elizabeth's tips on how to use it here..
Total prep time does not include drying time.
Keywords: gelatin bubbles, edible bubbles, edible snowglobes, gelatin, platinum gelatin,
Print
Snow Globe Cupcakes
Author:

Prep Time:

15 Minutes

Cook Time:

15 Minutes

Total Time:

30 minutes

Yield:

8

Cupcakes

1

x

Category:

Cupcakes
---
Description
These cute and adorable Snow Globe Cupcakes are topped with the cutest edible snow globe, made with edible gelatin bubbles.  You can fill the snow globes with edible or toy miniature figures and the snow globes are edible.
---
8

baked cupcakes

1

cup

white frosting, canned or homemade
flaked coconut
Edible or toy cupcakes toppers, such as reindeer, snowman, etc.

8

gelatin bubbles
---
Instructions
Frost each cupcake with a piping bag fitted with a round piping tip, or use a small offset spatula.  Pipe or spread a thin layer of frosting on top of each cupcake, leaving a margin around the edges of about 1/4 inch, so the gelatin bubble can totally enclose the frosting.
Dip the top of each cupcake in the coconut.  Add an edible or toy cupcake topper to each cupcake.  If the topper tends to fall over, place a tootpick in the cupcake behind the topper for support.  Set the cupcakes aside until you have made the gelating bubbles.
Once you've made the gelatin bubbles, carefully trim off the bottom of each gelatin bubble, making the opening in the bottom large enough to fit around the frosting on the cupcakes.  Carefully place a gelatin bubble on top of each cupcake.  The bubbles will last indefinitely as long as they are not exposed to moisture.  Do not refrigerate them.
---
Keywords: holiday cupcakes, Christmas cupcakes, cupcakes, snow globe cupcakes, Christmas desserts,
There may be affiliate links in this post. We are a participant in the Amazon Services LLC Associates Program, an affiliate advertising program designed to provide a means for us to earn fees by linking to Amazon.com and affiliated sites.