Smoked Beef Brisket
This moist and tender Smoked Beef Brisket gets its wonderful flavor by using two simple staples, kosher salt, and black pepper, along with the use of wood chips and water and slow smoking.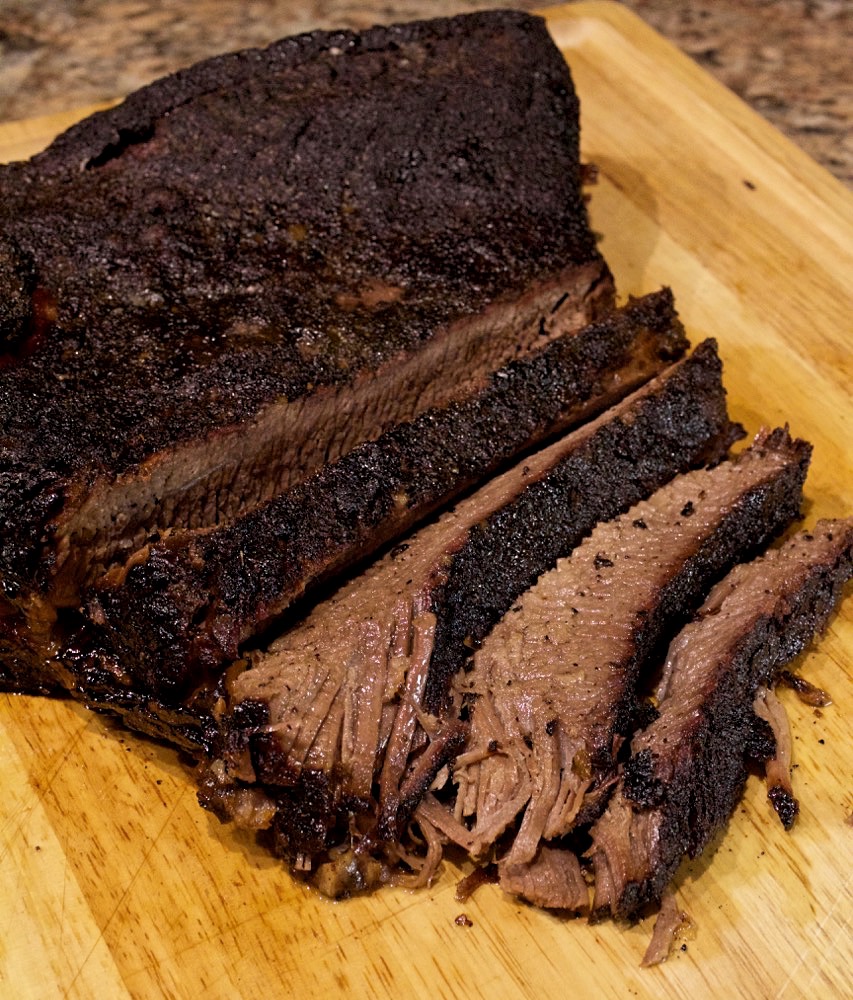 I never knew that Smoked Beef Brisket could be so simple to make, with just two simple kitchen staples, yet so unbelievably tender and full of flavor, until I made this one.  I honestly believe that so many people overthink the seasoning of meat.  I'm going back to the basics today, the basics from many years ago before so many cooks started messing with a good thing.  If it's already perfect, why try to fix it?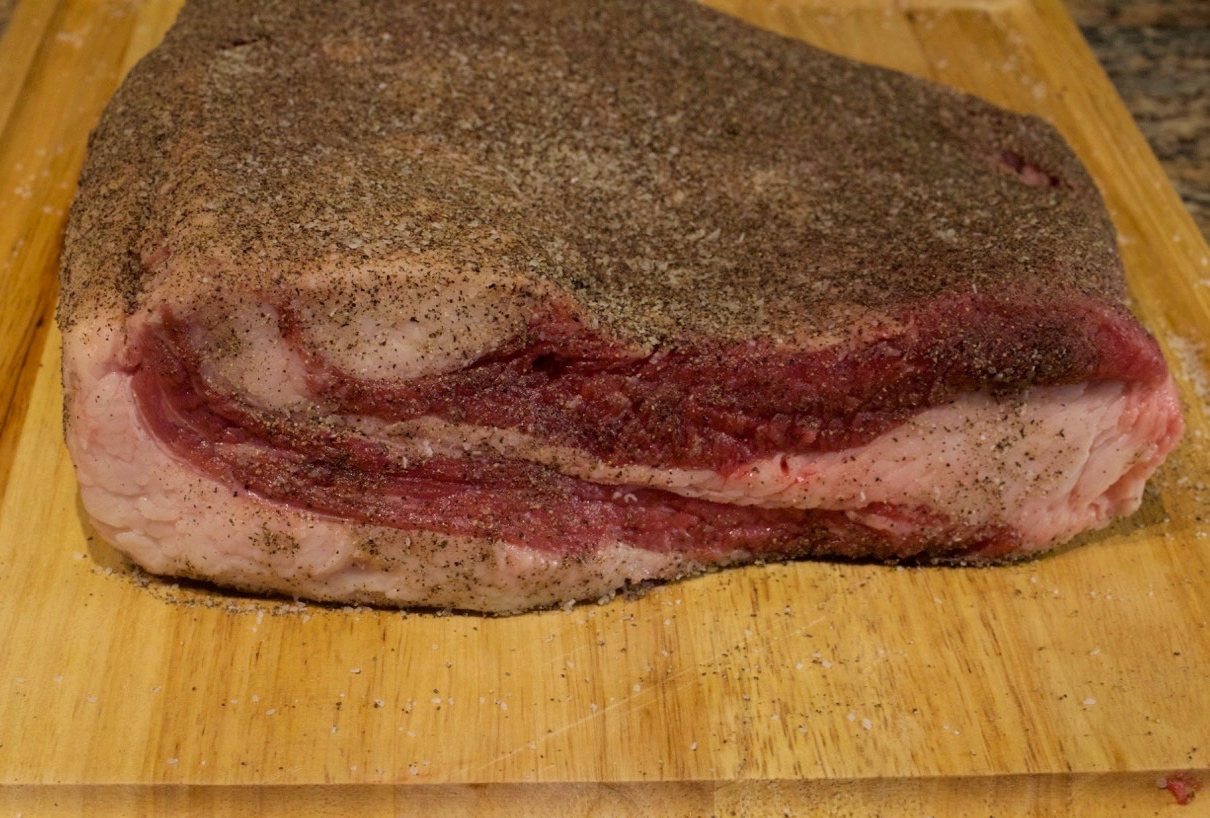 Here are my tips for smoking a perfect beef brisket…
Buy a beef brisket that has a lot of fat marbled throughout.  The fat on top of the brisket should be no deeper than 1/4 inch.  If it's more, you should trim it, along with any other hard pieces of fat or meat that are protruding from the main piece of meat.  For easy trimming, trim the meat while it's cold.
Bring brisket to room temperature before seasoning it.
Season the brisket by thoroughly rubbing both sides with nothing other than Kosher salt and fine mesh black pepper.  Note:  When sprinkling the salt and pepper over the meat, hold your hand a good 8 inches over the meat for equal distribution of the salt and pepper.
Smoke the meat low and slow using your favorite wood chips, (I used Applewood) and make sure you fill the water tray with water or apple juice, etc…
After the meat is smoked, allow it to rest for at least 30 minutes before unwrapping, slicing and serving it.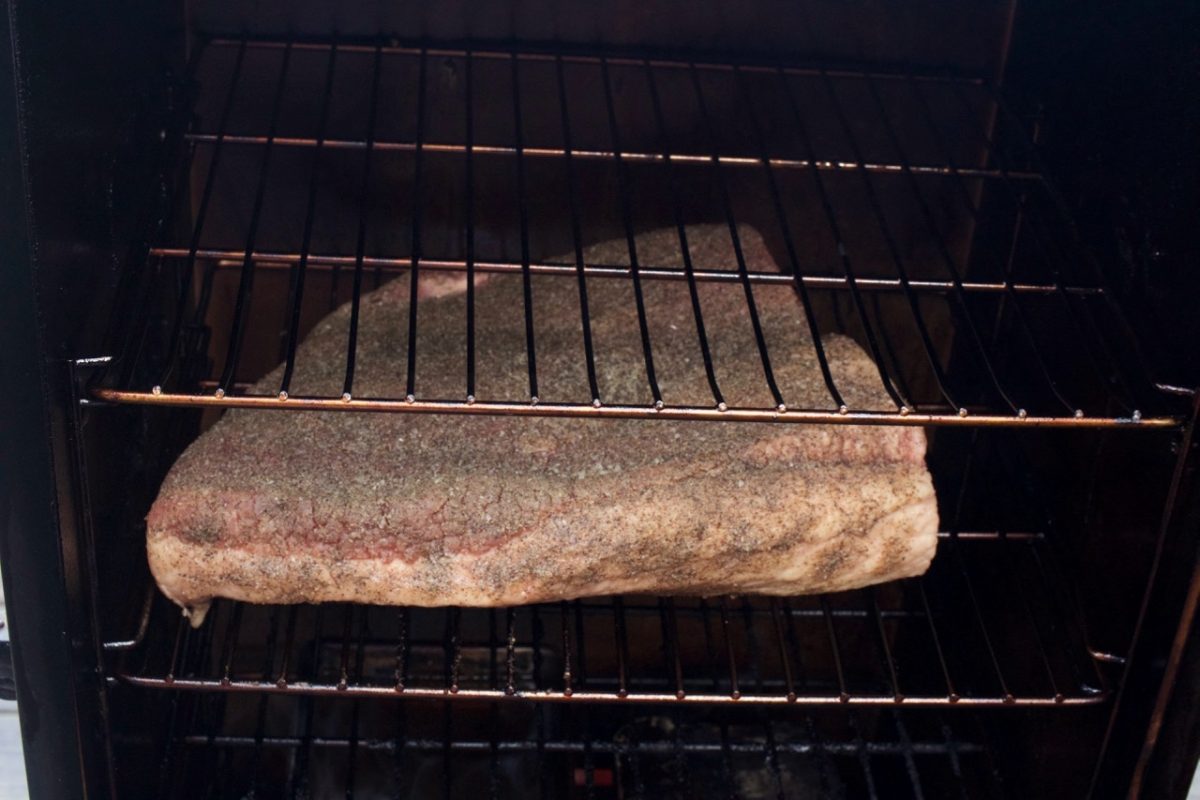 Here's how I smoked my brisket…
After seasoning the brisket, I placed it directly on the rack of my smoker over the water and wood chip trays.  I allowed the brisket to smoke at 275 degrees for at least four hours before testing it.  Here's the tip to testing it…
The meat will have a charcoal/blackened crisp appearance known as the bark on top.  Using a knife, gently scrape away the bark on a very small area.
Using a small spray bottle of water, spritz the cleaned area.  If the meat is dark in appearance, it's ready to finish off, by wrapping with foil and returning to the smoker.
After testing it, I removed the brisket from the smoker.  I wrapped it tightly with heavy foil and returned it to the smoker.  Here's why… I smoked it unwrapped just long enough for it to pick up the smoke flavoring and lose only the amount of moisture that it needed to lose.  Then I wrapped it in order for it to contain the remaining moisture and also allow the collagen in the meat to continue to render.
I smoked it for approximately 1 more hour and removed it from the smoker.  You can also test it with a meat thermometer.  The thermometer should read around 180 degrees for well done.
The Stall
If you've smoked brisket and the end result was a great taste yet the texture was tough, I'll explain why.  You removed the meat from the smoker during the stall period.  The stall period is a period throughout the cooking process when the cooking appears to stop.  You can test the meat several times within a couple of hours and keep getting a reading of 160 – 170 degrees.  The temperature has leveled off.  You might think the temperature is never going to go up, so you might finally go ahead and remove the meat from the smoker.  After all the FDA guideline of 145 degrees for beef has been met, so what's the harm?
So what happens when you remove the brisket during the stall?  You'll have a pretty piece of brisket that also has flavor, but it will be very tough.  A good thing cannot be rushed.  You just have to hang in there and wait.  The temperature will finally start to rise again.  A longer explanation of this would have to be a long story for another day.
I allowed the brisket to rest for at least 1/2 hour before unwrapping and slicing it.  This is an important step.  It allows the meat to absorb and retain all of the juices.  For the most tender slices of meat, cut the meat across the grain.  The pictures you see here are from two different briskets that I smoked and sliced differently, due to the way I was serving them.
I'm by no means an expert on smoking meat, but I think you will be amazingly pleased if you try this recipe.
Print
Smoked Beef Brisket
Author:

Prep Time:

15

Cook Time:

300

Total Time:

315
---
Description
Kosher salt, pepper, and good ole' smoke give this Smoked Beef Brisket its wonderful flavor and tenderness. Simple but perfect!
---
1

beef brisket, 5-6 pounds, preferably one with a lot of marbling.

1/8

cup

kosher salt

1/8

cup

fine mesh black pepper
---
Instructions
Preheat a smoker to 275 degrees, using your favorite wood chips. Note: If you have a smoker that heats only to 200 degrees, you will have to increase smoking time. See notes above recipe for testing the brisket for doneness.
Place brisket on a work surface. Holding your hand at least 8 inches above the meat, sprinkle one half of the salt and pepper over the meat. Use your fingers to rub the salt and pepper into the meat. Note: Do not sift the two together over the meat. The kosher salt is too big to pass through a sifter. Turn the brisket over and repeat with the second half of the salt and pepper.
Place the brisket, unwrapped, into the preheated smoker. Allow the brisket to smoke for four hours before testing for doneness. To test for doneness, use a knife and scrape away the blackened bark from a small area of the brisket. Using a spray bottle of water, spritz the cleaned area. If it looks dark, it's ready for the final smoking step.
Remove the brisket from the smoker, wrap it tightly with foil, and return it to the smoker. Smoke for approximately 1 more hour and remove.
Allow brisket to rest for 1/2 hour before removing foil. Slice brisket against the grain and serve.
To reheat brisket, wrap tightly in foil and place in a 350 degree oven for 30 minutes.
---
Notes
Total preparation and cook time does not include resting time.
I used a Masterbuilt electric smoker for this recipe which reaches a maximum temperature of 300 degrees. If your smoker only reaches a temperature of 200 degrees, you will have to smoke the brisket a few hours longer. See my tips above recipe for testing doneness.
---
There may be affiliate links in this post. We are a participant in the Amazon Services LLC Associates Program, an affiliate advertising program designed to provide a means for us to earn fees by linking to Amazon.com and affiliated sites.