Madeleines
These Madeleines are light and spongy on the inside and slightly crisp around the edges.  They have a wonderful flavor of butter, complemented with some lemon and vanilla.  They are great with a cup of hot tea or coffee.  Simple yet delicious!!
What are Madeleines?   Well, for starters, "madeleine" is French for "magdalen".   Some think these little cakes were named after Mary Magdalen but no one knows for sure.  Madeleines are little French sponge cakes that are baked in shell-shaped molds. They are super soft and spongy in the middle, just like the most perfect cake but in mini form.  Some people refer to these scrumptious little cakes as "cookies", but they truly are miniature cakes.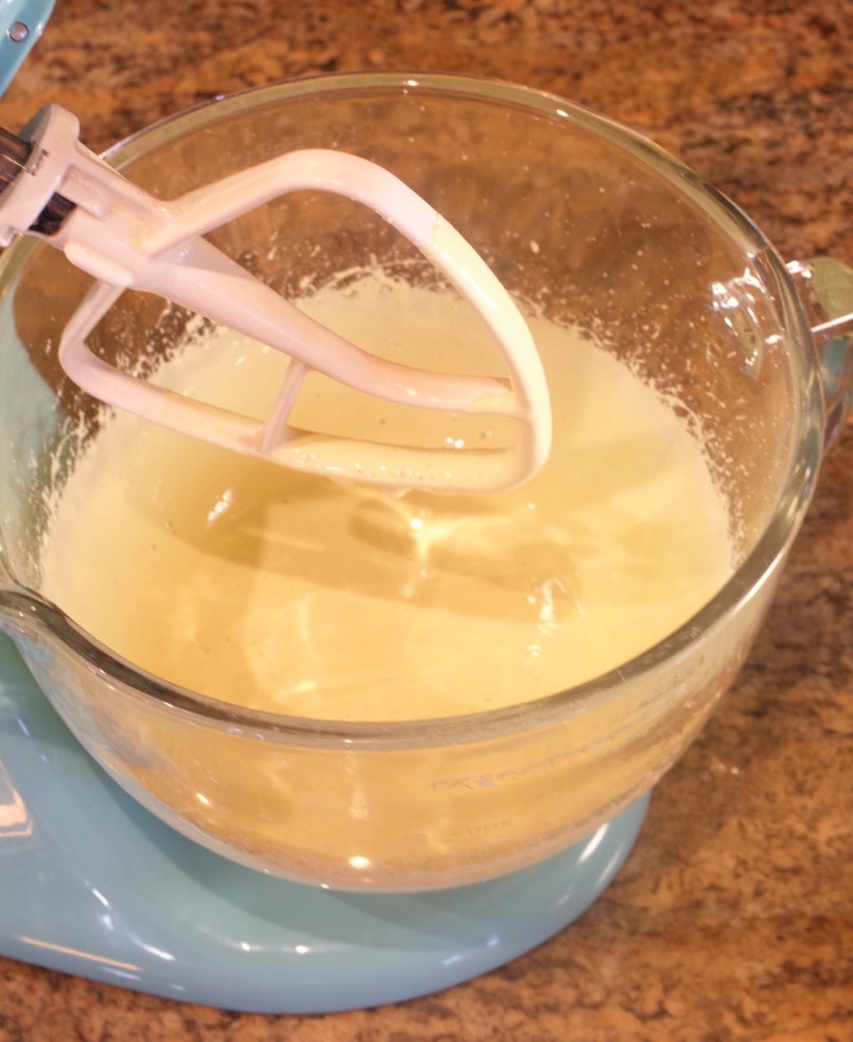 THE SECRET TO PERFECT MADELEINES
The most important step in making madeleines is making a perfect sponge-like batter, also known as genoise batter.  The secret to this perfect batter is in the whipping of the eggs and sugar.  The eggs and sugar get creamed together, then whipped on high speed with an electric mixer for about 15 minutes.  It's crucial that the mixture gets whipped for a long time.  Why?  Because you want to incorporate as much air as possible into the batter.  The whipped batter gives volume and lift to these scrumptious little cakes.  Some madeleine recipes call for allowing the batter to rest.  Not this recipe.  In this recipe, it's crucial to immediately bake the batter as soon as you have finished mixing it.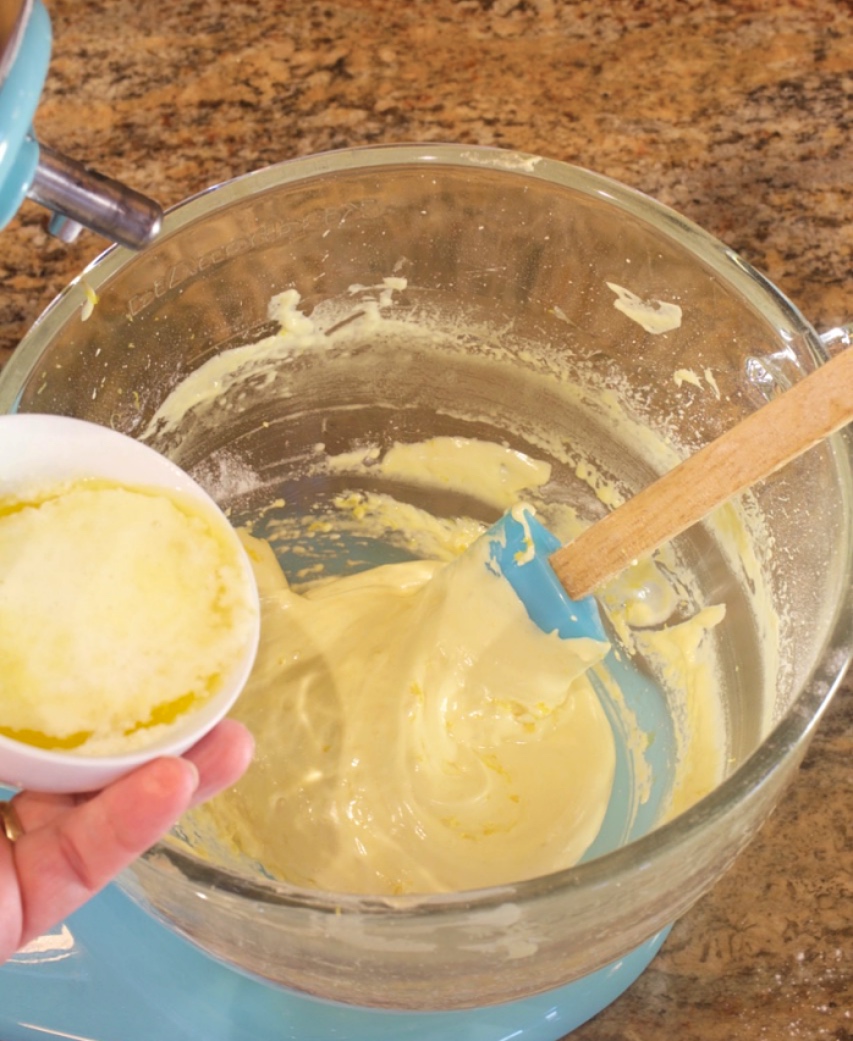 ADDING THE FLOUR AND BUTTER
Once you have finished whipping the eggs and sugar, you don't want to deflate the mixture any more than you have to.   Therefore, it's important to add the flour and butter a little bit at a time, folding them in by hand.  This starts by gently folding in the flour by hand, followed by adding melted butter a little bit at a time, until it's all folded in.  Once you've finished folding in the flour and butter, you will add your flavorings.  I added vanilla and lemon zest to this recipe.  The batter will suddenly look spongy looking.  At this point, it's extremely important to fill the baking molds and bake the batter right away.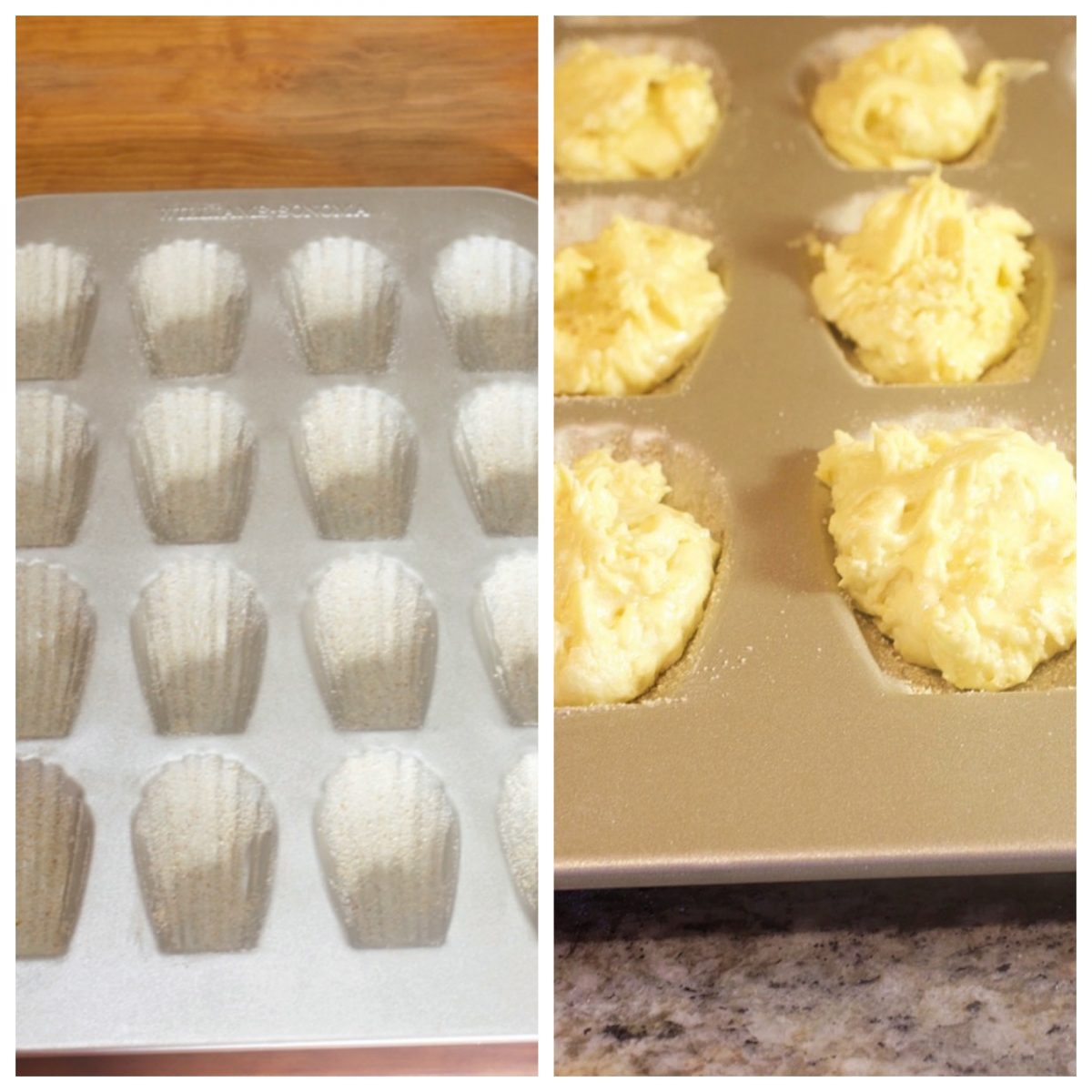 This is the pan I use to make madeleines.  I purchased it at Williams Sonoma.  However, you can purchase madeleine pans on Amazon.  They run anywhere from $15.00 to $19.00.  If you plan to make madeleines very often, this would be a great investment.  As you can see, I buttered the molds and sprinkled them with fine bread crumbs.  The cakes released perfectly after baking.  This recipe makes 11 madeleines.  I placed a heaping tablespoon of the batter in each mold.
Madeleines are really super easy to make.  As long as you follow the recipe and whip the eggs and sugar long enough, you'll have perfect little sponge-like cakes.  Just look at how spongy and soft these little cakes are.
As you can see in the picture above, the cakes are golden brown and crispy on one side and golden buttery on the other side.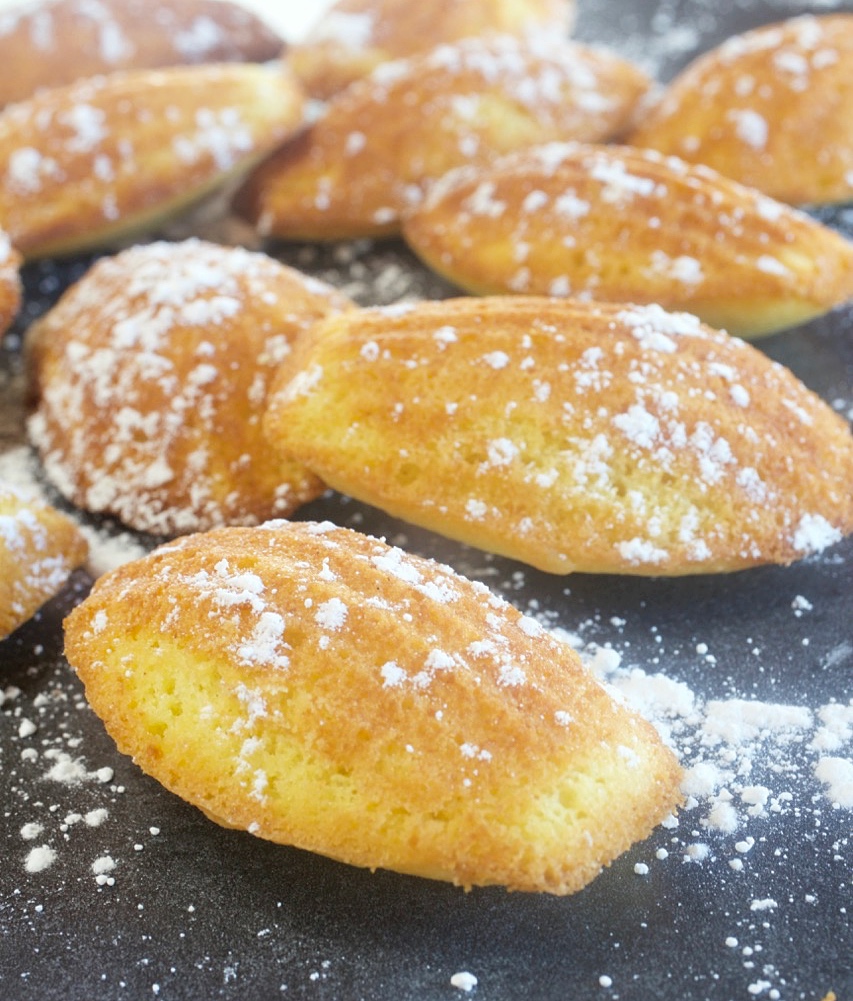 By the way, you can bake up a couple of batches of these light and airy little cakes and freeze them to enjoy later.
Print
Madeleines
Author:

Prep Time:

15 Minutes

Cook Time:

15 Minutes

Total Time:

30 minutes

Yield:

11

Cakes

1

x

Category:

Cakes

Method:

Bake

Cuisine:

French
---
Description
These little cakes are spongy and buttery on the inside and slightly crisp on the tops and edges.  They are the perfect complement to a hot cup of coffee or tea.
---
1/8

cup

fine dry bread crumbs (see notes below)

1/2

stick unsalted butter, melted and cooled

1

large egg, plus 2 egg yolks, room temperature

1/4

cup

granulated sugar

1/2 teaspoon

pure vanilla extract

1 teaspoon

lemon zest

1/2

cup

all-purpose flour
Butter for greasing molds
---
Instructions
Preheat oven to 425 degrees and place an oven rack on the middle position.
Butter the madeleine molds with a pastry brush.  Sprinkle the bread crumbs over the molds, making sure to coat each one thoroughly with the bread crumbs.  Tap the pan upside down over a garbage can to shake off any excess crumbs.
Add the egg, egg yolks, vanilla and sugar to the bowl of a stand mixer, fitted with the paddle attachment.  Beat the mixture on high until it's very light and creamy and lemony in color, about 15 minutes.  Turn the mixture to low, and gradually add the flour, scraping down the sides of the bowl as needed.  Mix only until the flour is incorporated.  Do not over mix.  Fold in the lemon zest by hand, then add the butter, 1 tablespoon at a time, until the butter is incorporated.
Immediately spoon the batter into the prepared molds.  (It's important to not allow the batter to rest.

Bake for about 15 minutes, until the Madeleines are golden brown on top and the cakes spring back when touched.  Cover the cakes with a cookie sheet or sheet cake pan and invert the cakes onto a wire rack to cool.

Once the cakes have cooled, dust them with powdered sugar.
Store cakes in an airtight container.  Cakes will stay fresh for up to 2 days.
---
Notes
If you don't want to mess with making bread crumbs you can use purchased bread crumbs from a canister for this recipe.  That's what I did.
Keywords: Madeleines, mini cakes, French recipes,
There may be affiliate links in this post. We are a participant in the Amazon Services LLC Associates Program, an affiliate advertising program designed to provide a means for us to earn fees by linking to Amazon.com and affiliated sites.