Chocolate Kiss Meringue Cookies
These Chocolate Kiss Meringue Cookies are light and crispy on the outside and soft and chewy on the inside and they have a chocolate kiss hidden inside.  They are such a delightful little cookie to make and aren't heavy or overly sweet.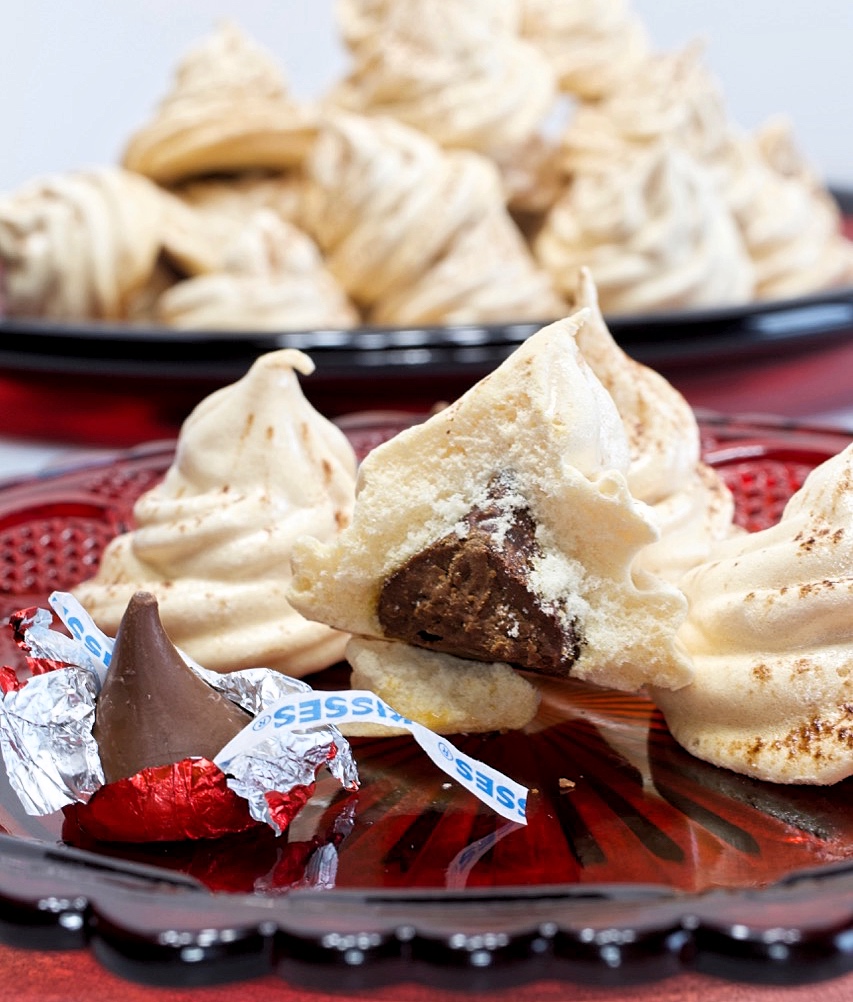 Meringue cookies are one of the easiest and most versatile cookies to make.  You can make them in any flavor, stuff any little surprise that you like on the inside, and they are made from the easiest type of meringue…french.  I thought it would be fun to hide a chocolate kiss in the middle of these meringues.
FRENCH MERINGUE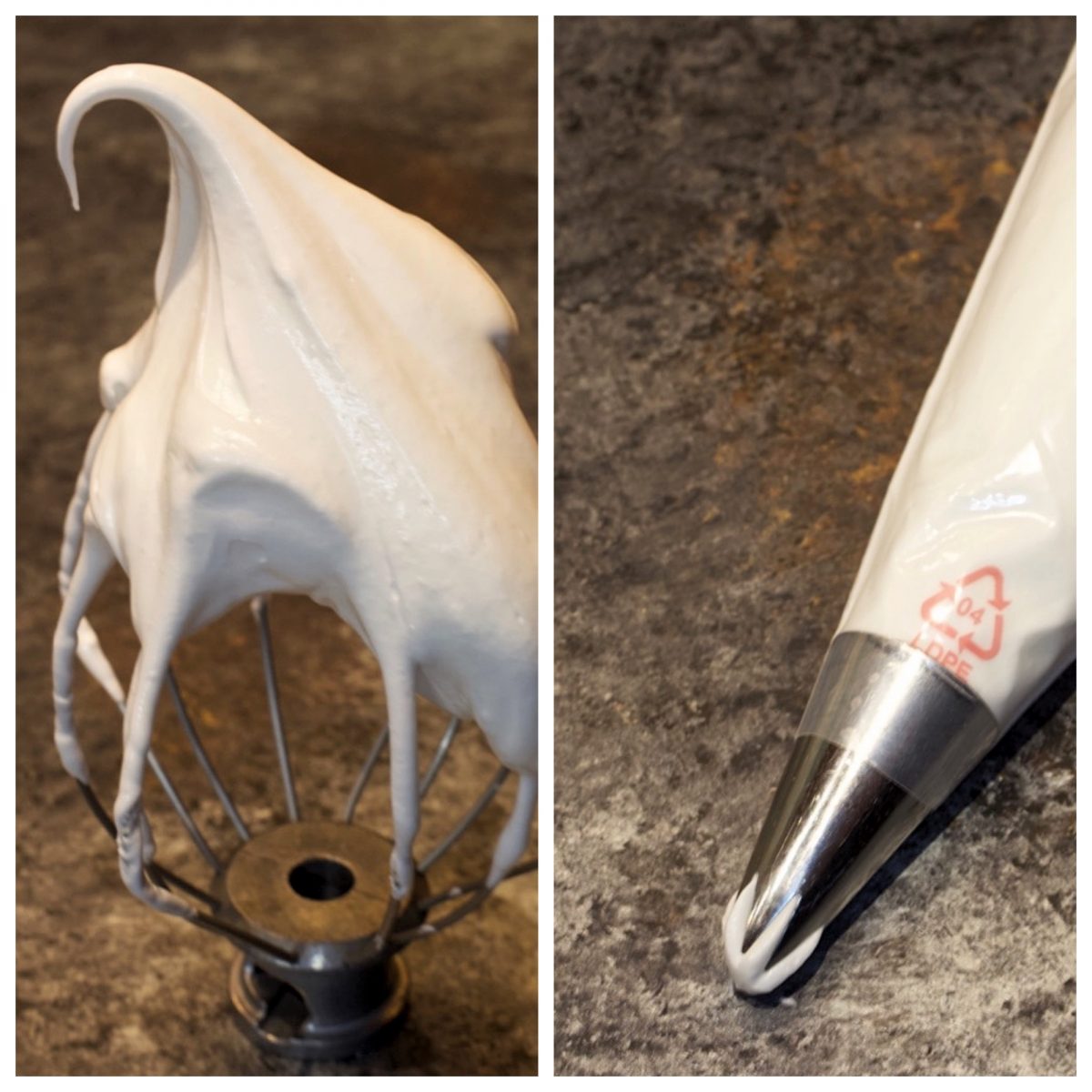 French Meringue is made by beating room temperature egg whites with cream of tartar, sugar, salt, and vanilla until the egg white mixture forms stiff peaks.  See how the tip of the meringue in the picture above holds its shape?  This is stiff meringue.  This takes only minutes to whip up!
The meringue gets transferred to a piping bag fitted with a piping tip.  For this recipe, I used the Wilton 1M, open star tip.  I only filled the bag between 1/2 and 2/3 full at a time.
PIPING THE MERINGUES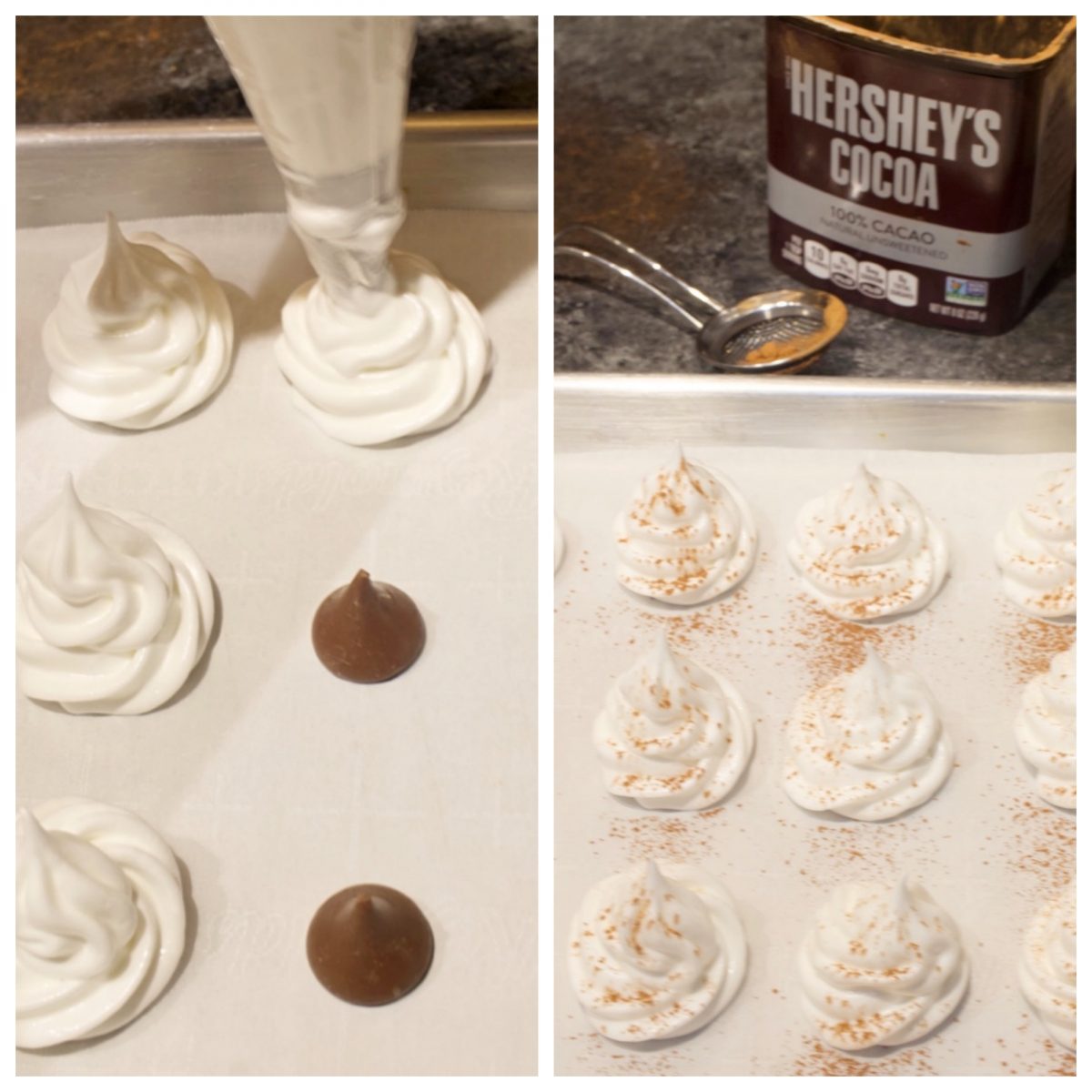 In this recipe, I placed the chocolate kisses about 2 inches apart on two large parchment-lined baking sheets.  Then I piped the meringue over the kisses in rounds of 1 1/2 to 2 inches.  They won't spread.  When piping the meringue, swirl and raise the tip as you go.  Stop piping, then lift the tip straight up and away.  I lightly dusted the meringues with cocoa, but this is optional.
The secret to perfect meringues is to bake them low and slow!  These meringues get baked for 1 1/2 hours at a low temperature of 250 degrees and it's extremely important to not open the oven door while they are baking.  Once they finish baking, they stay in the closed oven for an additional hour while they slowly cool down.
Note:  If you don't have a piping bag or piping tip just use a large spoon and dollop the meringue in a mound over the chocolate kiss.  You can also use a bag and cut one corner off.
Tips for perfect meringue:
Always use a clean mixing bowl that is completely free of any oil, water, or grease.  Any type of fat or grease interrupts the egg white protein structure.  The protein structure is what forms bonds that create a stable foam.
Eggs separate easier when they are cold.  Separate the egg yolks from the whites prior to making your recipe, then place the yolks back in the fridge for another use and set the whites aside to warm up.
Always use room temperature egg whites.  They fluff up bigger and have a greater volume when they are at room temperature.
FUN FACT – Hershey Kisses have been around since 1907
Print
Chocolate Kiss Meringue Cookies
Author:

Prep Time:

15 Minutes

Cook Time:

90 Minutes

Total Time:

1 hour 45 minutes

Yield:

3

dozen

1

x

Category:

Cookies

Method:

Bake

Cuisine:

American
---
Description
These Chocolate Kiss Meringue Cookies are light and crispy on the outside and soft and chewy on the inside.  They are a wonderful make ahead cookie and they freeze beautifully! 
---
4

large egg whites, room temperature

1/8 teaspoon

salt

1/4 teaspoon

cream of tartar

1/2 teaspoon

pure vanilla extract

2/3

cup

granulated sugar

36

to

38

hershey kisses, unwrapped
Cocoa for dusting, optional
---
Instructions
Preheat oven to 250 degrees.  Line two baking sheets with parchment paper and set aside.
Add the egg whites, cream of tartar and salt to a clean bowl of a stand mixer fiited with the whisk attachment, or use a hand mixer.  Beat on high speed speed for about 1 minutes until soft peaks form.  With the mixer on high speed, slowly add the sugar, followed by the vanilla.  Beat for about 1 minute longer or until stiff peaks form.  Do not over beat.
Place the chocolate kisses on the lined cookie sheets, allowing at least 2 inches between each one.  Set aside.
Fit a pastry bag with a piping tip.  I used a Wilton 1M open star tip.  Fill the bag 1/2 full of the egg white mixture.  Pipe 1.5-inch swirls around each chocolate kiss.  Note, the meringues will not spread.  To pipe, pipe a swirl as you go upward.  Stop piping and lift the tip straight up.  Dust the meringues with cocoa powder if desired.
Bake for 1.5 hours, placing one baking sheet on each oven rack.  Note:  Do not open the oven door during the baking process.  After 1.5 hours, turn off the oven.  Do not open the oven door.  Allow the meringues to sit in the oven for 1 hour until the oven has completely cooled.
Remove the meringues from the oven.  Allow to completely cool and remove from the cookies sheets with a flat metal spatula.
Store meringues in an airtight container for up to 2 weeks.
---
Notes
Freezing Meringues  Meringues freeze beautifully.  I recommend not freezing for over 2 monthes.  They are fragile.  Place meringues in single layers in a freezer safe container, with wax paper between the layers.
Keywords: chocolate kiss meringue cookies, meringue cookies, chocolate meringue cookies, cookies,
There may be affiliate links in this post. We are a participant in the Amazon Services LLC Associates Program, an affiliate advertising program designed to provide a means for us to earn fees by linking to Amazon.com and affiliated sites.