Buttermilk Cake With Caramel Icing
This moist & buttery Buttermilk Cake with Caramel Icing is the perfect cake if you don't want a cake that's overly sweet and the caramel icing totally complements the cake.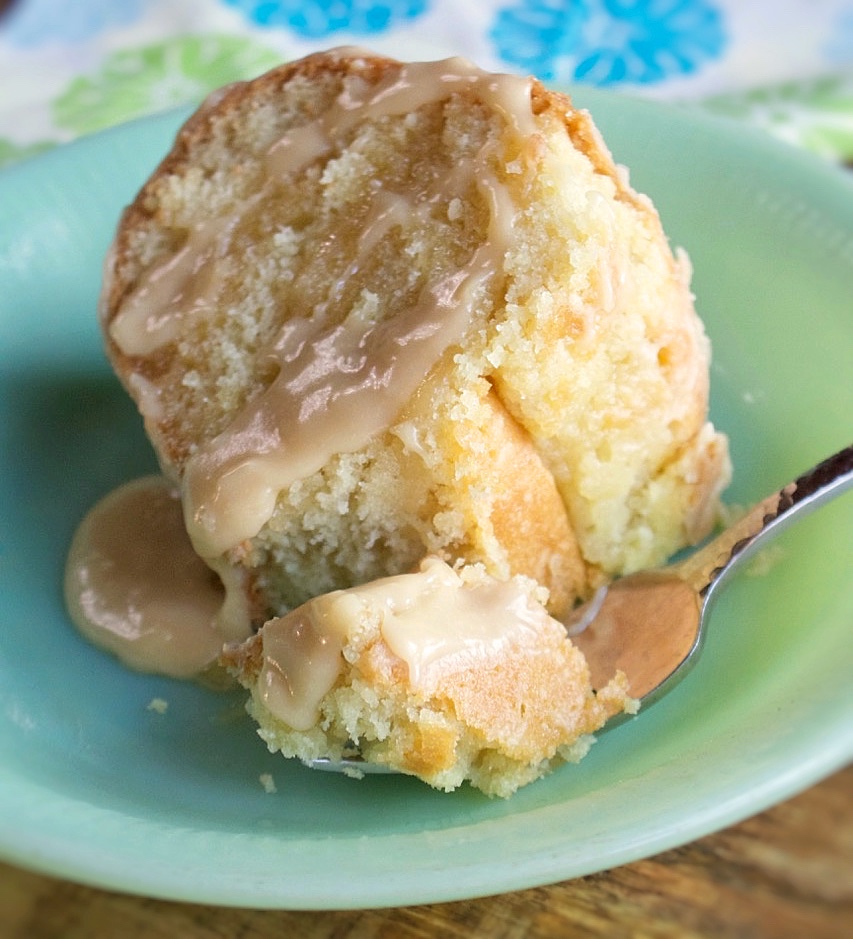 Do you ever get a hankering for something that's sweet but not too rich? Something that's buttery, and so moist and tender that it would melt right in your mouth? Something that has just the right amount of thin icing, but not a rich heavy frosting? Something that's easy to make? Well then let me tell ya about this Buttermilk Cake!
I actually came across this recipe several years ago in a Taste of Home magazine, and it's become one of my favorites. I've tweaked it here and there over the years, and it seems to only get better. It's also a great cake to take to potlucks, and it travels well and slices beautifully.
One cup each of real butter and full-fat buttermilk come together in the cake batter to make this buttery moist cake. Then there's the caramel icing. Oh yes!! So many cakes today have heavy thick frostings, but this melt in your mouth cake hasn't a need for such a thick heavy frosting. Nope! All it needs is a thin icing. Thin, but definitely not lacking in flavor. This icing, made up of real butter, brown sugar, heavy whipping cream, and powdered sugar has the most wonderful caramel flavor. Drizzle it over this buttery moist cake and you have a perfect match made in heaven!! Oh yes, there's plenty of icing, so save some to drizzle over slices.
This cake is so moist and buttery, that it is also delicious without the icing. It is also a great cake to serve with whipped cream and fresh fruit.
Okay…just an FYI, I'm ready to go on a Pie Kick real soon. Blackberries and peaches are in season right now, so I can't help myself. We'll see what I come up within the next few days! Pies, crisps, turnovers….who knows!!
Print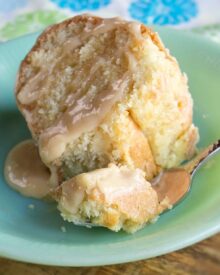 Buttermilk Cake With Caramel Icing
Author:

Prep Time:

35

Cook Time:

45

Total Time:

80
---
Description
Butter and Buttermilk come together in this moist and buttery cake, and a divine caramel icing drizzled over the top completes this melt-in-your-mouth cake.
---
For the Cake
3

cups

all purpose flour

1 teaspoon

baking soda

1

cup

real unsalted butter, softened to room temperature

2

cups

sugar

3

large eggs

2 teaspoons

pure vanilla extract

1

cup

full-fat buttermilk
For the Icing
1/4

cup

butter cubed or sliced

1/2

cup

light brown sugar, packed

1/3

heavy whipping cream

1

cup

powdered sugar
---
Instructions
Preheat oven to 350 degrees.
For the Cake
Grease and lightly flour a 10″ fluted tube pan.
In a medium bowl, mix together the flour and baking soda and set aside.
In the mixing bowl of a stand mixer (or use an electric mixer), cream together the butter and sugar until light and fluffy. Add eggs, one at a time, mixing well after each addition. Add vanilla.
Add the dry ingredients alternately with buttermilk to the wet mixture. Mix to combine, but do not over mix.
Pour batter into prepared pan and gently shake to remove air bubbles and level batter. Bake for approximately 45 minutes or until a toothpick inserted near the center comes out clean. Do not over bake.
Run a sharp knife around inside of cake pan. Gently shake pan up and down to ensure that cake is loose. Invert cake onto a wire rack to cool completely.
For the Icing
In a medium saucepan, combine the butter, brown sugar and whipping cream. Bring to a boil over medium heat, stirring constantly. Remove from heat. Allow icing to cool for about ten minutes. Add the powdered sugar and whisk until smooth and free of any lumps.
Drizzle icing over the top of cake, allowing it to run over the sides and into the middle. You should end up with about one half cup of extra icing. Save it to drizzle over cake slices when serving.
---
Notes
Store cake in an airtight container.
This cake gets more buttery the next day.
Cake will keep for up to one week.
---
There may be affiliate links in this post. We are a participant in the Amazon Services LLC Associates Program, an affiliate advertising program designed to provide a means for us to earn fees by linking to Amazon.com and affiliated sites.