Angel Rolls
These feather-like Angel Rolls are beyond tender and flaky thanks to the addition of yeast. They are easy to make and my new go-to recipe for dinner rolls. You can refrigerate the dough and use it within a week, which is great when you're pressed for time.
I must say, this recipe for Angel Rolls was created purely by accident…not to be confused with my previous post for Old Fashioned Angel Biscuits.  
You see, Cindy the airhead here, was attempting to make Angel Biscuits one morning while making conversation with my husband Don and watching a cooking show at the same time.  In the midst of all of this, I totally lost count of how much buttermilk I had just added to my dry ingredients.  After looking at the carton of buttermilk, I quickly realized that I had added a whole extra cup of buttermilk. No big surprise…I do this stuff quite often.  Needless to say, I didn't have time to start over with my recipe.  I was expecting a house full of guests within minutes, so I just went for it.  If they didn't turn out, at least my chickens would eat them.
Let's stop for a minute while I fill you in on why the biscuits are called "angel" biscuits.  Many years ago, when commercial yeast first became available for home cooks to use, they were afraid to try it.  Home cooks relied on baking powder and baking soda to ensure their biscuits were light and fluffy enough.  Finally in the 1950's home cooks became brave enough to experiment with yeast in their biscuits and the "angel" biscuit was born.
So, I guess you could say that my "Angel Rolls", although an accident, are adapted from the Angel Biscuit recipe.
Here's a quick snippet of how I made the rolls. Note:  I started by adding some yeast to some warm water as seen in the picture above.
I added my dry ingredients to a large bowl.  Then I cut in some solid shortening with a pastry cutter until the mixture resembled coarse crumbs.  I added the buttermilk and yeast mixture and mixed just until it came together.
I dumped it out onto a floured board and kneaded it lightly, about 30 seconds.  I had to add a little bit of flour, (remember I used 1 extra cup of buttermilk).  I just added enough to make the dough hold together.
I transferred the dough to a bowl, covered it with plastic wrap, and refrigerated it for 1 hour.    Note:  You can refrigerate this dough for up to 1 week and just remove however much you want to bake.  This recipe makes 20 large rolls, so feel free to use only 1/2 of the dough at a time.
Once the dough was chilled,
I rolled the dough out on a floured surface to about 1/2 inch in thickness and cut the dough with a biscuit cutter.  Tip:  Anytime you are cutting biscuits or rolls, make sure you press down and straight up with the cutter.  Why?  When you twist the cutter it presses the edges of the dough together.  This creates tiny seals that prohibit the dough from rising to its maximum flaky peak.
I placed the rolls on a lightly greased baking sheet and covered them with a towel.  I allowed them to rise for 30 minutes, then I baked them.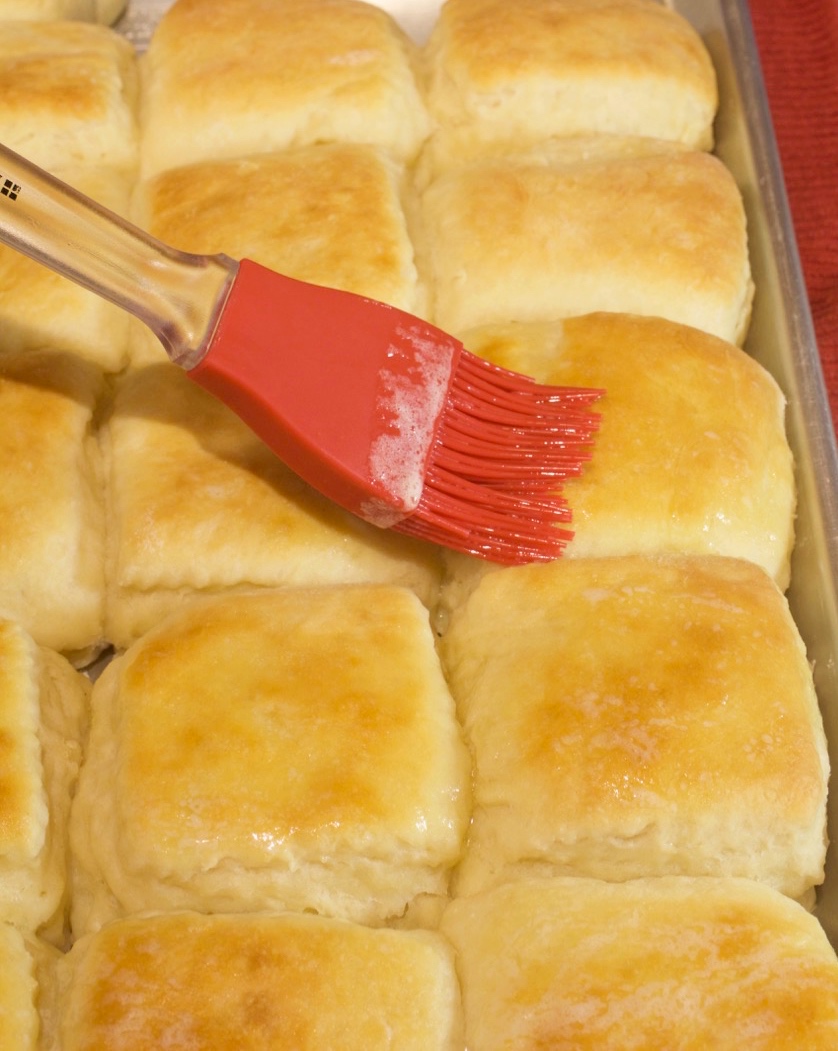 Once they were baked to a light golden brown, I brushed them with butter.  That's when I realized that I didn't flop the recipe.  Instead, my buttermilk accident resulted in some of the lightest and airy dinner rolls ever.  In fact, they were so light and airy that I was almost afraid to stack them on top of each other for fear of deflating them.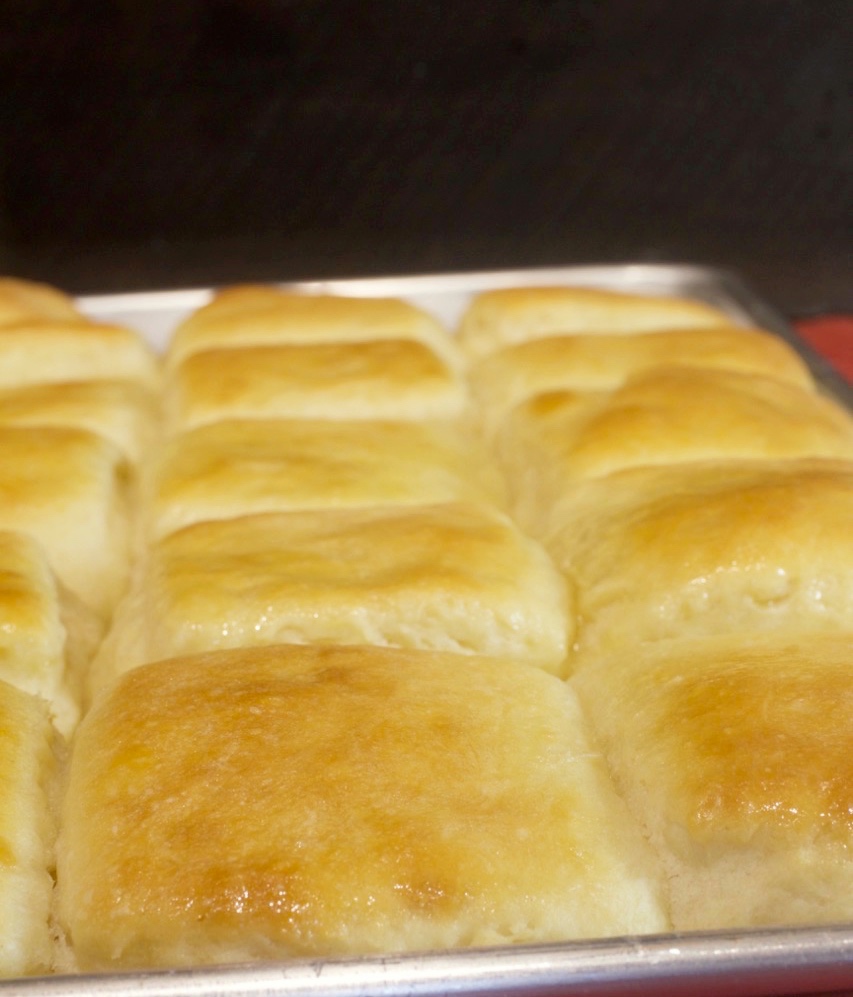 Make these light and airy dinner rolls and you'll see why they are called Angel Rolls!
Print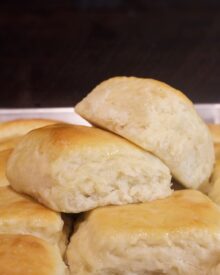 Angel Rolls
Author:

Prep Time:

1 1/2 hours

Cook Time:

15 Minutes

Total Time:

43 minute

Yield:

20

rolls

1

x

Category:

Bread
---
Description
These light and feathery rolls literally taste like they've been kissed by an angel.  They are that good!
---
1

packet active dry yeast, (I like rapid rise)

2 tablespoons

very warm water, (

105

to

115

degrees)

5 1/4

cups

all purpose flour

1 tablespoon

baking powder

1 teaspoon

baking soda

1 1/2 teaspoons

salt

1/4

cup

sugar

1

cup

solid vegetable shortening such as Crisco

3

cups

full-fat buttermilk
Melted butter for brushing tops
---
Instructions
Dissolve the yeast in the water in a small bowl and set aside.
Measure flour, sift and remeasure.  Resift along with the baking powder, baking soda, salt and sugar into a large bowl.
Using a pastry blender, cut the shortening into the flour until it resembles the size of small peas.
Add the buttermilk and yeast mixture and mix with a wooden spoon until dough holds together.  Dough will be wet.  Knead lightly for about 30 seconds on a heavily floured surface.
Transfer dough to a greased bowl, cover with plastic wrap and refrigerate for one hour or overnight.
Remove as much dough as you want to use from the refrigerator and transfer to a heavily floured work surface.  (The dough will keep for up to a week refrigerated, if you decide to fix one half at a time.
Roll or pat dough out to 1/2 inch in thickness and cut into rolls using a biscuit cutter.  *see notes below for cutting.
Place rolls on a greased cookie sheet with sides almost touching.  Cover with a towel and allow to rise for 30 minutes in a warm place.  (I preheated my oven to 200 degrees and turned it off before starting to make the rolls.  Then I placed the covered pan of rolls in the warm oven and left the door ajar).
Preheat oven to 400 degrees.
Bake rolls until golden brown on top, approximately 15-20 minutes.  Brush with melted butter and serve hot.
Keep leftover rolls in an airtight container or plastic bag.  Rolls will stay fresh for up to 2 days.
---
Notes
Dough will keep for up to one week in the refrigerator.  Roll and cut dough into rolls.  Place on a lightly greased cookie sheet and cover with a towel.  Allow to rise for 30 minutes in a warm place and bake.
I used a 2 3/4″ square cutter and the dough made 20 rolls.
Prep time includes rising time.
*  When cutting biscuits or rolls, never twist the cutter.  Press straight down and back up.  If you twist the cutter it presses the edges of the dough together.  This creates tiny seals that prohibit the dough from rising to its maximum flaky peak.
Keywords: angel rolls, bread rolls, dinner rolls, yeast rolls,
There may be affiliate links in this post. We are a participant in the Amazon Services LLC Associates Program, an affiliate advertising program designed to provide a means for us to earn fees by linking to Amazon.com and affiliated sites.