Seven Minute Frosting
Seven Minute Frosting is so light, and voluminous, that you'll think you're eating bite-size clouds. It totally melts on your tongue! It's super easy to make and forms beautiful peaks on cakes. I grew up on this delectable frosting and it's one of my faves!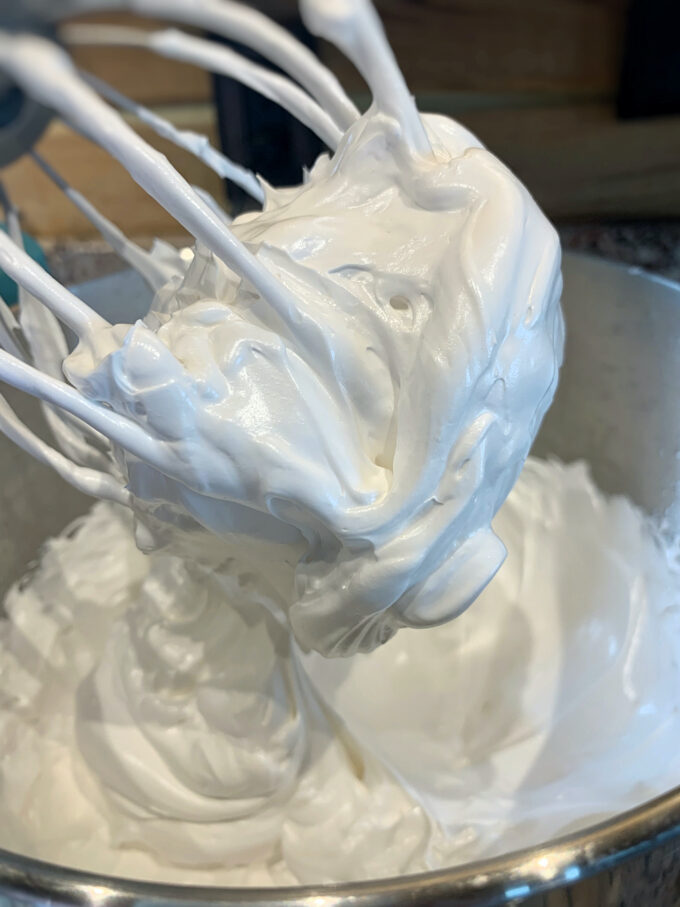 I grew up eating this cloud-like delectable frosting and I've been making it for decades. If you've never had it, you don't know what you've been missing! You might think this yummy frosting is hard to make but it's not. I'm going to show you just how easy it is to make, and the secret to making it perfect every time!
First I'll explain why this frosting is called "Seven Minute" and hopefully answer any questions you might have about this recipe. I'm going back to the original way it was made back in the day and how I still make it today.
Why is this frosting called "seven minute"?
It starts by making a simple syrup of sugar and water and combining it with egg whites. Once the simple syrup is made, the mixture gets transferred to a mixing bowl and beat with a whisk attachment for "seven" minutes, after which time the frosting has almost tripled in volume and it's glossy and forms perfect peaks.
Why do I have to make a simple syrup?
If you add granulated sugar directly to a mixing bowl with egg whites and beat it, you'll end up with a grainy textured frosting. The sugar will be combined with the egg whites but it will not dissolve and will result in a very grainy texture. Therefore, to eliminate this problem we make a "simple syrup".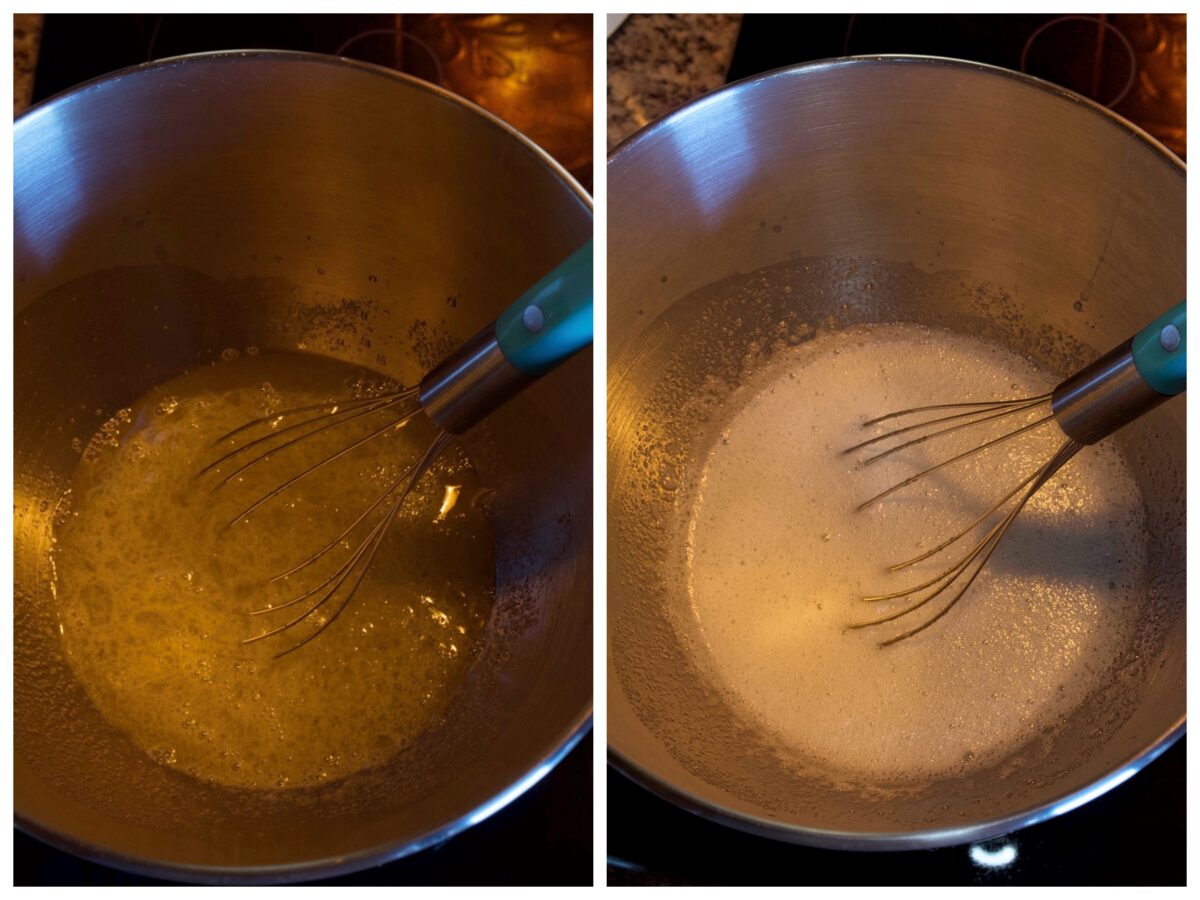 What is the difference between "simple" & "rich" syrup?
Simple syrup is a combination of sugar and water that gets heated until the sugar has time to completely dissolve in hot water. It can be made in a saucepan over heat. Simple syrup is most commonly made with equal parts water and sugar.
However, in this recipe, we're making a rich syrup, using more sugar than water. We cook the rich syrup just long enough to completely dissolve the sugar. This prevents the finished frosting from becoming grainy.
In this recipe, we are also going to combine egg whites with the rich syrup mixture. This way, by the time the sugar has dissolved, the egg whites should also be cooked to a safe temperature for consumption. This takes about 5 minutes over a double boiler (see recipe below).
Once the mixture is removed from the heat, we'll move it to a stand mixer and beat it with a whisk attachment to make our frosting.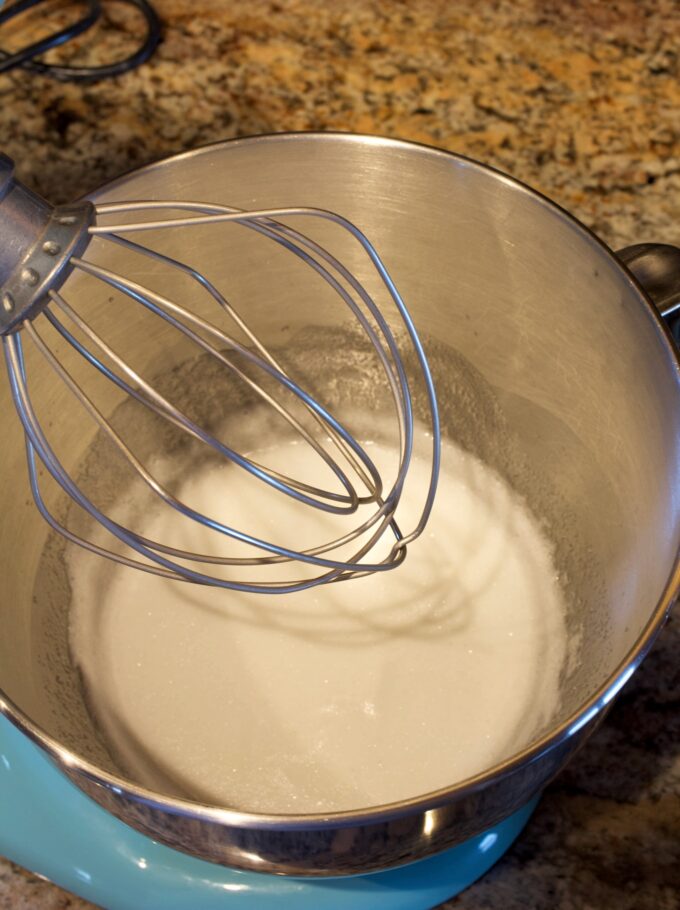 Why seven minutes?
The mixture gets transferred to a stand mixer once it's ready to come off the heat. It usually takes about 7 minutes of beating time, with the mixer on high, for the frosting to be a perfect consistency. The frosting should be glossy, tripled in volume, and form perfect peaks. The other reason for beating it for 7 minutes off heat is for the purpose of cooling it. Some older recipes call for beating the mixture while it's still over the heat. This is not necessary and it would take longer for the frosting to cool.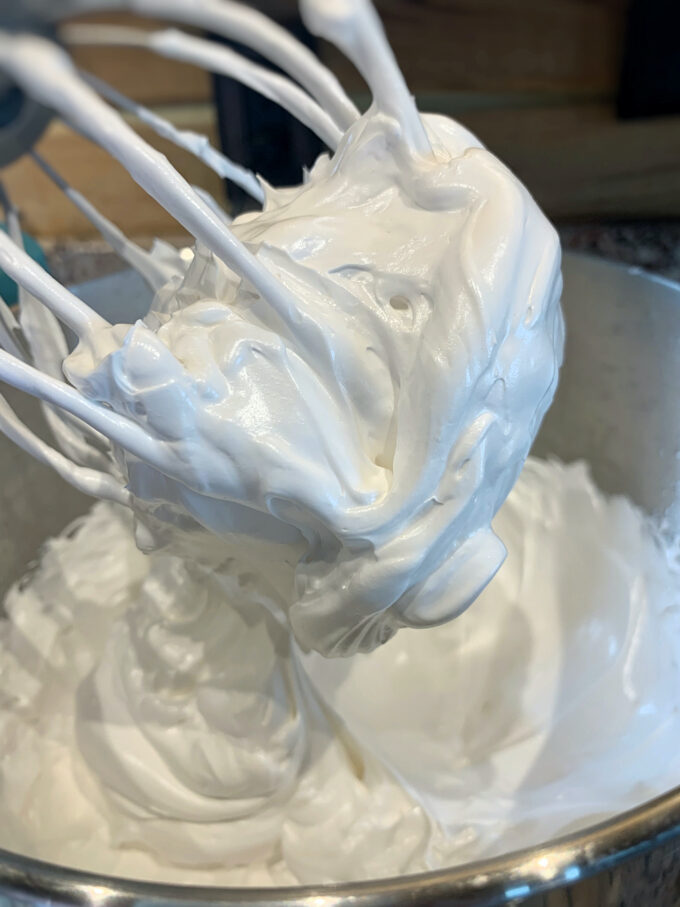 What's the purpose of cream of tartar?
Cream Of Tartar does two things to egg whites. It works as a stabilizer to keep egg whites from deflating and it speeds up the formation of foam bubbles. It helps to make beautiful fluffy frosting or meringue for pies.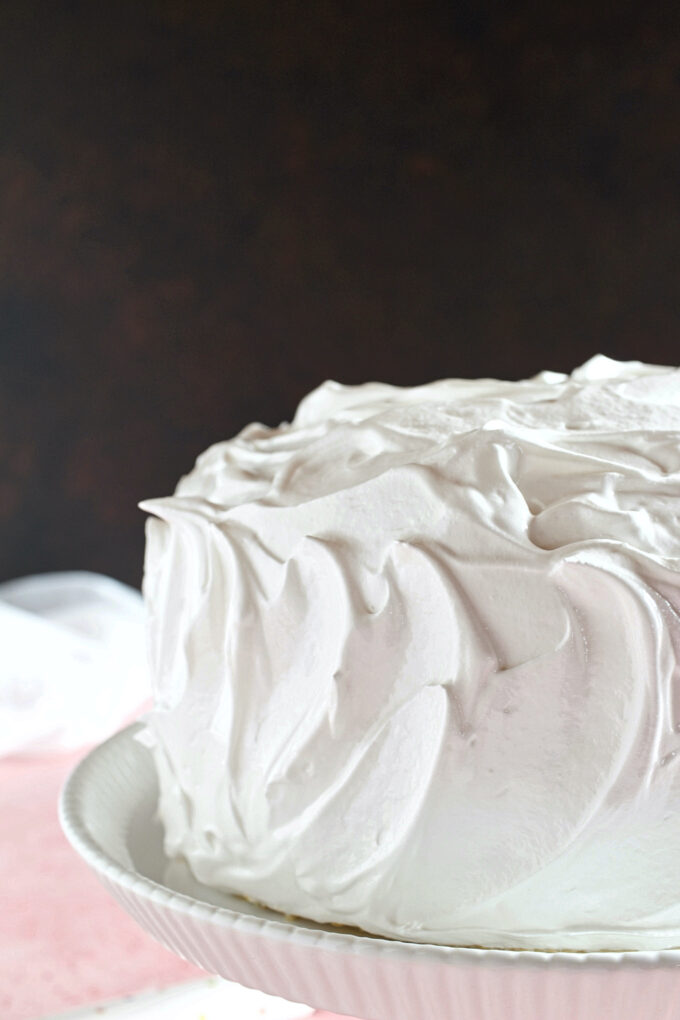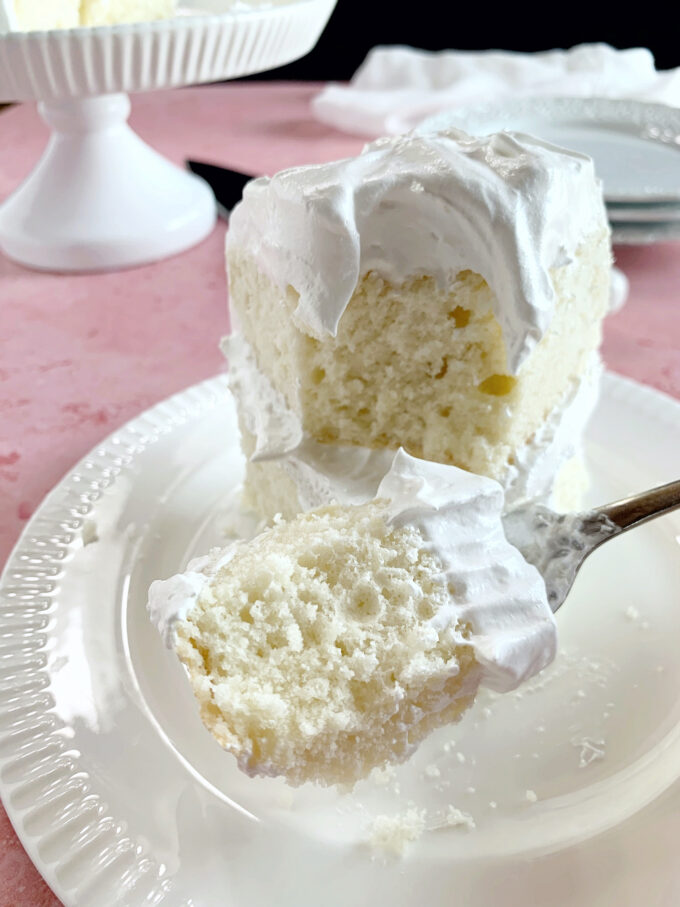 Does this frosting need to be refrigerated?
Contrary to what some recipes say, I say you don't need to refrigerate this frosting. I say this because I've made it many times and used it to frost cakes, and I've always left the cake covered on a counter for up to 2 days. After that, the frosting will begin to slowly disintegrate into the cake. I like to make the cake, then frost it the day of when possible.
What went wrong with my frosting?
If your frosting breaks down or disintegrates the same day it's made, it was under whipped.
If your frosting has a grainy texture, the simple syrup wasn't cooked long enough to completely dissolve the sugar crystals.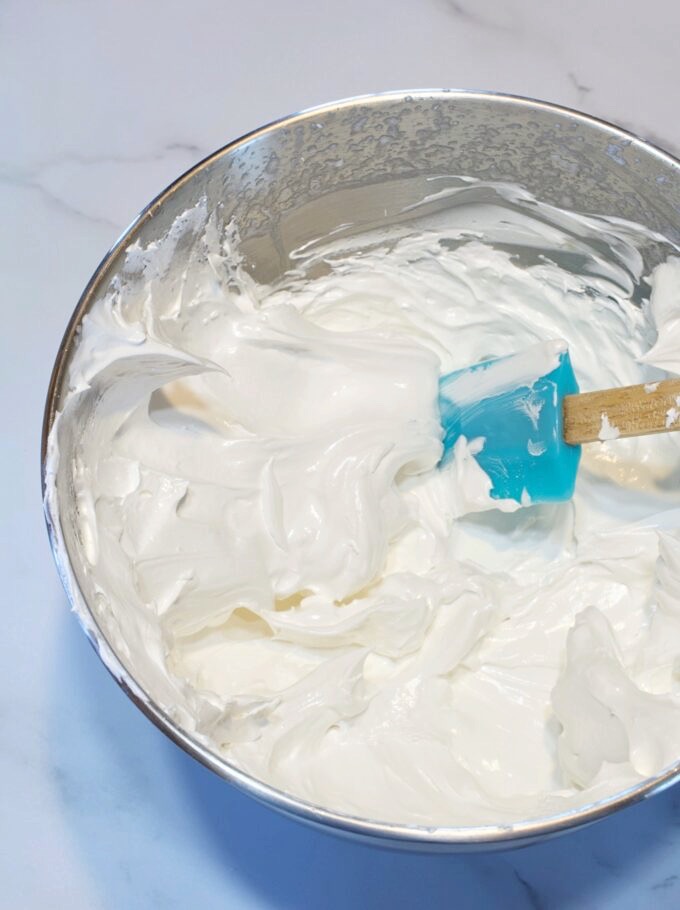 What's the difference between this frosting and Swiss Meringue?
There's not much difference. If you taste tested both of them, I doubt that you could tell the difference. Both of them result in a meringue that is big and pillowy. Click here to check out my Swiss Meringue recipe. Here's the difference in the two recipes.
SEVEN MINUTE FROSTING: Egg whites, granulated sugar, cream of tartar, and water get added to a heatproof bowl over simmering water and cooked until the sugar is completely dissolved, resulting in a simple syrup/egg white mixture.
SWISS MERINGUE: Egg whites, granulated sugar, and cream of tartar get added to a heatproof bowl over simmering water and cooked until the sugar is completely dissolved. There's no water added.
Both of them get whipped in a stand mixer until stiff peaks form.
More frosting recipes you might like…
Whipped Chocolate Ganache Frosting
Strawberry Buttercream Frosting
Milk Chocolate Cream Cheese Frosting
Cream Cheese Sour Cream Frosting
If you make this recipe please rate it, and leave a comment below on how you liked it. I love getting your feedback! 🙂
Wanna see different recipes each day? Feel free to follow me on Facebook, Pinterest & Instagram!
Print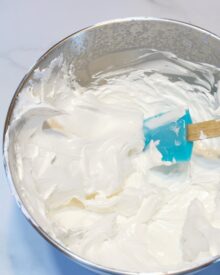 Seven Minute Frosting
Author:

Prep Time:

10 Minutes

Cook Time:

5 Minutes

Total Time:

15 minutes

Yield:

3 cups

1

x

Category:

Frostings

Method:

Cook

Cuisine:

American
---
Description
This Seven-Minute Frosting is as fluffy as a cloud, and it's not overly sweet, but just right.  It literally melts on your tongue!
---
3

large egg whites

1 1/4

cups

granulated sugar

5 tablespoons

water

1/4 teaspoon

cream of tartar

1 teaspoon

pure vanilla extract
---
Instructions
Fill a medium saucepan about 1/2 full with water.  Bring it to a boil over medium heat and reduce the heat to medium-low so that it just simmers around the edges, not boiling.
Add the egg whites, sugar, water, and cream of tartar to a large heatproof bowl of a stand mixer.  If you're not using a stand mixer bowl,  just make sure you use a heatproof bowl.
Place the bowl over the saucepan of simmering water.  Whisk the mixture frequently, until the sugar has completely dissolved and it will also be foamy.  This takes about 5 minutes.  Check it by rubbing a tiny bit of the mixture between two fingers.  If it feels grainy, the sugar has not dissolved yet. Also, if you're afraid of consuming raw egg whites, the mixture should reach 160 degrees for safe consumption. I'm personally not afraid…I've been eating them uncooked my whole life.
Place the bowl on the stand mixer fitted with the whisk attachment.  Beat on high speed until the frosting is very glossy and triples in volume, about 7 minutes.  Mix in the vanilla and any food coloring, if using.
 Spread the frosting on a cake or cupcakes as desired.
This frosting will hold up well for 1 day.  After the first day, it will slowly begin to disintegrate and soak into the cake.  It's best used the same day it's made.
---
Notes
This frosting is enough to frost one 8-inch two-layer cake or about 12 to 13 cupcakes.
Keywords: Seven Minute Frosting, White Mountain Frosting, Fluffy White Frosting, White Frosting,
There may be affiliate links in this post. We are a participant in the Amazon Services LLC Associates Program, an affiliate advertising program designed to provide a means for us to earn fees by linking to Amazon.com and affiliated sites.