Japanese Cheesecake
This Japanese Cheesecake will win your taste buds over in a quick second! This cheesecake combines the creamy texture of a cheesecake with the cotton-like soft texture of a soufflé. The result is the most delicious melt-in-your-mouth bite of heaven you'll ever taste!
I thought I had surely tasted every kind of cheesecake in the world, until I tasted this wonderful Japanese Cheesecake. Let me just say, this is not your ordinary cheesecake and even those who aren't fans of cheesecake will be delightfully surprised when they bite into this fluffy jiggly cheesecake.
Allow me to explain exactly what Japanese Cheesecake is…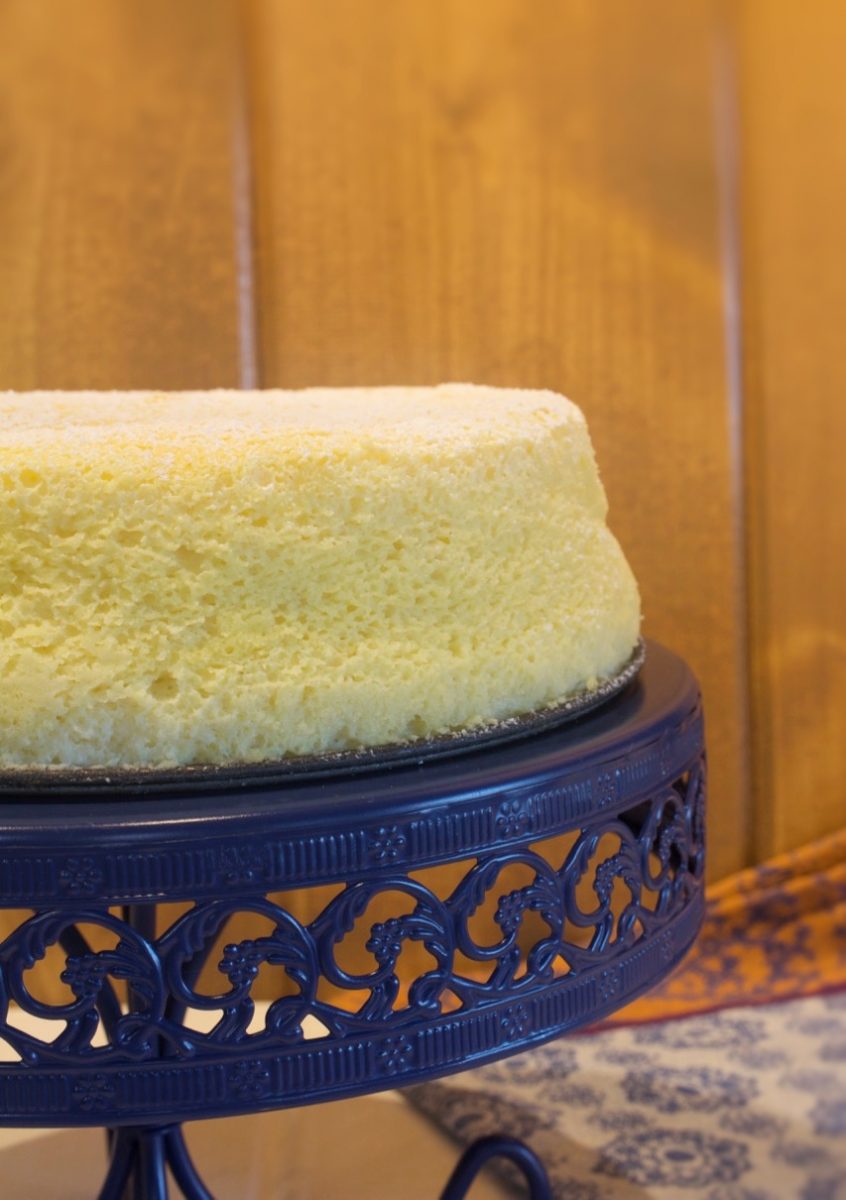 The Name:
Although this melt in your mouth cheesecake is referred to as Japanese Cheesecake or Japanese Cotton Cheesecake outside of Japan, the Japanese call it Soufflé Cheesecake.
What is Japanese Cheesecake?
First of all, Japanese Cheesecake is crustless. Typical baked cheesecake contains cream cheese and whole eggs. In Japanese Cheesecake, the eggs are divided. The egg whites are then beaten until medium or stiff peaks form, then gently folded back into the batter. Flour is also added to the batter, which is not typical for a cheesecake. The result is a tangy, creamy flavor like that of a typical cheesecake, but with the moist, cotton-soft texture of a soufflé.
Here's a quick snapshot of how this cheesecake is different from other ones.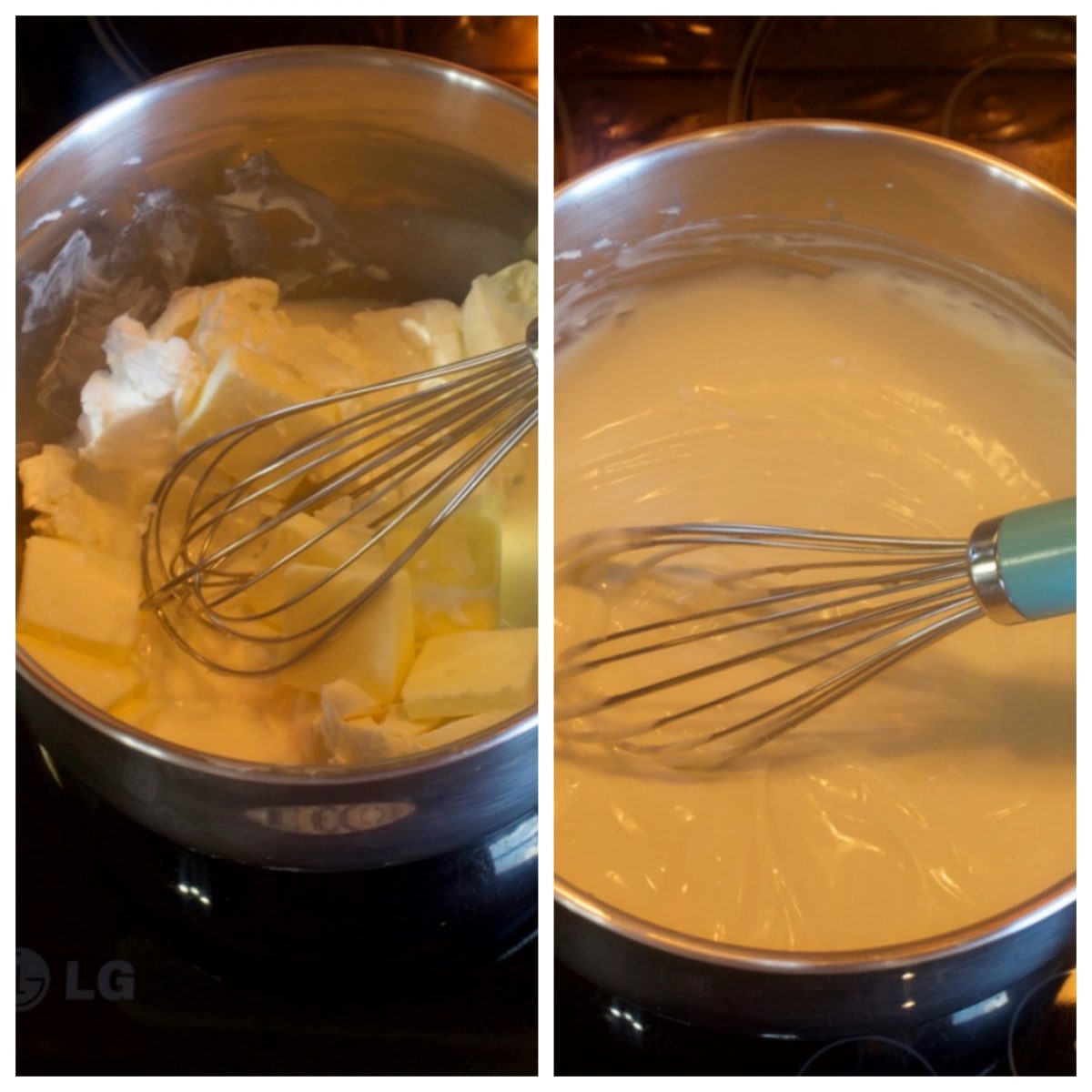 A typical baked cheesecake gets softened cream cheese, eggs, sugar and flavoring mixed together in a mixing bowl, but not this cheesecake. The cream cheese gets melted first, then heated with milk and butter and mixed until smooth. Once it's cooled, it gets added to a mixture of egg yolks, vanilla and lemon juice. Then flour and cornstarch get added. Flour and cornstarch aren't ingredients for a typical cheesecake. That's what makes this cheesecake somewhat like a regular cake….I did say somewhat!
How does this cheesecake get its soufflé like texture?
Egg Whites!
You sure don't see beaten egg whites in a typical cheesecake. The egg whites get beaten until stiff and the sugar gradually added in. Then they get gently folded into the cooled mixture. The egg whites help give this cheesecake it's soufflé like texture.
Why use parchment paper?
The cheesecake gets cooked in a water bath, and unlike a typical cheesecake, it rises high above the pan as it bakes. That's why it's necessary to place parchment paper a few inches higher than the edge of the pan, unless you can find a cake pan that is 4 inches high. As the cheesecake cools, it will slowly deflate from a height of about 4 inches to about 2 inches.
The result…
A melt-in-your-mouth combination that has the tangy, creamy flavor of a cheesecake, with the moist, cotton-soft airy texture of a soufflé.
Note: As you see in the pictures above, I dusted this cheesecake with powdered sugar. You'll see other pictures of this cheesecake where the top is golden brown and not dusted with sugar. This is because some bakers brush a mixture of hot water and apricot jam on top of the baked cheesecake for a pretty golden sheen. I prefer the plain jiggly soft cheesecake with just a dusting of powdered sugar.
More cheesecake recipes you might like…
New York Cheesecake with Strawberry Compote
Marbled Pumpkin Spice Cheesecake with Gingersnap Crust
No-Bake Red White & Blue Cheesecake
Coconut White Chocolate Cheesecake
Cranberry White Chocolate Mousse Cheesecake
If you make this recipe please rate it, and leave a comment below on how you liked it. I love getting your feedback! 🙂
Wanna see different recipes each day? Feel free to follow me on Facebook, Pinterest, & Instagram.
Print
Japanese Cheesecake
Author:

Prep Time:

25

Cook Time:

105

Total Time:

130

Yield:

8

slices

1

x

Category:

Desserts/Cheesecakes

Method:

Bake

Cuisine:

Japanese
---
Description
This Japanese Cheesecake combines the creamy texture of a cheesecake with the cotton-like soft texture of a soufflé. The result is the most delicious melt-in-your-mouth bite of heaven you'll ever taste!
---
10

ounces

cream cheese, cut into small cubes

1/4

cup

2% milk*

1/4

cup

half & half*

4 tablespoons

unsalted butter

1/2 teaspoon

pure vanilla extract

7

large egg yolks

4 teaspoons

fresh lemon juice

2/3

cup

all purpose flour

1/4

cup

cornstarch

7

large egg whites

1/4 teaspoon

cream of tartar

1/2 teaspoon

kosher salt

1

cup

granulated sugar
---
Instructions
Preheat oven to 300 degrees.
Spray a 9 inch round cake pan with cooking spray and line the bottom with a round of parchment paper. Place a 3 1/2 inch strip of parchment paper around the inside of the pan so that it comes up about 1 inch higher than the edge of the pan. Set pan aside.
In a small saucepan, heat the cream cheese, milk, half & half and butter over medium heat, stirring frequently until mixture is smooth. Remove from heat and let cool for about 5 minutes.
In a large mixing bowl, whisk together the vanilla, egg yolks and lemon juice until smooth. Add the cooled milk mixture to the egg yolk mixture and whisk until smooth and combined. Whisk in the flour and cornstarch until incorporated and set aside.
Add the egg whites, cream of tartar and salt to to large bowl of a stand mixer or use a hand mixer. Beat on medium speed until soft peaks form, about 2 minutes. Slowly add the sugar and continue beating on medium speed until stiff peaks form, about 2 more minutes.
Using a rubber spatula or wooden spoon, gently fold the egg white mixture into the yolk mixture, adding in three additions. DO NOT OVERMIX. As soon as most of the white streaks have disappeared, stop mixing and pour batter into pan.
Place cake pan inside of a large pan and carefully pour very hot water in the large pan until it comes 1 inch up the sides of the cake pan.
Bake for 30 minutes, reduce oven temperature to 250 degrees and continue baking until the cake has doubled in size and barely starting to change color on top.  It should be slightly jiggly but set in the center, about 1 hour and 15 minutes.
Allow cake to cool for 10 minutes. Carefully and gently invert the cake onto your dominant hand, then gently invert it back onto a cake stand or plate so that the top is facing upward. Sprinkle the entire top with powdered sugar and serve warm, or serve cold or at room temperature. It's delicious any way you serve it.
---
Notes
*1/2 cup of whole milk can be substituted in place of the 2% milk and half & half.
Tips for baking in a springform pan
Wrap foil around the outside bottom and halfway up the sides of springform pan. This will ensure that no water seeps into the cake pan while the cake is baking in the water bath.
Once cake is done, allow cake to set for about 10 minutes. Gently run a sharp knife around the inside and release and remove the outside ring. Transfer cake to a wire rack to cool completely.
Instead of inverting cake onto your hand, leave cake on the springform pan bottom and transfer to a cake stand or plate.
---
Keywords: Japanese Cheesecake, cheesecake, cheesecake recipes, desserts, cheesecakes, Soufflé Cheesecake, Japanese Cotton Cheesecake, Cotton cheesecake,
There may be affiliate links in this post. We are a participant in the Amazon Services LLC Associates Program, an affiliate advertising program designed to provide a means for us to earn fees by linking to Amazon.com and affiliated sites.