Blueberry Lemon Bread with Lemon Glaze
This Blueberry Lemon Bread with Lemon Glaze is super moist, soft, and absolutely loaded with fresh blueberries and flavor. It's delicious on its own and the lemon glaze makes it even more delicious!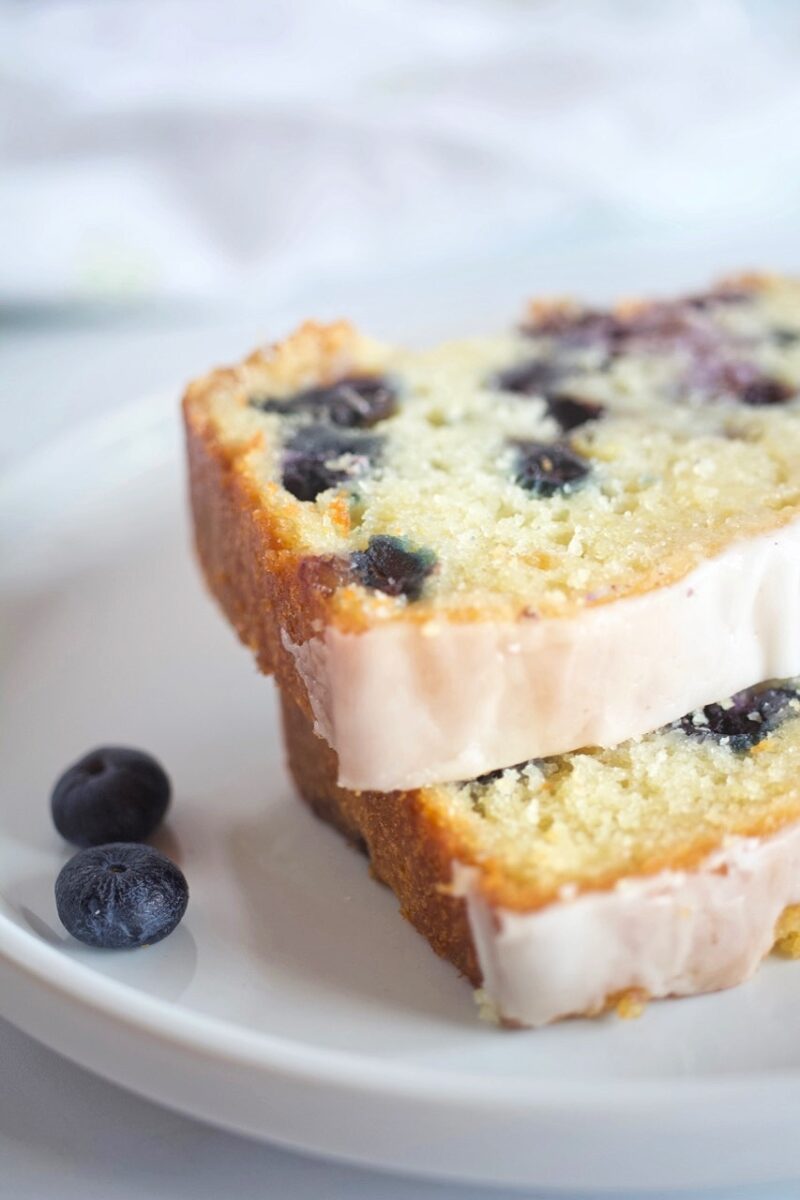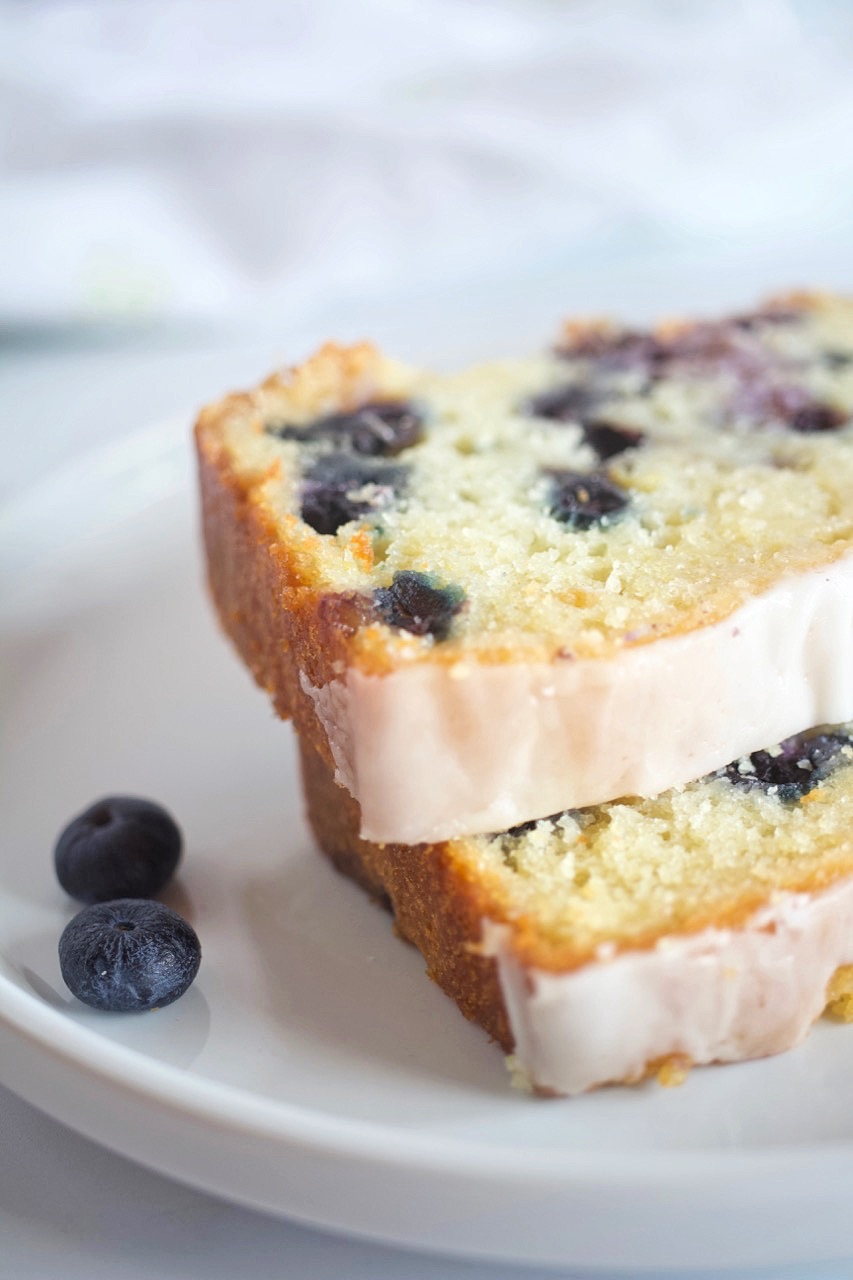 I love making blueberry muffins for breakfast, but I also love quick bread. Muffins are fast and bake in about 20 minutes. Quick bread just goes right into a loaf pan and takes a few minutes longer in the oven, but I love popping it out of the pan and drizzling it with my favorite glaze. That's just what I did here in this blueberry bread. This recipe is different than my blueberry muffin recipe. I wanted to make a large deep loaf of bread here, and one that would be sturdy enough to hold up under all those blueberries.
I don't know about you, but on the weekends, I like to have breakfast made when the rest of the family wakes up. The thing I like about this bread recipe is I can mix it up and let it bake while I'm fixing something savory to go with it. I love a hot cup of coffee, a slice of bread, and some bacon & eggs to complete things.
WHY THESE INGREDIENTS?
BUTTERMILK: Buttermilk adds tanginess and moisture to the bread
BUTTER: Produces a soft, buttery cakey crumb. Lots of flavor!
ALL PURPOSE FLOUR: All-purpose flour is the perfect flour for quick bread. It gives the bread the perfect texture that is needed to hold up under all those blueberries. Cake flour would produce a softer texture that wouldn't hold up with the added fruit.
BAKING SODA: Works in combination with buttermilk to add extra leavening. Baking soda by itself will not help the bread rise, but in combination with an acid, such as buttermilk, it works as a leavening agent to give the bread lift.
BAKING POWDER: Baking powder works twice. Once when it's first mixed into the wet ingredients, and again when placed under heat in the oven. It's a great leavening agent. Note: If you don't bake often, you might want to read this post on how to test baking powder and baking soda for freshness.
SALT: Salt brings out all of the flavors in baked goods.
VANILLA: Vanilla adds great FLAVOR to all baked goods. Even when you're adding another flavor, add a little vanilla.
LEMON JUICE & ZEST: There's just enough lemon juice & zest for a tangy bit of lemon flavor, but not overwhelming.
EGGS: Eggs are important for structure in the bread. It binds the other ingredients together.
HOW DO I KEEP MY BLUEBERRIES FROM SINKING TO THE BOTTOM?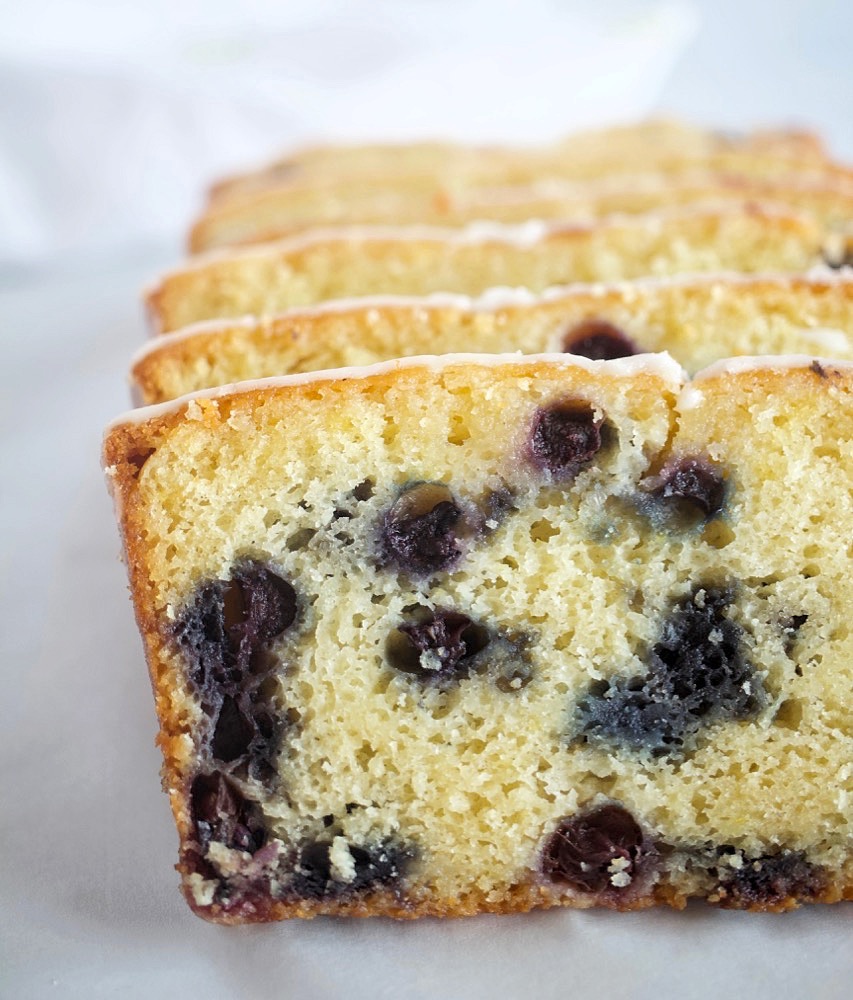 Don't you just hate it when your fruit sinks to the bottom of your quick bread or muffins? Well, here's the solution!! Toss your fruit, whether it's blueberries or any other fruit, in 1 to 2 tablespoons of flour, then fold them into the batter at the very end of the mixing process. The flour helps to suspend the blueberries in the batter. A few might sink, but many of them won't, giving you an even distribution of fruit throughout the bread. I don't know about you, but I want to taste blueberries in every bite!
LEMON GLAZE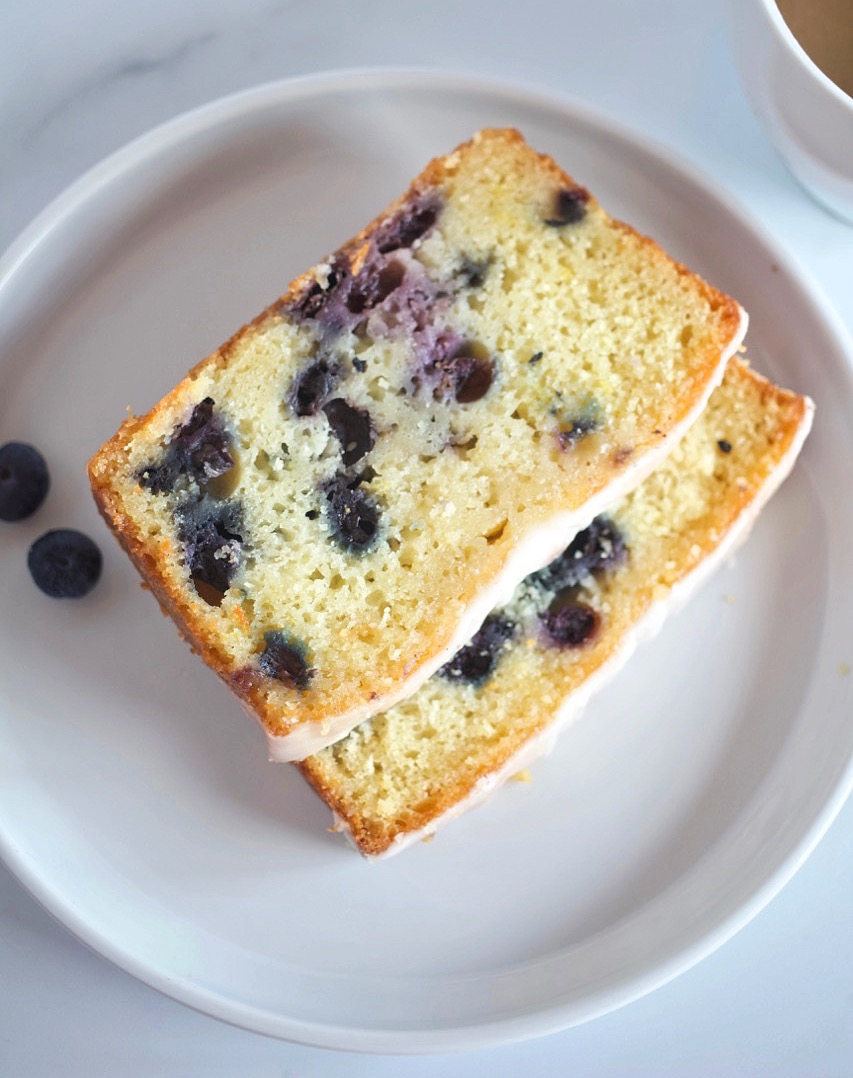 The lemon glaze takes 5 minutes to make. It's simply powdered sugar and lemon juice whisked together. Start with 1 cup of powdered sugar and 2 tablespoons of lemon juice for a very thin glaze. If you want it thicker, just add a little more powdered sugar as I did here. Easy!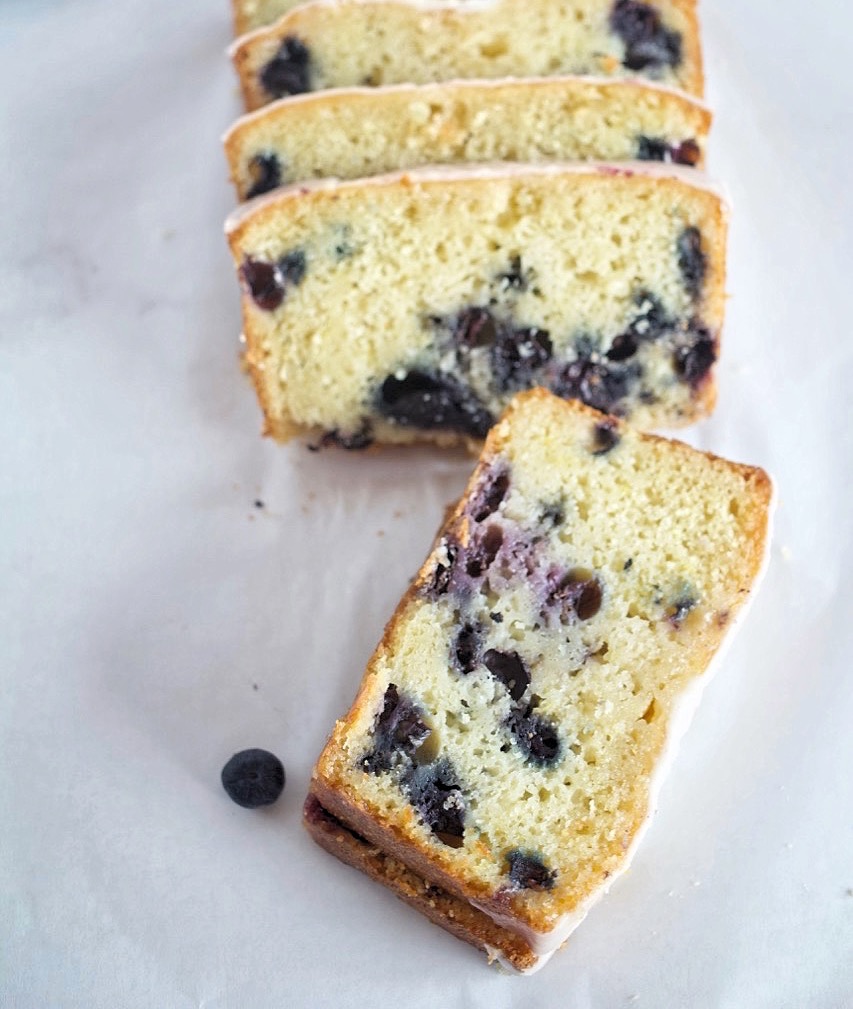 CAN I FREEZE THIS BREAD?
Certainly!  This bread freezes beautifully, but I don't recommend freezing it with the lemon glaze on it.  I like to freeze it sliced.  Wrap it surely in a large freezer bag or freezer-safe container and freeze for up to 3 months.  When ready to serve, thaw it in the fridge or on a countertop.  Spread the lemon glaze on top and serve!  Keep leftovers wrapped for up to 2 days at room temperature.
Check out these other quick bread recipes…
Homemade Cinnamon Bread (without a starter)
If you make this recipe please rate it below and leave a comment on how you liked it. I love getting your feedback! 🙂
For different recipes each day, follow me on Facebook, Pinterest, and Instagram.
Print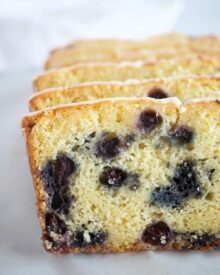 Blueberry Lemon Bread with Lemon Glaze
Author:

Prep Time:

15 minutes

Cook Time:

60 minutes

Total Time:

1 hour 15 minutes

Yield:

1

loaf

1

x

Category:

bread

Method:

bake

Cuisine:

American
---
Description
This Lemon Blueberry Bread is easy to make, super moist, and loaded with fresh blueberries.  It's finished with a lemon glaze that perfectly complements the blueberries!  Delicious!
---
BREAD
2

cups

all-purpose flour, (spoon and leveled)

1 teaspoon

baking powder

1 teaspoon

baking soda

1/2 teaspoon

salt

1

stick unsalted butter, at room temperature

1

cup

granulated sugar

2

large eggs, room temperature

1 teaspoon

pure vanilla extract

1/2 teaspoon

pure lemon extract

2 tablespoons

lemon juice, freshly squeezed

2 teaspoons

lemon zest

1

cup

full-fat buttermilk, room temperature

1 1/2

cups

fresh blueberries*

2 tablespoons

flour for coating blueberries
LEMON GLAZE
1

to

1 1/2

cups

powdered sugar

2 tablespoons

lemon juice

1/2 teaspoon

lemon zest
---
Instructions
BREAD
Preheat oven to 350 degrees.  Spray a 9 x 5 loaf pan with nonstick baking spray and set aside, or alternately, you can butter the pan and line it with a piece of parchment paper across the bottom and hanging about 1-inch over the sides.
In a medium bowl, whisk together the 2 cups of flour, baking powder, baking soda, and salt and set aside.
Add the butter and sugar to a large bowl.  Beat with a hand mixer for about one minute until creamy.  Add the eggs, vanilla, lemon extract, lemon juice, and lemon zest, and mix to combine.
Add 1/2 of the buttermilk, and 1/2 of the dry ingredients.  Mix just until the dry ingredients are almost incorporated.  Add the second half of the buttermilk and dry ingredients and mix again just to incorporate.
Toss the blueberries in the 2 tablespoons of flour and gently fold them in.  If using frozen blueberries do not thaw them.  Use them straight from the freezer.  Otherwise, they will become watery.
Transfer the batter to the prepared loaf pan.  Bake for 55 to 60 minutes or until the bread is golden brown on top and a toothpick comes out clean.  Frozen blueberries might increase the bake time by a few minutes.  Note:  If the bread starts to brown too quickly, make a tent out of a piece of sturdy heavy-duty foil and place it over the loaf pan, making sure the foil doesn't touch the bread.
Transfer the bread to a wire rack.  Allow the bread to cool for about 15 minutes.  Invert onto the wire rack and allow the bread to completely cool, before adding the lemon glaze.
LEMON GLAZE
In a 2 cup measuring cup or medium bowl, whisk together the powdered sugar, lemon juice, and lemon zest with a fork or small whisk, until the glaze is smooth and free of any lumps from the sugar.  If you want a thicker glaze, you can add some additional sugar, or you can reduce the lemon juice in the beginning, but I prefer to use all of the lemon juice.  I want that lemony flavor.
Spread the glaze over the top of the bread, allowing it to run over the sides.  Allow at least 15 minutes for the glaze to set up on the bread before slicing.  You can also refrigerate the bread for a few minutes.  Slice the bread with a serrated bread knife and serve.
This bread is best if consumed the day it's made.  Wrap leftover bread tightly and store in the refrigerator for up to 2 days at room temperature or 3 days if refrigerated.
---
Notes
Frozen blueberries:  *You can use frozen blueberries for this recipe.  Make sure you don't thaw them.  If you do, they will become watery.  Frozen blueberries might add an additional few minutes of baking time.
Coating blueberries with flour:  Make sure you toss the blueberries in the 2 tablespoons of flour before adding them to the batter.  This helps to keep the blueberries suspended in the batter so they don't sink to the bottom.
Freezing bread:  I don't recommend freezing this bread with the glaze on it.  Make sure bread is completely cooled.  Tightly wrap the loaf of bread (or slices) in a double layer of plastic wrap or foil, or use a large freezer bag, or freezer-safe container.  Freeze for up to 3 months.  When ready to serve, thaw the bread overnight in the refrigerator or for a couple of hours at room temperature, before covering it with lemon glaze.
Keywords: blueberry lemon bread, blueberry bread, lemon bread, quick bread, lemon desserts, lemon recipes,
There may be affiliate links in this post. We are a participant in the Amazon Services LLC Associates Program, an affiliate advertising program designed to provide a means for us to earn fees by linking to Amazon.com and affiliated sites.