Soft and Fluffy One Hour Dinner Rolls
These Soft and Fluffy One Hour Dinner Rolls are the quickest dinner rolls you'll ever make and they are melt-in-your-mouth delicious.  You'll be making them time and time again!
I think I've made just about every recipe there is for dinner rolls.  The problem is that some dinner roll recipes seem to take forever to rise twice and be ready to bake.  Of course, there are the overnight yeast rolls that rise once, then get refrigerated overnight and rise a second time the next day before they are baked.  But quite frankly, I prefer to make my rolls and bake them the same day.  On any given holiday,  I'm cooking and making yeast dough at the same time.  Then I'm trying to time it just right so that the yeast rolls rise just at the perfect time, so they can go in the oven right before a large group of people starts pouring through my front door.  Whew!  I love to cook and bake but I'm telling ya, the holidays can be a little stressful in the kitchen.  So when I came across this easy recipe for One Hour Dinner Rolls, I couldn't resist testing out the recipe before Easter.
Let me just say this.  These rolls were totally melt in your mouth delicious.  When I took them from the oven, Don was already swooning over them, waiting to test them.  I managed to take a few pictures, before placing 6 of them on a plate for Don to take to my neighbor Peggy.  A few minutes later, Don had polished off 4 rolls slathered with butter.  I managed to eat one before he polished off the rest of them.  It's amazing how something so easy and quick can be so delicious!  If you've never made homemade yeast rolls before, start with this quick and easy recipe.  Your dinner guests will think you were in the kitchen all morning making these soft and fluffy rolls.
A quick snapshot of how I made them…
I mixed together some yeast, warm water, and sugar and allowed it to sit for 5 minutes until it became foamy.  Then I added some flour, butter and salt and mixed everything together…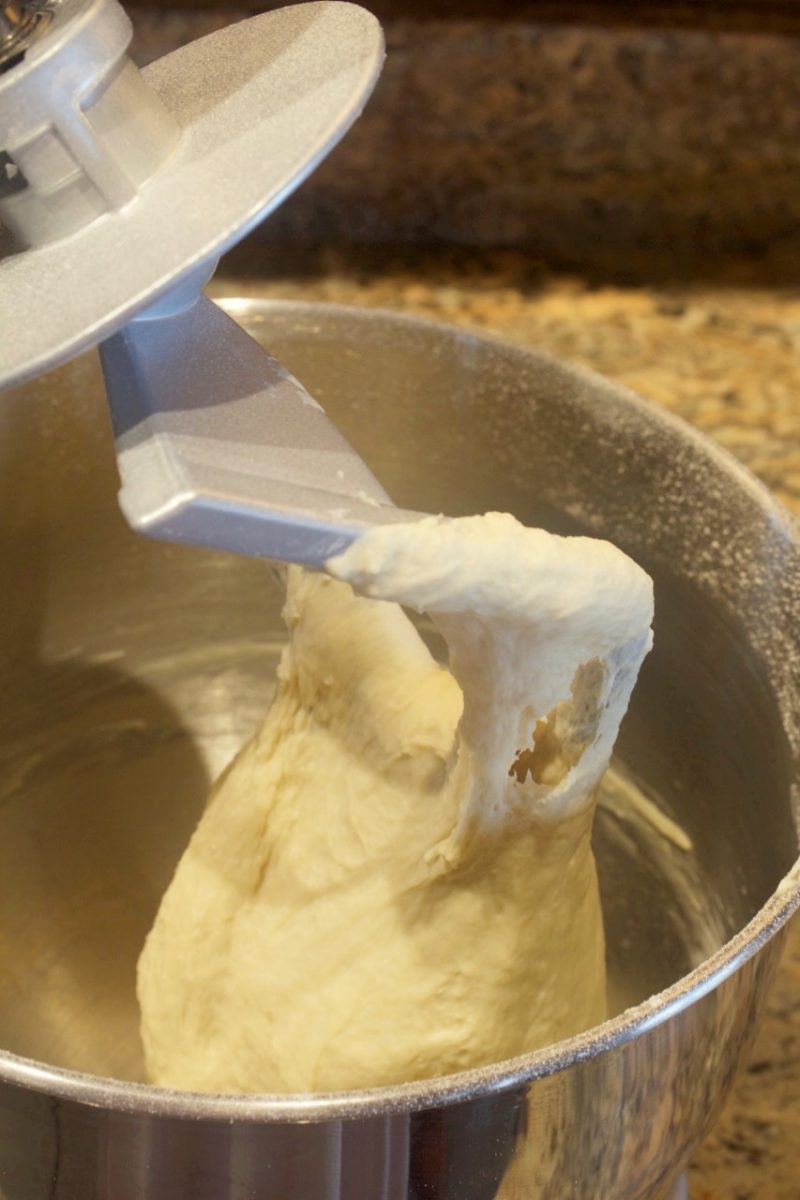 And using the dough hook of my stand mixer, I kneaded the dough for about 4 minutes…
Then I placed the bowl of dough in my warm oven and allowed it to rise for about 20 minutes…
Next, I divided the dough in half.  I stretched each half into a long roll and divided each roll into 8 equal pieces and formed the pieces into balls…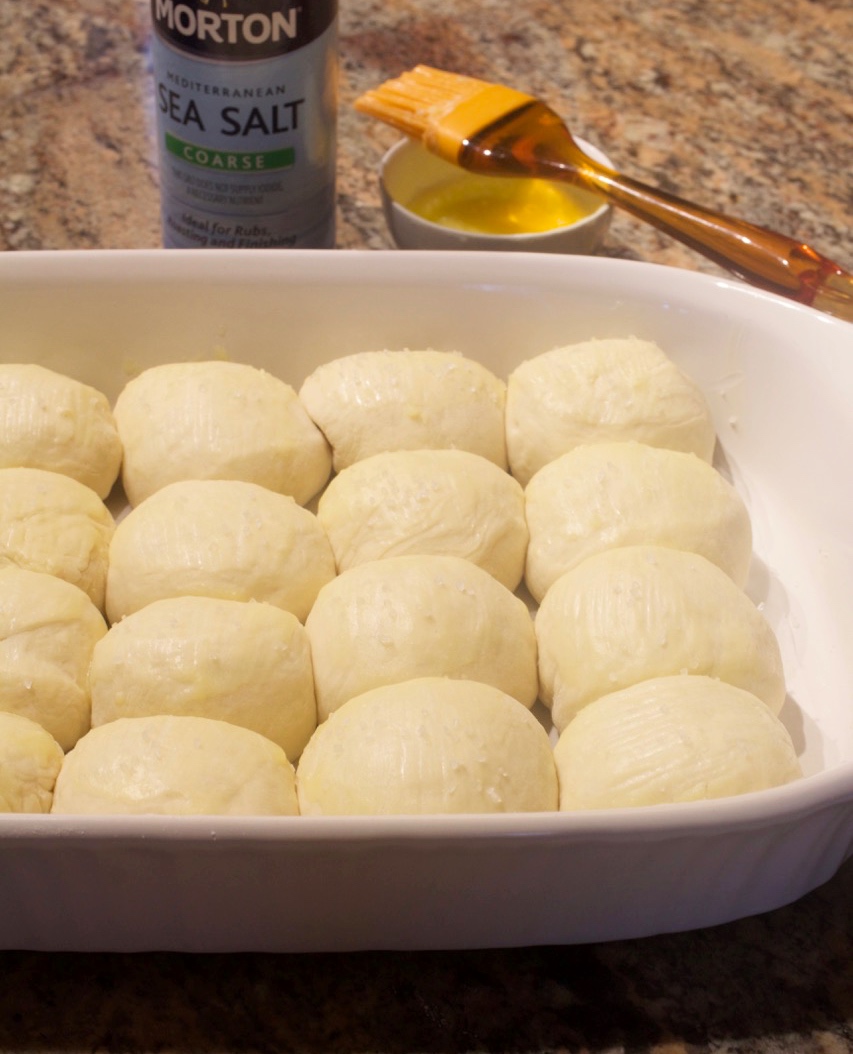 Then all I did was place the dough balls in a baking dish that I had lined with parchment paper, sides touching, and brushed them with butter and a sprinkling of sea salt.  I allowed them to rise again for about 20 minutes while I preheated my oven…
And 15 minutes later, the most delicious, soft and fluffy dinner rolls ever!!
Print
Soft and Fluffy One Hour Dinner Rolls
Author:

Prep Time:

45

Cook Time:

15

Total Time:

60

Yield:

1

6

1

x
---
Description
These Soft and Fluffy One Hour Dinner Rolls are the quickest dinner rolls you'll ever make and they are melt-in-your-mouth delicious.  You'll be making them time and time again!
---
1 1/2

cups

warm water

1 tablespoon

rapid rise or instant yeast

2 tablespoons

sugar

2 tablespoons

unsalted butter, softened

1 teaspoon

salt

3 1/2

to

4

cups

all purpose flour, (I used 3 3/4 cups)

3 tablespoons

melted butter, for brushing tops of rolls
Sea salt for sprinkling on top
---
Instructions
Preheat oven to 160 degrees and turn off.
Add the warm water, yeast and sugar to the bowl of a stand mixer, or to a large bowl if mixing my hand. Using a spoon, make sure all the yeast is wet from the water. Allow mixture to stand for 5 minutes until it becomes foamy on top. Add the softened butter, salt, and 3 cups of the flour, and using the dough hook, mix on medium speed until all ingredients are combined. Add additional flour, 1/4 cup at a time, until the dough begins to pull away from the sides of the bowl and is just slightly sticky when touched. Do not use too much flour. I used a total of 3 3/4 cups of flour. Turn mixer on high and knead for about 4 minutes, until dough is very smooth and elastic. Cover bowl with a towel and place in the warm oven for 20 minutes, until dough has almost doubled in size and remove.
Meantime, line a 9 x 13 inch baking dish with parchment paper or spray bottom with cooking spray and set aside.
Preheat oven to 350 degrees.
Transfer dough to a floured surface and gently push the dough down with your fist. Divide dough in half. Form each half into a long roll. Cut each snake into 8 equal pieces. You can form these into 20 rolls if you prefer, but I think 16 rolls end up being the perfect size roll. Form each piece into a ball, pulling the edges underneath and pinching them together.
Place the dough balls in the prepared pan, sides touching.
Brush tops of rolls with the melted butter. Sprinkle sea salt over the top of each roll. Allow rolls to rise for about 20 minutes while oven is preheating.
Bake until rolls are golden on top, about 15 minutes. Brush with remaining butter and additional salt if desired.
Serve warm with butter.
---
Notes
Rolls are best if eaten the same day they are made.
For 1 tablespoon of yeast, I used 1 1/2 of the tiny 1/4 ounce packets.
There may be affiliate links in this post. We are a participant in the Amazon Services LLC Associates Program, an affiliate advertising program designed to provide a means for us to earn fees by linking to Amazon.com and affiliated sites.