Six Great Peach Dessert Recipes
Today I'm sharing six delectable PEACH dessert recipes for you to add to your summer dessert repertoire. I promise that each and every one of them is individually delicious!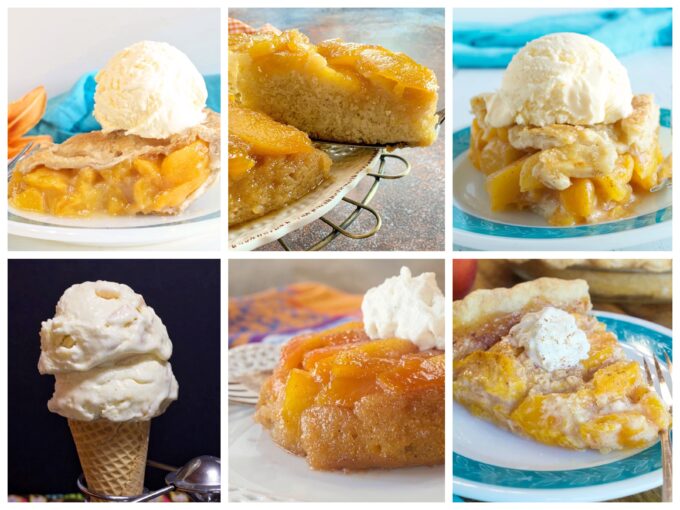 Summer is quickly approaching, and I personally cannot wait!! I love all the fresh in-season fruits summer has to offer and I love incorporating them into my baking. One of my favorites is fresh peaches. If you love fresh peaches and peach desserts, this post is for you!
Country Peach Pie
A touch of cinnamon complements the juicy peaches in this simple and easy Country Peach Pie. This is a simple but delicious peach pie like Grandma made.
Easy Peach Upside Down Cake
This Easy Peach Upside Down Cake features a buttery soft cake layer and a caramelized brown sugar peach topping. It's the perfect dessert to make when fresh peaches are in season!
LATTICE TOPPED PEACH PIE
From the flaky pie crust to the juicy peach-loaded filling, this Lattice Topped Peach Pie will have you coming back for seconds. I'll also show you how easy it is to lattice the crust…step by step!
Country Peach Ice Cream
This Country Peach Ice Cream starts with a rich peach-infused custard base, just like your grandma made. The base gets combined with more fresh peaches and fresh cream. Then it gets churned into the most creamy and delicious ice cream you ever tasted. This is a great ice cream to make when you have a summertime gathering!
Fresh Peach Upside Down Cakes with Nutmeg Whipped Cream
These Fresh Peach Upside Down Cakes with Nutmeg Whipped Cream are made with warm caramelized brown sugar peaches that are baked under tender warmly spiced cakes and topped with fresh nutmeg whipped cream. They are super delicious!
Peaches & Cream Pie
This Peaches & Cream Pie starts with a creamy mixture of half & half, sugar, cinnamon & vanilla. It gets poured over fresh Summer peaches and baked into a delectable creamy custardy peach pie that is to die for!
To view all of my summer recipes, click here!
There may be affiliate links in this post. We are a participant in the Amazon Services LLC Associates Program, an affiliate advertising program designed to provide a means for us to earn fees by linking to Amazon.com and affiliated sites.