Raspberry Swirl Jelly Roll
This Raspberry Swirl Jelly Roll made from sponge cake is the lightest and most airy cake you will ever taste. The light and creamy filling made of whipped cream and raspberry jam completes this light decadent dessert. You'll be coming back for seconds.
Happy Hump Day!  I hope you're having a good week.  I don't know about you, but I'm really tired of sticky humidity.  I'm so ready to smell Fall in the air.  This past week my head has been so full of Fall thoughts and recipes, that I had to bring my little pea brain back into focus.  It's still Summer, Cindy!
Speaking of Summer, I was watching Martha Stewart make this Raspberry Swirl Jelly Roll on her show the other day, and I suddenly got a hankering for it.  It's also a good recipe to make in hot weather because it's a light and airy sponge cake that's filled with a light and creamy filling.  It's been a while since I've made a cake or jelly roll of any kind, so I checked my pantry and I was in luck. I had all the ingredients I needed to whip one up.
Okay, let's talk about the intimidation factor for a sec.  If you've never made a cake or jelly roll you might feel a little intimidated, but you shouldn't.  They really are easy!!  Are they messy?  Yes, they can be, if you're messy like I am.  I like to shower my whole kitchen countertop with powdered sugar.  And yes, the towel I use for rolling up the cake is covered with powdered sugar when I'm finished and goes right into my washer.  So, if you can handle a little bit of messy, then you'll pull off this jelly roll with no problem.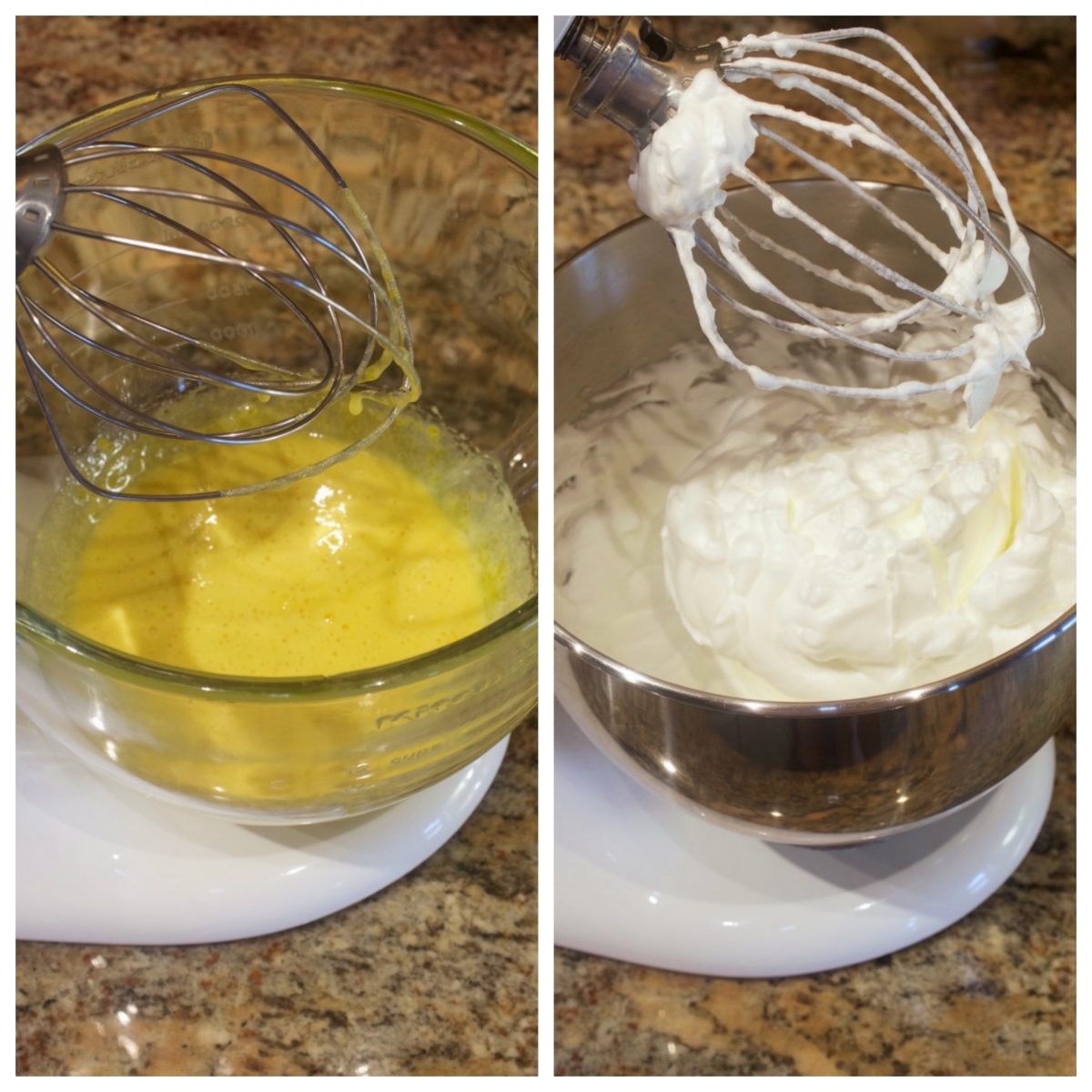 In this recipe, the egg yolks and whites are separated.  The egg whites are beaten separately and folded back in at the end.  They actually work as the leavening agent in this cake, therefore, no baking powder is needed.   Also, most sponge cake recipes call for a combination of cake flour and regular flour or cake flour alone, but this recipe calls for all-purpose flour and cornstarch.  Why?  Because corn starch and flour combined, make an even lighter cake than cake flour.
Let's talk Sponge Cake…
Sponge cake is one of the lightest airiest cakes you'll ever eat.  It is somewhat similar to an angel food cake. Both cakes use egg whites for volume, however, angel food cake contains egg whites only, whereas sponge cake also uses the egg yolks, making it richer in flavor.  Sponge cake is not like a regular butter cake, because it contains no oil or butter.
It's important to use the right size pan when making this recipe.  An 11 by 17-inch ribbed baking pan is the required size.
Things might get a little bit messy here, but trust me when I say powdered sugar is your friend here.
The filling is so simple to make and you can easily change up the flavor to any flavor you prefer.
How could you possibly say no to this!!
Print
Raspberry Swirl Jelly Roll
Author:

Prep Time:

30

Cook Time:

20

Total Time:

50
---
Description
This Raspberry Swirl Jelly Roll made from sponge cake is the lightest and most airy cake you will ever taste. The light and creamy filling made of whipped cream and raspberry jam completes this light decadent dessert. You'll be coming back for seconds.
---
For the Cake
3/4

cup

all purpose flour, more for dusting the pans

3/4

cup

cornstarch

6

large eggs, separated

3/4

cup

plus

6

tablespoons

sugar, divided

1 1/2 teaspoons

pure vanilla extract

1/4 teaspoon

salt
Powdered sugar for dusting cake and towel
For the Filling
1 1/2

cups

heavy whipping cream

1/3

–

1/2

cup

raspberry jam, seedless, (if seeded, strain)
For the Garnish
Fresh raspberries and whipped cream
---
Instructions
Preheat oven to 350 degrees.
For the Cake
Butter the bottom and insides of an 11 by 17 inch rimmed baking sheet. Line the pan with parchment paper and butter again. Dust the pan with flour and set aside.
In a small bowl, sift together the flour and cornstarch and set aside.
In the bowl of an electric mixer, using the whisk attachment, mix the egg yolks, 3/4 cup of sugar, vanilla and salt on high speed until thick and light yellow in color, about two minutes. Transfer egg mixture to a separate bowl and wash and dry mixing bowl.
Add egg whites to the mixing bowl and whisk on medium speed until foamy, then medium high until soft peaks form, about 1 1/2 minutes. With mixer running, slowly add the remaining six tablespoons of sugar and whisk on high until egg whites are stiff and glossy, about one minute.
Gently fold the egg whites into the egg yolk mixture. Sift the flour mixture into the egg mixture in three additions, folding the flour in gently just to combine. Spread batter evenly in the prepared baking pan. Bake for approximately twenty minutes or until light golden brown and a toothpick inserted into the center of cake comes out clean. Run a sharp knife around edges of cake.
Place a clean white flour sack towel on a counter and liberally dust with powdered sugar. Dust the top of the cake with powdered sugar as well. Invert cake onto the towel. Peel off parchment paper and dust the bottom of cake with powdered sugar also. Starting at the short end towards you, slowly roll the cake up with the towel, placing the seam side down. Allow cake roll to cool completely while making the filling.
For the Filling
Add the whipping cream to the bowl of a stand mixer. Using the whisk attachment, whisk the whipping cream on medium speed until foamy followed by high speed until soft peaks form. Add the raspberry jam and mix on low speed just until incorporated.
Gently unroll the cake roll. Spread the filling over the cake roll, stopping one half inch from the edge. Gently roll the cake back into a roll without the towel. Wrap the towel around the roll and refrigerate for at least thirty minutes before serving.
Remove towel from the cake. Dust the top and sides of cake roll with powdered sugar. Slice and serve.
Serve with fresh raspberries and a dollop of whipped cream if desired.
---
Notes
Refrigerate cake and eat within two days.
---
There may be affiliate links in this post. We are a participant in the Amazon Services LLC Associates Program, an affiliate advertising program designed to provide a means for us to earn fees by linking to Amazon.com and affiliated sites.