Moist Pecan Zucchini Bread
Fresh Zucchini and brown sugar lend SO much moisture to this Moist Pecan Zucchini Bread and pecans and warm cinnamon complete this scrumptious bread.  It's perfect by itself or slathered with butter.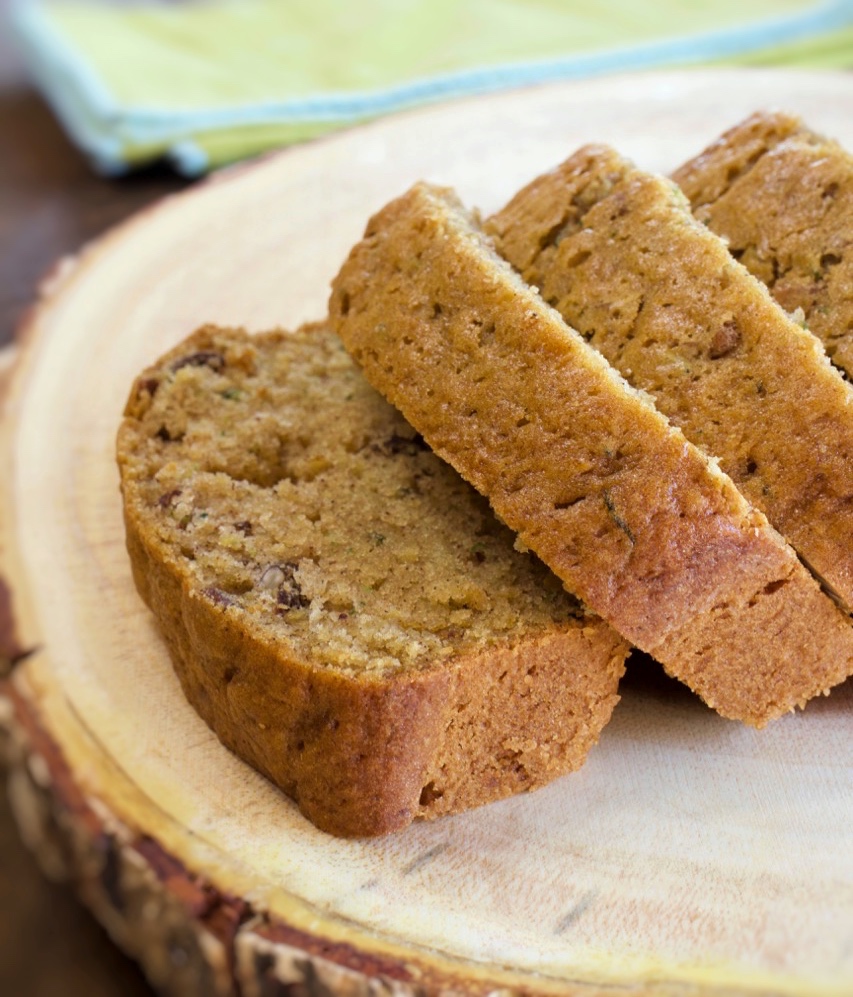 It's that time of year.  Time to use up that bumper crop of zucchini.  By the way, did you know that zucchini first became popular in the early 1960's?  Gardeners started planting zucchini in their gardens without realizing how quickly it grew.  They couldn't pick it fast enough and didn't know what to do with the really large ones.  That's when the zucchini bread recipe became very popular.
I made this moist pecan zucchini bread the other day and finished off an entire loaf by myself in a matter of two days.  There's bread that you eat warm with a slathering of butter and then there's this bread.  This zucchini bread is so moist and warmly spiced, that it's perfect at room temperature with no slathering of anything.  Most zucchini bread recipes call for all white sugar, but I've adapted this recipe to use half brown sugar.  The brown sugar adds a caramel like note to the bread and pairs great with the warm taste of cinnamon.
Here's a few tips for making this bread…
If your zucchini is a really large one, slice the zucchini in half horizontally and remove the seeds.  There is no need to peel the zucchini.
When you measure the shredded zucchini, pack it in the cup or round-up the cup slightly.
Do not squeeze the water out of the zucchini.  This is what adds moisture to the bread.
If you love nuts and choose to double the nuts, (2 cups), add 1 extra tablespoon of oil.
Bake the bread in two small loaf pans, versus one large one.  This way the bread will get done in the middle without the top getting too brown first.
Don't cut back on the spices.  This recipe calls for 1 tablespoon of cinnamon.  This might sound like a lot but it definitely is not.  Zucchini is a pretty bland & tasteless vegetable by itself.  It is great for adding moistness to bread but is best used in recipes that call for a lot of spices or other flavorings.  For instance, it is excellent combined with chocolate or banana in bread.
If you want to add chocolate chips to the recipe, go for it.  I personally like either regular zucchini bread or chocolate zucchini bread, but I'm not a fan of the regular zucchini bread with chocolate added, but to each his own here.  If you do add the chocolate chips, cut back by the same amount on the nuts, or omit them. Chocolate also tends to draw moisture from baked goods, so add the extra tablespoon of oil if using the chocolate.
If you have an abundance of zucchini, bake extra loaves of bread and freeze them.  The bread freezes well.
If you decide to freeze shredded zucchini, freeze double the amount that you need.  It seems to turn to 98 percent water after you freeze and re-thaw it.
If you have an abundance of zucchini, consider baking up several loaves and freezing it, rather than shredding and freezing the raw zucchini.  The bread freezes great and you can enjoy it through the Fall.  I wouldn't suggest freezing it for over 3 months.
You might also like this Double Chocolate Zucchini Bread.
Print
Moist Pecan Zucchini Bread
Author:

Prep Time:

15 Minutes

Cook Time:

60 Minutes

Total Time:

1 hour and 15 minutes

Yield:

2

loaves

1

x
---
Description
Fresh Zucchini and brown sugar lend SO much moisture to this Moist Pecan Zucchini Bread and pecans and warm cinnamon complete this scrumptious bread.  It's perfect by itself or slathered with butter.  
---
3 cups

all purpose flour

1 teaspoon

salt

1 teaspoon

baking soda

1 teaspoon

baking powder

1 tablespoon

cinnamon

3

eggs

1 cup

light brown sugar, lightly packed

1 cup

granulated sugar

2 teaspoons

pure vanilla extract

1 cup

vegetable or canola oil

3 cups

grated or shredded zucchini with peeling

1 cup

coarsely chopped pecans, optional
---
Instructions
Preheat oven to 350 degrees.
Grease and lightly flour two small loaf pans, 8″ x 4″.
Whisk the dry ingredients together in a medium bowl and set aside.
Add the wet ingredients, (except for zucchini), to a large mixing bowl. Using an electric mixer, mix all of the wet ingredients on medium speed until the mixture is very light and lemony in color. Add sugars and mix well to combine.
Add the dry ingredients and mix until they are just about half way incorporated, a few seconds.
Add the zucchini and pecans and mix just until dry ingredients, zucchini and pecans are incorporated. Do not over mix.
Divide batter evenly between the two prepared pans.
Bake for approximately 55-60 minutes or until a toothpick inserted in the center of loaves comes out clean.
Let rest for about five minutes. Run a sharp knife around the edges and tap pans on counter to ensure that bread has released from the pans. Transfer to a wire rack to finish cooling.
Store bread in an airtight container or wrap tightly with plastic wrap or foil.
Bread will keep for up to five days.
---
There may be affiliate links in this post. We are a participant in the Amazon Services LLC Associates Program, an affiliate advertising program designed to provide a means for us to earn fees by linking to Amazon.com and affiliated sites.